Arts & Entertainment
Arts & Lectures Announces New Season Lineup
UCSB's Resident Programmers Bring Steve Martin, John Lithgow to S.B.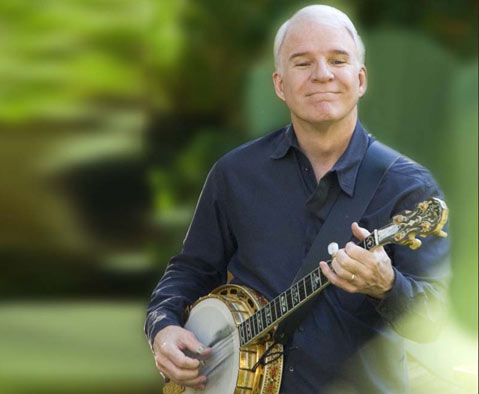 If you thought UCSB's Arts & Lectures was going to take it easy in their golden years, think again. The university-based programmers recently unveiled a hearty portion of their 2010-2011 lineup, and the talent—from dance troupes like Pilobolus to experimentalists like Laurie Anderson—is nothing short of world-class. While single-event tickets don't go on sale until Saturday, August 21, A&L is currently offering a number of subscription discounts, geared for all walks of art appreciators. Below you'll find just a few reasons to check out what Arts & Lectures has in store for year 51. For a full rundown of events and purchasing details, call 893-3535 or visit artsandlectures.sa.ucsb.edu.
1] The Talent: Following up last year's 50th-anniversary coup is no small task (Elvis Costello, Werner Herzog, and Ken Burns!?), but from the looks of what's in store, the A&L folks might just be up for the challenge. Among the already-announced bookings are Paul Taylor Dance Company at the Granada (Nov. 17), Ornette Coleman at Campbell Hall (Nov. 5), Steve Martin with the Steep Canyon Rangers at the Granada (Oct. 8), John Lithgow at the Granada (Oct. 25), and Ziggy Marley at the Arlington (Oct. 10). In addition, returning A&L talents like David Sedaris, Paula Poundstone, and Yuja Wang will all be back for more.
2] The Series Subscriptions: Whether you're an avid roots music fan or a lover of laugh-out-loud comedy, Arts & Lectures' series subscriptions program has something for you. By buying tickets through A&L's five fixed package deals, showgoers can save up to 20 percent off regular admission prices. Series include Classical, Dance, Word of Mouth (lectures), Jazz, and Roots.
3] The Create-Your-Own Package: For those not willing to commit, Arts & Lectures is also offering a Create Your Own Series package, whereby people can purchase tickets to five or more events in bulk, and save 10 percent off single-ticket prices. All packages can be charged by phone (893-3535) or fax (893-4914).
4] The Locations: And if you're worried about the drive, fret not, because A&L's season is scheduled to take place all around town—not just on campus. Thus far, all shows will take place in one of four sanctioned—and stunning—spaces. Catch shows downtown at the equally historic Granada and Arlington theatres and the picturesque Hahn Hall at the Music Academy of the West, as well as on campus at UCSB's 800+ seater Campbell Hall.