Arts & Entertainment
Steve Miller at the Santa Barbara Bowl
Los Lobos Make for Two Legendary Rock Bands on One Bill
Los Lobos opened Saturday's down-home rock show at the Bowl by offering their first shout-outs to anyone in the audience from Fillmore or Santa Paula. From the blazing start it was clear that this band from East L.A. has matured into one of America's most beloved rock groups. Their classic cumbia "Canción del Mariachi (Morena de Mi Corazon)" had the front rows up and dancing all the way through Steve Berlin's rocking baritone sax solo.
As if Cesar Rojas's and David Hidalgo's swapped vocals weren't enough, Los Lobos pulled special guest Dave Mason out of the wings mid-set. With his dark glasses way down his nose and a white Stratocaster, Mason jumped into "All Along the Watchtower" and the band easily slid in behind. Next up was Mason's classic "Feelin' Alright," which got a brilliant workout. Los Lobos have integrated a by-now well-known sideline of playing Grateful Dead tracks, and Saturday was no exception. Both "Turn On Your Lovelight" and "Good Lovin'" made cameos, along with, of course, "La Bamba."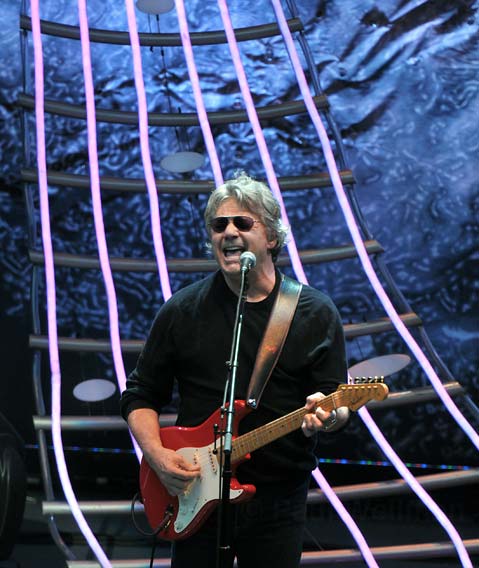 Steve Miller was in a great, talkative mood as he jammed from within the band's impressive "guitar vortex" set. He played "Jet Airliner" and "Take the Money and Run," then sang about a woman who is "crazy 'bout a Mercury Ford." After acknowledging Santa Barbara with a Muddy Waters number, Miller dedicated "Shabadadoo Mama" to MJ, the woman at Seymour Duncan who winds his guitar pickups. They sounded great, as did all of Miller's guitar playing alongside his stripped-down but powerful band. He told a stolen-guitar story featuring United Airlines and the FBI, and then dedicated the beautiful "Seasons" to people in the audience about to be married. Miller also commented on the unfortunate loss of Norton Buffalo, the harmonica legend who died last year, right after the band's last tour, then dedicated "Wild Mountain Honey" to him. From there on in, it was one massive hit after another, including "The Joker" and "Abracadabra."
Miller still had one more surprise in store though, as young Dylan Brown, a guitar player trained in Miller's "Kids Rock Free" program, joined the band for the final song and the encores.