Sports
World Cup Ends
Tweet-length Thoughts on Sports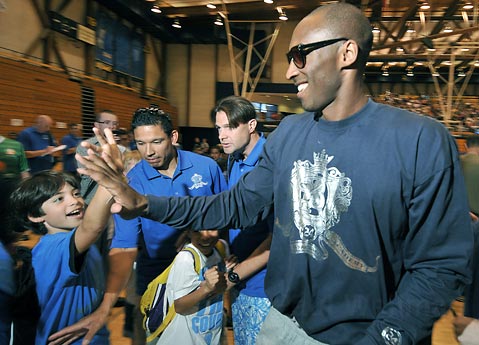 The following are Tweet-length thoughts on sports (plus a few that go into added letters) from Santa Barbara to South Africa at the conclusion of the 2010 World Cup.
• Teamwork trumps star power: Spain, the consummate passing team, wins the cup. Cristiano Ronaldo, Wayne Rooney, and Lionel Messi go home early.
• Orange zest: An astounding turnout of Dutch supporters showed their colors in downtown Santa Barbara on Sunday morning.
• I was in a minority pulling for Holland at Arnoldi's. I must say I was mortified by the team's crude fouls — especially the cleats to the chest.
• I thought the Spanish players did too much diving, but Holland was lucky that the referee did not give Nigel de Jong a red card early in the match.
• Some friends were disappointed that the theatrics of a penalty-kick shootout were averted by Andres Iniesta's game-winning goal. Soccer purists weren't.
• It still rankles that FIFA president Sepp Blatter and his cronies are smug in the face of incompetent officiating that cost the U.S. and England a pair of precious goals.
• My favorite player: Uruguay's Diego Forlán, who struck five beautiful goals, including a mid-air volley that he bounced into the net against Germany.
• Forlán was voted the Golden Boot as the outstanding player of the tournament. Trivia question: Who won the Golden Boot in the first Women's World Cup? Answer: Carin Jennings-Gabarra, a four-time All-American at UCSB, who had a hat trick against Germany as the U.S. women won the title in China in 1991.
• Holland's defeat left only one unbeaten team in the World Cup: New Zealand, which went home with three ties in group play.
• New Zealand's Tony Lochhead was a star on the UCSB team that went to the NCAA finals at the Home Depot Center and lost to Indiana on PKs in 2004.
• For the first time since then, the NCAA men's soccer finals will return to the West Coast: The 2010 College Cup will be hosted by UCSB December 10-12.
• Harder Stadium is being spruced up for the Gauchos' upcoming season, starting with a layer of brand-new Bermuda turf currently being installed.
• Viva España: Pau Gasol is an NBA champion, Rafael Nadal takes the French Open and Wimbledon, Alberto Contador seeks second Tour de France win.
• Is it Sergio Garcia's turn at St. Andrews? The Spaniard's best finish in a major was a playoff loss in the British Open, but that was three years ago.
• S.B. golf phenom: Jack Perry, a recent S.B. High grad, finished two strokes behind Scott Travers, whose 16-under-par 268 broke Tiger Woods's record in the SCGA Amateur Championship at La Cumbre Country Club last weekend.
• No longer Lucky Lance: Lance Armstrong crashed out of contention in France. In 2003, en route to win number 5, he barely dodged the horrific wreck of rival Joseba Beloki. That Spanish rider was never the same after shattering his leg.
• Kobe Bryant said he played soccer "every single day" when he was growing up in Italy. "I had to," he said. "When I showed up at the park to play basketball, they had the little soccer posts underneath the basketball hoop."
• Bryant's basketball camp drew 650 youngsters to UCSB last week. "Every chance I get, I tell [the kids] what a great sport soccer is," he said. "It's one of the sports like basketball where you have to do it together, be in constant communication."
• "If a basketball player wants to do cross training, soccer's the best sport," Bryant said, "You get your conditioning, and you also get your foot speed and footwork in." It helped Steve Nash become a two-time MVP in the NBA.
• Kobe did not seem concerned about the prospect of LeBron James joining Dwyane Wade and Chris Bosh in Miami. "I'm friends of all three of them," he said. "As long as they're happy with their decisions …"
• LeBron's decision turned Cleveland against him as furiously as Germany swore off its allegiance to Paul, the prognosticating octopus. After the mollusk picked Spain in the World Cup, angry Germans suggested that it be fried, grilled, or turned into paella.
• American-style football returns Friday, July 16, with the 43rd annual County All-Star Game. The South (players from Santa Barbara High, San Marcos, Dos Pueblos, Carpinteria, Bishop Diego, Santa Ynez, and Cate) will face the North (Cabrillo, Lompoc, Righetti, Santa Maria, St. Joseph, and Pioneer Valley) at 7:15 p.m. at Santa Maria High. Tickets for the game are $10 for adults and $5 for children 12 and younger.