Arts & Entertainment
Academy Festival Orchestra at the Granada
Stravinsky's Petrushka a Highlight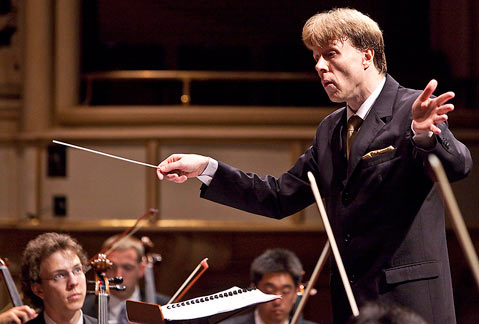 The Academy Festival Orchestra looks like any other, except perhaps a little younger; the entire point of orchestral dress and demeanor, after all, is to create a uniform visual impression and emphasize sound, rather than sight. But Saturday night's concert, ably led by Arild Remmereit, gave its audience a night of images, all rendered in music. It began with Rachmaninoff's Isle of the Dead, a tone poem from one of the composer's most productive periods (1906-1909) but unlike any of his other works. He took his inspiration from Arnold Böcklin's painting of two figures taking a coffin across the water to a dark, mysterious island. The Academy Festival Orchestra evoked the somber mood of its odd, 5/8 meter (echoing the sound of the oars) with nuanced care, patiently letting its dark harmonies paint the macabre scene, then transporting us into another world with a plainchant Dies Irae that leads, remarkably, to a dramatic climax, followed by the return of the opening theme as the boatmen row back to this world.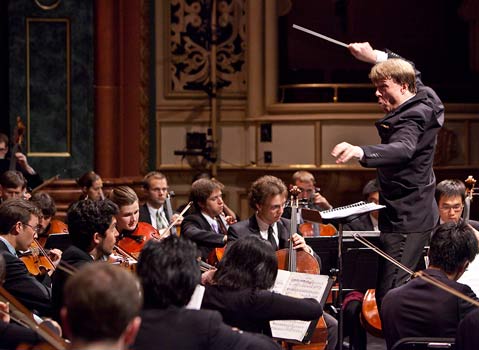 The second work of this night of tone poetry, Samuel Barber's Medea's Dance of Vengeance, painted no less vivid a scene: the hideously gleeful celebration of a mother's murder of her children out of spite for her faithless husband. The piece, originally a ballet, but revised several times, is alternately laced with rage, madness, and bitter sorrow; Remmereit and the Academy Festival Orchestra gave it the right combination of savagery and sadness.
After the intermission, Stravinksy's Petrushka brought together the most thrilling qualities of the two previous works in a suitably compelling climax. Throughout, Remmereit's body language—and the orchestra's sensitive response—illustrated the dilemma of the title character, a puppet magically brought to life and endowed with human emotions. One could almost see the strings pulling as a powerful will to love and to find freedom struggled with overwhelming, unseen forces. Every element of this complex work came through clearly, despite enormous technical challenges (it contains passages in multiple keys and rhythms), and the final image, when the ghost of the murdered puppet thumbs its nose at the world it has left behind, revealed the final triumph of the spirit. Yes, there is a ghost inside the machine, because a work of art has a will of its own—and the spirit of music comes alive every time the Music Academy of the West brings together some of the world's most talented young musicians.