News
Campground Conflict
State Parks' New Contract with RV Rental Company Irks Longtime Lompoc Business
Summer isn't proving too sunny for Lompoc business owner Brad Pellegrin, whose trailer rental company, Earl's RV, will lose more than $50,000 this season because it's no longer allowed to deliver camping equipment to state parks in Santa Barbara County. It's been a full year since Pellegrin — who started working for his father, the Earl of the company name, at age 15 and took it over in 2006 — found out that California State Parks had given an exclusive regional contract for RV delivery to a new outfit called Vacation Trailers 2 U, but it hasn't gotten any easier to stomach.
"It's a really unfair situation, a really messed up deal," said Pellegrin, who said the move occurred "without any forewarning" and with no option for Earl's RV to offer the services instead, despite having done so for 23 years at Carpinteria, Refugio, El Capitán, and Gaviota state beaches. "I asked why, and the only answer was, 'We didn't know you existed,'" explained Pellegrin. He doesn't believe the response, pointing to his 15 years of advertising the service in the campgrounds' main magazine and noting that he knew most of the camp managers by name due to delivering so much. "What really frustrates me is the state's lack of a reasonable answer," said Pellegrin. "To allow us to slip through the crack for 23 years? It just seems a little far-fetched. I can't imagine anyone being allowed to break the law for 23 years."
But Richard Rozelle — who took over in May 2008 as director of the State Parks' Channel Coast District, which extends from Ventura County up to Point Sal near Santa Maria — maintains that Earl's RV was indeed news to him, even if some of his on-the-ground employees were familiar with the service. "While we do our best to educate employees about the rules and policies, they're not always cognizant of everything that goes into running the state parks," said Rozelle of these often seasonal staffers, who were first to mention Earl's RV when the new contract was announced last summer. "When we started finding out about it, we asked them why they hadn't come and asked for permission," he said, noting that Pellegrin's ignorance of the situation is not an excuse for breaking the law. "They've been operating illegally in the state parks for over 20 years."
So when Rozelle was approached by the owner of Vacation Trailers 2 U (VT2U) nearly two years ago, he thought it was a great idea — given the rise of "glamping," or luxury camping — and a green one, especially since so many people buy RVs but then only use them once a year. But most importantly, said Rozelle, "It provided an opportunity to generate revenue at a time when State Parks is cash poor." Specifically, VT2U pays 10 percent of its first $300,000 in gross revenues to State Parks, and then 12 percent when the revenues top $300,000; there is also a $6,000 minimum payment in case of a slow year.
Since it's officially a new venture for the region, state law allows Rozelle to enter into a two-year agreement with any vendor — rather than host the typical bidding process for government contracts — to determine whether it's a viable long-term opportunity. "It's turning out to be," said Rozelle, who was not obligated to contact other vendors but said that he would have done so if he'd "known there was interest." The contract expires next May, and will then be put out to bid for all interested companies.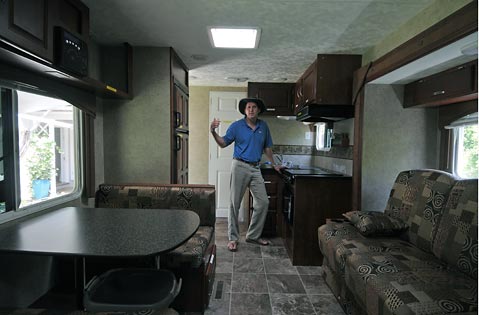 Perhaps the only one angrier than Pellegrin over the current uproar is Jason Kimbrell, the owner of the official concessionaire Vacation Trailers 2 U. "I'm pretty disgusted with it," said Kimbrell of what he calls a "big misinformation campaign" about his business and a case of "sour grapes syndrome" on Pellegrin's part. "We've done everything by the book and exactly how we were supposed to do it," explained Kimbrell, who said that the "lengthy" approval process required loads of paperwork, multiple meetings, upgrading trailers, acquiring appropriate insurance, and waiting nine months for a decision.
Like Rozelle, Kimbrell — a San Diego native who fell in love with Santa Barbara while a UCSB student years ago — "had no idea that Earl's RV company existed" when he approached State Parks with his proposal. He soon learned about Earl's RV and a number of other businesses "flying below the radar screen," including a number of folks who seemed to be subsidizing their RV ownership with occasional weekend rentals. When he heard about Pellegrin's complaints, Kimbrell said he went to Lompoc to "extend the olive branch" and allowed Earl's RV to fulfill the rentals that had already been commissioned through last summer. In return, Kimbrell said he got a handshake and a promise to not violate his agreement.
But then, a few weeks ago, Kimbrell's employee noticed a number of trailers from Earl's RVs at Refugio State Beach. "We weren't going to make a big ruckus about them — State Parks has other things to manage," said Kimbrell of both Earl's RV and other nonregulated rentals. "But this was so blatant that I called them up." Meanwhile, his employee took flyers down to the apparently illicit camp visitors to advertise the now-official concessionaire. That move, according to Kimbrell, led to a verbal assault on his employee by those loyal Earl's RV renters.
But according to Marell Brooks, a county planning commissioner and annual Earl's RV customer for 20-plus years who was on the scene that day, they were the ones who felt "really uncomfortable" because the VT2U employee was "hassling everybody." Said Brooks, "Rather than a nice enjoyable stay, that first day we were all being accused of doing something illegal." The incident became a nonissue when a Vandenberg firefighter disappeared nearby while kayaking that same day, so maybe that's why Pellegrin fessed up to the act weeks later without being prompted, explaining, "We've bent the rules a couple times."
Rozelle didn't view it as lightly, explaining that he's been "investigating a recent incident" in which Earl's RV may have brought trailers into a park. "We've been reasonable in seeking compliance," said Rozelle. "We may turn this over to the district attorney if we find this is an ongoing activity."
Of all the charges being thrown on the wall, the one that's stickiest is the price discrepancy between the high-end trailers offered by VT2U and the wider range of options rented by Earl's RV, particularly the pop-up tent trailers that go for a fraction of the price of an RV. "We don't want those big RVs — we just want a tent trailer," said Brooks. "By doing this, the state is telling local people, 'Sorry, you have to spend $200 a night if you want to rent a camper." Even Kimbrell — who stills refers customers to Earl's RV but complains that Pellegrin lies about the existence of VT2U and tells customers that no company is allowed to rent in the state parks — sees the rationale in this argument. He agreed to let Earl's RV deliver those trailers over the course of his contract, but said that State Parks didn't want to "reward bad behavior" by granting any such concessions. Rozelle has also taken note of the valid complaint. "When I go out to bid, we're going to be looking at providing a range of camping experiences," he said. "The pop-up trailer could be part of that."
That request for proposals will be hashed out this fall and put out for bid sometime before the VT2U contract ends in May. The State Parks review panel can certainly expect both Kimbrell and Pellegrin to be at the table next year. Said Kimbrell, "I've got a $650,000 bet on this business." Said Pellegrin, "I do intend on putting my name on the list. I am very much interested. I want it back."