News
Rubber Hits the Road
Council Leaves Skid Marks over Cars, Congestion, and Free Choice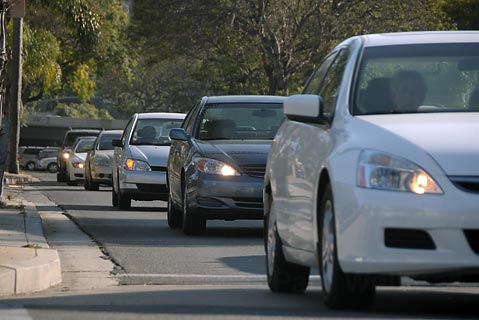 Trumping gay marriage, medical marijuana, or illegal immigration as Santa Barbara's wildest-haired wedge issue, it seems, is the humble — if ubiquitous — automobile. Or more precisely, the extent to which city hall should accommodate the car — as opposed to other modes of transportation — over the next 20 years.
On the Santa Barbara City Council, the dividing lines could not be more cleanly polarized. During six hours of debate and discussion over efforts to amend the city's general plan — the key planning document that will guide growth and development for the next 20 years — three councilmembers expressed a mixture of distrust, skepticism, and outright hostility to a series of proposals designed to get commuters out of their cars and into new ways of getting from A to B. The council trio of Dale Francisco, Frank Hotchkiss, and Michael Self vehemently opposed plans to do away with free parking downtown — put forward as the single most effective antidote to congestion available — as well as a host of possible rule changes that would reduce the number of parking spaces developers would be required to provide. Francisco, Hotchkiss, and Self articulated numerous practical considerations, but their essential concerns were more philosophical.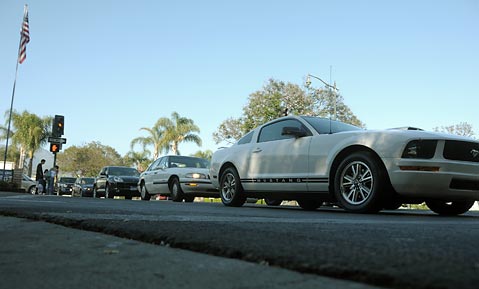 Francisco charged that there was "an inherent bias against automobile travel" within the community of urban planners. "You can't make people behave the way you think they ought to behave, short of a totalitarian society," he said. Councilmember Self, an avid car collector, said that the emergence of the automobile is one of the top five reasons for American prosperity. Not only are planners biased against the automobile, she said; they've made the streets all but undrivable as a strategy to get people on bikes or on buses. Hotchkiss stated that no matter what inducements city hall provided, motorists just weren't giving up their car keys. Rather than imagine a make-believe world with one car per household, he said city hall should plan for the inevitable reality of two or three cars per household. This last salvo so untethered Councilmember Das Williams — a strong alt-transit advocate — that he threatened to vote against the revised general plan. Only by reducing the parking requirements of 2.5 spaces per unit, Williams argued, could developers hope to build projects that were both affordable and sized right for Santa Barbara.
The 4-3 split is significant for two big reasons: First, to pass a new general plan, five votes are necessary. Given the five years and $3 million spent on the general plan update, an impasse would be painful and embarrassing to all parties. Second, without some major changes, traffic engineers predict congestion will get significantly worse in the next 20 years. For the past two decades, congestion has been the limiting factor on new growth and development in Santa Barbara, a town far more intolerant of traffic delays than most Southern California communities. Currently, there are seven freeway intersections with a service rating of C, the bare minimum now called for under city planning policies. (Level C means that motorists stand an okay chance of getting through an intersection within two rotations of street lights. Level D means motorists will all but certainly have to wait through two rotations.) The number of freeway intersections will increase to 21 in the next 20 years without significant interventions, according to traffic planner Rob Dayton. He has suggested a grab bag of strategies that could bring that number down to eight. Of these, "priced parking" is by far the most effective, he said, and would reduce the anticipated increase in congestion by about 85 percent. That's because priced parking prevents downtown employees from taking up parking spaces that would presumably go to shoppers. By eliminating the "75-minute shuffle" of downtown workers re-parking their cars, Dayton said, much of the congestion relief is obtained.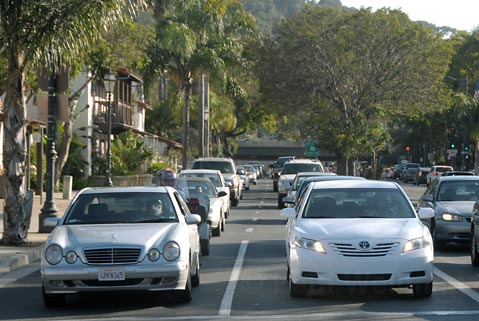 But priced parking is also very controversial. Many business owners fear it would destroy commerce, chasing potential customers to outlying shopping centers. Even the most hardcore alt-transit supporters on the council have little appetite for forcing an unpopular new parking scheme down the throats of an aggrieved business community during the midst of a serious recession. All councilmembers agreed that "stakeholder buy-in" was crucial before proceeding with even a limited experiment. And they sought assurances from Dayton that priced parking had been tried successfully in other communities without dire consequence. Such assurances were not available Tuesday.
The four councilmembers more open to new congestion-relief strategies — Grant House, Das Williams, Bendy White, and Mayor Helene Schnei­der — were more qualified in their support. Mayor Schneider dismissed as "too extreme" the notion that she — or city hall — was anti-car. "If we're so anti-car, why did we spend $25 million on the Granada Parking Garage? Why is there 75-minute free parking? Why are we going to spend half-a-billion bucks widening the freeway?" She noted that 30,000 people are now commuting to jobs in Santa Barbara from outside the area. If those 30,000 motorists car-pooled just one day a week, she said, the freeway widening would not be necessary. She stressed that the council was trying to provide the community with as wide an array of transportation as possible, not force the community to march in lockstep with some brave new transit agenda.
In her closing remarks, Schneider highlighted a photograph of State Street taken at Christmastime in the 1950s; cars were parked in long rows on both sides of State Street, and then double-parked in parallel rows, as well. The business community voluntarily agreed to do away with on-street parking, put shoppers in parking lots, and have them walk to stores. Compared to those changes, she said what's on the table today are minor. "But that took a vision, it took some guts, and somehow they made it work."
Councilmember Francisco said the photograph would seem a "scene of horror" to alt-transit proponents, but to business people — seeing happy shoppers loading cars parked just spitting distance from the stores — "it is a beautiful picture." He said that business people embraced the changes that transformed State Street in response to economic competition from La Cumbre Plaza in 1969. While he said he was quite willing to persuade, induce, or coerce downtown employees to change their habits, he was not willing to force such changes on downtown business owners. If such changes do happen, he said, they will have to be embraced by the business community, not imposed from on high.