Events
The BP Oil Spill: Working Toward an Answer, from S.B.
Area Software Engineer's Solution-Oriented Site Creates Dialogue About Gulf Coast Crisis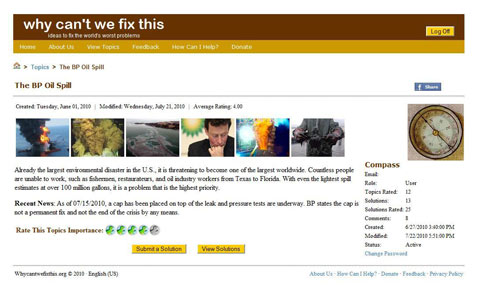 Without opening a wallet or traveling thousands of miles to volunteer, area residents (and people around the world) can take part in finding a solution to the crisis caused by the BP oil spill in the Gulf of Mexico. Whycantwefixthis.org is S.B.-based software engineer Robert Carter's recently launched Web site that acts as a free open forum dedicated entirely to creating a dialogue about potential solutions to the seemingly unsolvable BP disaster.
Web surfers—whether laypersons or experts—post theories and constructive ideas about stopping the oil rig leak and about cleaning up the murky black mass of petroleum expanding daily in Gulf Coast waters and onshore. Collaborators then engage in feedback with fellow users as the proposals become more and more viable. While the complexity of the massive problem may make a finding a solution far off, for this long-lingering national crisis that no organization or person has been able to fix so far, WCWFT is getting people talking. Visit whycantwefixthis.org for more info.