Angry Poodle
Girl with the Canine Tattoo
An Immodest Proposal
IMMODEST PROPOSAL: I don't pretend to know what the answer is when it comes to the future of the so-called news media, but I know for absolute certain what the question is not. It's the one that Bill Macfadyen — the flamboyantly self-proclaimed future of community news and founder of online newspaper Noozhawk — was asking last week. That's when Macfadyen and his sales assistant Doug Elder— an accomplished mixed-martial arts masher who used to work at The Indy — paid a visit on the woebegone Carpinteria Valley Water District and asked the water board to cough up $5,200 a year as part of a brainchild Macfadyen hatched, which he's calling "Project Raptor."
Given the evident leave Macfadyen's taken from his senses, perhaps it should have been called "Project Rupture" or "Rapture" instead. The idea is that various government agencies — like the Carpinteria water district — and private developers would commit funds to Noozhawk, an exclusively online community news outlet that's emerged in the ashes of the News-Press meltdown — so that Macfadyen could hire an additional full-time reporter and a part-time editor and tag on some hefty administrative overhead. Presumably, this would spare Macfadyen the aggravation and ignominy of having to ask friends and family for even more investment scratch. Or going to a bank. Or growing pot and investing the sales proceeds into his enterprise, as so many successful Santa Barbara businesses have done when traditional lending sources were not available. Or doing the old-fashioned capitalist thing of developing a genuine readership that would allow his sales staff to sell ads.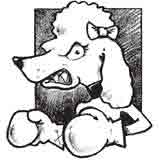 In exchange for this novel investment of public funds, Macfadyen pledged to devote this additional reporter to the coverage of land-use planning, which it seems he has recently discovered is a subject of almost pathological interest to a dwindling but vital South Coast demographic that still finds local news worth following. As Macfadyen explained it, these infusions of rate-payer dollars would constitute a hand up, rather than the proverbial hand-out. With a strong focus on land-use planning, Macfadyen reckoned readers would quickly follow, and following on their heels would be the advertisers.
This idea is crazy in so many ways that it would take the entire Department of Mental Health to figure out how to adequately respond. First, why ask the Carpinteria Water District? If it's true that there's a sucker born every minute, the Carpinteria Water District has exhausted its allotted six minutes of fame. The district burdened itself with a crippling debt load several years ago by signing up for way more State Water than the ratepayers could ever dream of using. One need not resort to the benefit of hindsight to know that decision was flat-out stupid; people were saying so at the time. But water buffalos are stubborn creatures, and Carpinteria now boasts the dubious distinction of the most expensive water rates in the state. Consequently, Carpinteria's much aggrieved ratepayers are in a state of perpetual tumescence. As district manager Charles Hamilton can attest, that's not a pretty sight. Macfadyen, a battle-scarred veteran of many failed journalistic enterprises, has been around. He, of all people, should have known better than to ask so cash-strapped a water district to enlist in his cockamamie scheme. Macfadyen should have gone to the Goleta West Sanitary District instead. Not only is it the most obscure government entity in town, but it's the richest, boasting reserves well in excess of $20 million.
Then there's the touchy if obvious question of conflict of interest. On what planet does it make sense to have reporters paid by the very entities they are assigned to cover? On occasion, reporters and news organizations are expected to cast a critical light on their subjects. It's what they are supposed to do. But when your subject happens to be paying your rent — and so directly — the temptation to not ask or not tell might present itself with uncomfortable and irresistible frequency. Even if that wasn't the case, readers would still have cause to wonder to what extent their so-called balanced and impartial news had been adulterated. I had hoped Macfadyen could explain why there really was no such conflict. Or maybe he would argue that the impartiality of all news is inherently compromised by the commerce that makes it happen — that only by nakedly and openly embracing the conflict for all to see, he and Noozhawk could present themselves in an authentically objective fashion. Or maybe he would point out that public agencies already subsidized newsgathering organizations to an unholy extent, so what's a little more? And he'd have a point.
Probably half the content that passes for Santa Barbara local news originates with Lt. Donald Paul McCaffrey, Public Info Officer of the Santa Barbara Police Department, or his counterpart with the Sheriffs Department, Drew Sugars. McCaffrey is clearly a cop trapped in a novelist's brain. He strip-mines police reports for the absurd and the irresistible. As a result, his press releases regularly appear in news publications barely altered. To my disappointment, Macfadyen didn't go there. Instead, he simply wrote, "I appreciate your concern for a conflict of interest, but there isn't one." Funny thing, that's exactly what politicians always say about their campaign contributions, too. To date, I fail to see how effective such reassurances have proven. For my efforts, Macfadyen generously told me my days were numbered. "Technology is expanding," he wrote. "Fossil media like yours are contracting."
If Macfadyen lacks the sense to be troubled by such conflicts, it didn't escape the water commissars of Carpinteria. They gave him polite but short shrift. As a practical matter, Noozhawk doesn't really connect the water board with its ratepayers. Politically, the commissars knew better. They recently had to terminate relations with their longtime water district attorney because of conflicts of interest they insist were perceived rather than real. And they liked him.
To anyone out there that Macfadyen approaches, I have a better idea. However much money he's asking for, double it. No, triple it. For that amount, I promise not to report on your organization. That way I keep my labor costs down. But for public agencies — and private developers — it's such a great bargain, you can't possibly afford not to participate. In the meantime, I'll send my mixed-martial arts assistant to pick up the cash. Just remember, I prefer my bills unmarked.