Environment
Rigs to Reef Discussions Continue
Newport Beach Conference Focuses on Benefits of Converting Old Platforms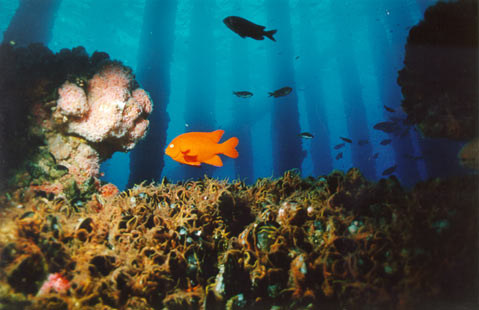 As negotiations regarding the so-called "Rigs to Reef" legislation in California continue, Orange County Coastkeeper hosted a conference in Newport Beach last weekend to continue discussion on two options for how to deal with decommissioned oil rigs — full removal or partial preservation.
Participants, mainly coming from the Newport area, with a few delegates from Santa Barbara — where the majority of California's 27 rigs are located — and some from further down the coast, sought to contribute their range of perspectives to a discussion on the issue. In addition to the expected environmentalists, many fishermen, oil industry workers, and a few politicians were also in attendance.
Rather than fostering any actual debate, however, the conference seemed to mainly just frame the issue. Regardless of the audience's varied constitution, the day's agenda steered the conversation decidedly toward the "reefs" option, as each speaker focused on discussing the advantages and aspects of that process. Talks centered around things like platform to platform assessment, ensuring net environmental benefit, and generation of state revenue — all things that are already in the proposed bill.
The only speaker to entertain a dissenting opinion was Dr. Brock Berstein, who concluded that "the bottom line is, there is no right answer."
"There's objective information available, but how you weigh that information against each other depends on your values," Berstein pointed out.
Assembly Speaker John Pérez, who first proposed this most recent bout of legislation, made a quick appearance and revealed his main concern — money. His job made easier by the fact that the current economic climate has left the state in no position to turn down revenue, he took every opportunity to ignore any mention of liability. Mike Genest, the state's former director of finance, also gave a short speech describing the reefs option as a "win-win" situation. Genest noted that, "In this environment, rigs to reefs really could happen."
During a roundtable discussion, mentions of potential problems with the legislation — such as the fact that only 50 percent of money saved by not completely disassembling rigs actually goes to the state — were not raised. The strongest proponent of ecosystemic integrity, Zeke Grade, could not make it for personal reasons.