News
Protecting or Trespassing?
Mental Health Advocate Roger Thompson Reportedly Detained and Handcuffed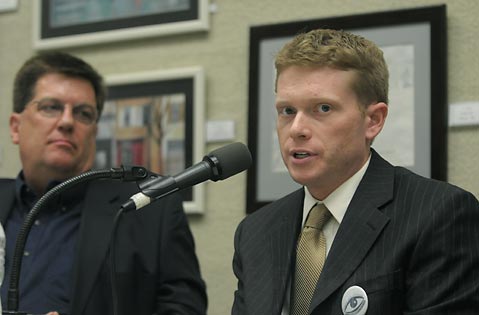 Mental health advocate Roger Thompson reported that police officers detained and handcuffed him at gunpoint last week at Sacramento's Sutter Hospital where he was maintaining a protective vigil over a close friend who'd recently attempted suicide. Thompson, executive director of the Consumer Advocacy Coalition, said he was quietly reading a book of poetry when eight Sacramento police officers burst into the hospital room, ordered him to his knees at gunpoint, handcuffed him, and held him without arrest for 45 minutes as they searched his belongings.
Ultimately, Thompson said, officers issued him a trespassing citation and warned him he was facing criminal misdemeanor charges if he returned. A spokesperson for the Sacramento police said two officers detained Thompson but had no details why—or if—guns were drawn. A spokesperson for the hospital said Thompson had been "causing a disturbance and was asked to leave." When he did not, she said, the police were called. Thompson suggested the hospital's actions may have been retaliatory. The day before, he said, he had filed a complaint with hospital administrators that his suicidal friend—Jennifer Sheaffer—claimed she had been sexually fondled by a hospital employee on at least two occasions. Police confirm that they have received such a complaint and that it has been assigned to the sexual assault unit. Thompson, an emerging player on Santa Barbara's mental health advocacy scene, has been sharply critical of county budget cuts to the mentally ill. He's been even more critical of the Mental Health Commission for not fighting such cuts with more passion.
Thompson and Sheaffer were in Sacramento to testify before a watchdog state agency over the treatment afforded the mentally ill. Sheaffer —who suffers from anxiety, depression, and a bipolar disorder—was there to testify how she was not given her medications (she has prescriptions for five) while in custody at the Santa Barbara County Jail on June 8. Sheaffer, who had been picked up for driving while under the influence, said she repeatedly asked for her medications but was only given a dose of lithium one-third the potency that she normally receives.
At the end of her 24-hour stay in county jail, Sheaffer said she blacked out and fell to the ground. She was then taken to two psychiatric facilities, she said. Early tests showed that Sheaffer had no alcohol in her system at the time of her arrest. Toxicology tests that might show what, if any, drugs—and at what levels—were in her system have not come back. Sheaffer claimed she was on the way to Supervisor Janet Wolf's election night victory at the time of her arrest. She wanted to give Wolf a drawing she'd made as thanks because Wolf was the only supervisor to vote against contracting out the medical services provided at the county jail.