Opinion
Bob Wennberg 1935 – 2010
Author, Professor of Philosophy
Robert Wennberg, who taught philosophy at Westmont College for 37 years and authored several books—Life in the Balance: Exploring the Abortion Controversy; Terminal Choices: Euthanasia, Suicide and the Right to Die; God, Humans and Animals: An Invitation to Enlarge Our Moral Universe; and Faith at the Edge: A Book for Doubters—died on July 18 following a brief battle with pancreatic cancer. He was 75. Bob's retirement in 2005 did not keep him from continuing to write and lecture about difficult issues of morals and faith. He had earned a doctorate in philosophy from UCSB in 1973 and held master's degrees from Princeton Theological Seminary and the University of Pennsylvania, and a bachelor's degree from Fuller Theological Seminary.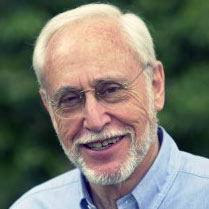 For almost the entirety of our professional lives, Bob and I were close friends and colleagues. The majority of that time, our offices at Westmont College were located directly across the hall from each other. So we would often pop into the other's office for a chat, sometimes on a trivial topic, sometimes on a weighty one; and with our spouses we spent many a long evening together in each other's homes chewing the fat (figuratively speaking) around the dinner table.
What a fine friend and colleague Bob was—gracious, generous, affable, genial. Whether agreeing or disagreeing with each other, you remained fast friends. He could be playful as well as serious. Who that was present can forget the rollicking good humor in his emceeing of retirement dinners, in his lighthearted ribbing and roasting of the retirees? During his retirement dinner, he even dared to himself present the slide show of his career, not to protect himself, but to poke some fun at himself. Testifying to his popularity is his having been named teacher of the year at Westmont a record five times, elected to the vice-chairship of the faculty four times, and chosen to speak at baccalaureate four times.
Bob's interests extended to travel in Europe and to competitive sports. He had been a champion sprinter at Santa Barbara High School, loved the movie Chariots of Fire, liked to watch Le Tour de France, and followed the fortunes of Boise State University's football team (for his sister lived in Boise, Idaho).
Surviving Bob are his wife, Eleanore, and their daughter, Siri Pratt, plus two grandchildren. He died in Christian faith or, as the apostle Paul would say, "in Christ." Those of us who share that faith do not give him a mere "good-bye"—rather, au revoir, "till we meet again."