Theater
Proximity Theatre Take On Romeo & Juliet
Teenage Dramatists Make An Old Love Story New
On a Friday afternoon at the height of summer, a group of teenagers gather in a church hall. Outside it's the perfect Santa Barbara day: 70 degrees and sunny, a pleasant breeze stirring the branches of the palms. These kids hardly notice. They've got the curtains drawn. In bare feet and grey athletic clothes, they greet one another with hugs and murmurs, punctuated with squeals of laughter. Then, without speaking, they form a circle at the center of the room, close their eyes, and breathe, inhaling and exhaling in unison as if they were one body. This is not your average summer camp. This is Proximity Theatre Company, and they mean business.
The company is the creation of three Tisch School of the Arts graduates Kyra Lehman, Karina Richardson, and Ken Urbina. Back in 2007, their vision was to bring cutting-edge physical theater to the young people of S.B. and to work rigorously to produce inventive, exciting productions unlike anything this community had seen before. They set to work, putting participants through a rigorous program of reflective writing, camping trips, sweat lodges, and long hours of rehearsal five days a week. Their early shows met with success, but with last year's production of Richardson's original play The Marvellous Story of Shandy Wilkes, they set their own bar even higher, wowing audiences with startlingly direct storytelling and dynamic physicality. This year, the three directors have sprung for a new challenge: taking on the greatest love story of all time: Romeo and Juliet, which Lehman acknowledges is an intimidating choice.
"I've always been in love with love stories, and this story in particular, but it scared me," she said. "There's just so much expectation surrounding it." Yet it's written into the company's mission to take bold risks, so Lehman figured they should go for it. As she put it, "When you're really drawn to something and it freaks you out, it's probably something you should do."
At Friday's rehearsal, the company reviewed their version of the Capulet ball: a raucous, nightclub-style dance party set to Urbina's original soundtrack. Richardson's edit of the text remains true to Shakespeare's language, but Lehman's choreography casts the familiar dialogue in a new light; "Give me my sin again" comes like a stop-action moment framed by the crowd's wild pelvic thrusting.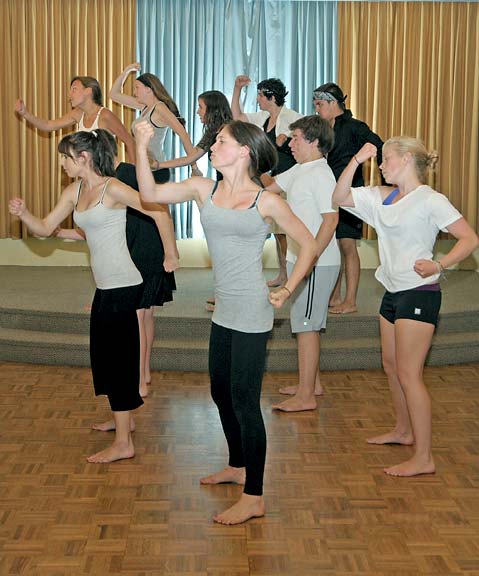 "We've always taken a very physical approach to theater," explained 18-year-old Chiara Perez del Campo, who's been with the company from the beginning. "Working with Shakespearean language gives a whole new meaning to all that physical work." Perez del Campo went on to explain that in order to make sense of the text, each actor has created movement to accompany every line she speaks. "The real challenge is making it new," added fellow company member Jake Himovitz. "When Romeo and Juliet meet, it should feel like they're meeting for the first time."
Achieving that kind of freshness and immediacy isn't easy, and Himovitz and the rest of the cast know it. Though they range from 13 to 19 years old, they bring a startlingly professional approach to rehearsal. The directors set the tone, devoting every waking hour of their summer to the show. "Some nights we just eat energy bars for dinner because we're poor and busy, but it doesn't matter because we're just so happy because we're doing this work," Lehman explained. They're also happy to accept assistance. But whether or not the money's there, these three say they'll find a way to continue—and the teens are just as committed. "Every day, I'm here from noon to midnight," Perez del Campo said. "This work calls on everything about you as a person. It's, like, the best thing ever." She's convinced that the intensity of their process transmits to the audience. "I saw grown men cry after last year's show," she said. "Every piece we do is heart-wrenching and real—it's an experience for the people watching."
4•1•1
Proximity Theatre Company presents Romeo and Juliet at Center Stage Theater (751 Paseo Nuevo) August 11-15. For tickets, call 963-0408 or visit centerstagetheater.org. For more on the company, visit proximitytheatre.org.