Film & TV
The Expendables
Sylvester Stallone, Jason Statham, and Jet Li star in a film written by David Callahan and Stallone and directed by Stallone.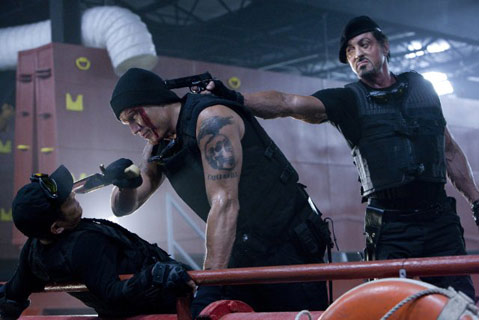 With Sylvester Stallone's big, bad, and noisy action-movie bombast, it may say something about the whole that memorable parts are anomalies. The first eye-opening moment comes early in the movie, in the form of a quick cameo by our own Gubernator, Arnie Schwarzenegger, who saunters through the beatific light of a church, flashing his mug and cracking wise like the action hero of old. It's odd seeing him on the screen again, after hearing his Austrian accent in press conferences and official public settings. Can he go home again? Could Reagan?
Moving from light to dark, the second memorable moment in The Expendables comes with a disarmingly poignant late-night reverie about the ravages of war by Mickey Rourke, who in that scene profoundly out-acts the movie's central action-movie lunkheads. Not to worry, though: After Rourke's showpiece, the movie plunges forward with its low genre-flick intentions.
In a scenario that would have seemed fresher if we hadn't just seen The A-Team, Stallone plays a kind killing machine heading a team of mercenary badasses. There is work to be had, of course. In the scary real world and the scarier world according to action-movie logic, there are always villainous and evil situations to be cleaned up in a spray of gunfire or, better yet, with smartly lobbed knives, martial arts displays, and hand-to-hand combat. In fact, some of the protracted fight scenes in the movie are to be commended for the physicality of their choreography: Anybody can waste bad guys by the dozen with the pull of a trigger.
As a CIA operative gone wildly rogue, and conniving to reap drug money and political control of a small Latin American island, Eric Roberts lives up to his lowdown persona as an über-oily villain, like in Star 80, but with money and even less morality to get in the way.
Most aspects of The Expendables are predictably lackluster, from the lurching plot to implausibility issues to acting best expressed through grunts and muscular mayhem. But, seen on a big screen, the film assaults your moviegoing senses in a breezy, darkly cartoonish way, and may qualify as one of the year's more charming stinkers. It's so bad it's good; just leave your brain and heart at home.