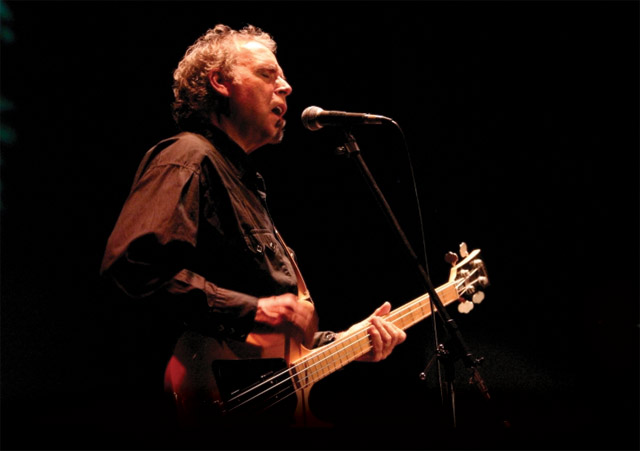 THE MUSIC STOPS HERE: Kenny Edwards, the humble miracle man of music and fount of gentle wit and warmth, blew into town several years ago, fanned by a sturdy reputation. Kenny's luminous résumé included forming the Stone Poneys with a young Linda Ronstadt, working on the sidelines in her solo career, launching the unsung hero band Bryndle, and providing valuable foil service as guitarist, harmony singer, and all-around ballast-keeper for Karla Bonoff. That was the official record, but Santa Barbara came to know the man and the musician on much more personal levels.
When news of Kenny's passing came over the wire—and Facebook, email, telephone, and sources still multiplying—shock mixed with resignation, coming at the tail of a year-long battle with cancer and its complications. Even during that rough period, though, Kenny kept doing what he was meant to do on this planet—make music, and make it good. To say that Kenny "was" feels wrong: He had that flowing spirit and positive, powerful life force which makes his presence felt, even now.
With my musician hat on, knowing and playing with Kenny was a genuine privilege. He willingly and ably fell into the odd admix of our band Headless Household, appearing on three albums and playing in the band's "Americana" section at several concerts. With us, he was an ever-game and grounding presence in the band's eclectic mess/mesh, right up through a gig at SOhO this past June. His singing that night was clear, present, and poignant, especially in retrospect.
Of course, our good fortune to have him as an ally was just a tiny blip on the sweeping landscape of his musical life. Kenny's contributions to music, in town and far beyond, were plentiful, stretching over four-plus decades. He left his mark on countless recordings, stages, and memory banks. Most important, perhaps, was the mark Kenny finally made as a notable solo artist in his last several years, his Santa Barbaran phase. He created two impressive albums—his fine eponymously titled 2002 debut and this year's even more glowing Resurrection Road—and began gigging under his own name.
There is a big hole in the fabric of Santa Barbaran music, but that fabric is also richer than it once was. S'long, friend Kenny. See you and hear you on the other side.
MAW WATCH, WRAPPED: As the Academy Festival Orchestra laid into the jubilant and then funereal final movements of Tchaikovsky's Pathétique Symphony at the Granada two Saturdays back, the Music Academy of the West's 2010 season slipped into the realm of history. Once again, the Academy—in its 63rd year as one of America's, and the world's, great summer educational/performance programs—gave Santa Barbara's classical music fans an embarrassment of riches during the otherwise idle summer months. We had plenty to appreciate, between Tuesday-night chamber music highs by faculty musicians, Saturday-night orchestral maneuvers, and a full-blown, masterfully sung grand opera in the form of this year's Don Giovanni.
To these ears, far and away the most memorable musical evening was unpretentious virtuoso Christopher Taylor's profound, juicy piano recital at Hahn Hall, taking on the promethean challenges of both Frederic Rzewski's kaleidoscopic The People United Will Never Be Defeated! and Bach's Goldberg Variations (quite possibly the greatest piece of music ever written). Taylor, thankfully a regular Music Academy guest now, played with cool, confident, and uncommon aplomb. Strangely enough, it was also the least attended concert amid a string of full houses.
Speaking of venues, one low note to grouse about was the almost complete shutout of the once highly engaged Lobero Theatre, a ripe venue for MAW doings. Tuesday concerts moved to Hahn Hall, reducing the community footprint, while larger shows took to the Granada. Yes, Takács Quartet did concertize, and mightily, at the Lobero, which served to remind us of the theater's MAW MIA status. That grouse aside, MAW 2010 was a beautiful and inspiring thing to behold, as expected.