Arts & Entertainment
Smashing Pumpkins at the Lobero Theatre
Billy Corgan Brings New Life and New Members to Old Band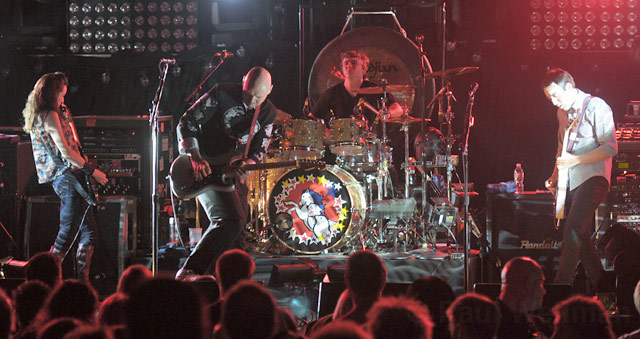 Santa Barbara's last encounter with Smashing Pumpkins leader Billy Corgan was almost exactly a year ago, when Spirits in the Sky, his tribute to the proto-grunge garage rock band the Seeds, made a now-legendary stop at Muddy Waters Café. Last Saturday, Corgan returned, this time at the more capacious—but still intimate—Lobero Theatre, and he was accompanied by the 2010 version of Smashing Pumpkins, which included bassist Nicole Fiorentino, guitarist Jeff Schroeder, and drummer Mike Byrne. As Smashing Pumpkins, Corgan faces the always-tricky question of "why bother?" head on, and in a long, loud set, he and the new band managed to give a compelling answer, making the case that today, 20 years after they first made it big, the Pumpkins still have their mojo.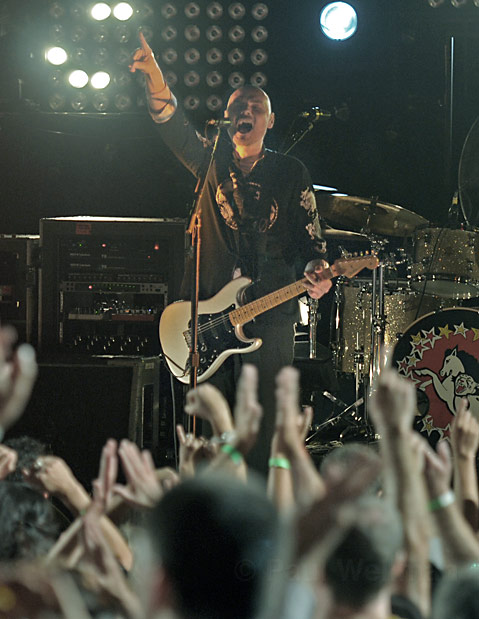 About Bad City, the opening act from Chicago, the less said, the better. They played neo-hair metal at its most unimaginative to a half-empty, fully indifferent room. But after the break, the seats filled in front of the most massive sound system the Lobero has seen in a while. There were banks of Marshall amplifiers four deep on both sides of the stage, surmounted by giant windmills sporting disco mirror-style propellers and high-wattage strobes and what looked like aircraft landing lights. Once onstage, the band tore through the opening five songs without a break, generating the most heat on "Ava Adore" and the recently recorded "A Song for a Son" before they took the entire room on a time-traveling express ride to 1993 via their radio hit, "Today."
Other memorable numbers included a crunching, heavy-as-hell dig into "Bullet with Butterfly Wings" and a sprawling, jammed-out version of "United States" that included quotations from Led Zeppelin's "Moby Dick" and Jimi Hendrix's famous version of "The Star-Spangled Banner." Billy Corgan has mastered the Fender Stratocaster, and he's one of a handful of guitar players who could pull off such references without losing his own musical identity or falling into simple imitation and cliché.
As for the band, 20-year old drumming phenomenon Mike Byrne would seem to be just the right choice for the chair formerly occupied by Jimmy Chamberlin. Guitarist Jeff Schroeder grounds the work of "El Capitan," as Corgan refers to him, in a dense mesh of heaviness that makes you forget that keyboards were ever an element in this band, and the latest addition, bassist Nicole Fiorentino, plays the music so well that one is forced to recognize that there are yet more women like D'Arcy and Melissa out there for us to swoon over.
Still, Corgan remains a fascinating, if difficult, personality, with not much in the way of a filter on what he gives out during a show. First, he plays like he's possessed, then he's telling you he's tired, and later hes observing that "it's always the girl with the big dude who gives you the middle finger." Finally, though, when Corgan found his groove, his words fell in line with the message of the music, telling the crowd, "This is a rock and roll dance party."
Set List:
"Astral Planes"
"Ava Adore"
"Drown"
"As Rome Burns"
"A Song for a Son"
"Today"
"Eye"
"Bullet with Butterfly Wings"
"United States"
"My Love Is Winter"
"Perfect"
"Cherub Rock"
"That's the Way (My Love Is)"
"Tonight, Tonight"
"Stand Inside Your Love"
"Tarantula"
Encore:
"Disarm"
"Freak"
"Zero"