Theater
Body/Bach—Min/Max at Center Stage Theater
Ratatat Theater Group Blends Philosophy, Physicality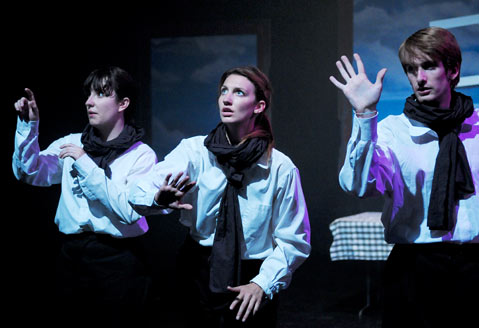 Take the writings of Gertrude Stein and Sigmund Freud in equal parts, and blend with Samuel Beckett. Sprinkle liberally with Tom Stoppard and Marcel Marceau. Add a dash of René Magritte and a pinch of Ludwig Wittgenstein. Stir. Stick the whole thing in a black box and bake under shifting lights for about an hour, misting occasionally with an infusion of smoke-machine vapors and Johann Sebastian Bach. Check frequently to ensure everything remains utterly ludicrous.
So might read the recipe for Body/Bach—Min/Max, the first public show from Ratatat Theater Group and part of the 2010 Lit Moon World Theatre Festival. Last Sunday, Ratatat director and recent Westmont College graduate Casey Caldwell took the stage and explained the young company's experimental bent and fascination with the work of Richard Foreman, the avant-garde playwright and founder of "Ontological-Hysteric" theater.
For most in the audience, this was already a little hard to follow. What came next eluded all attempts at meaning making. Accompanied by Daniel Lemes on cello, three actors alternated between animated discourse and nonverbal communication. They delivered disjointed monologues, engaged in nonsensical argumentative discourse, and ran across the stage screaming. They appeared in black trench coats and bare legs like crazed Gene Kellys in a wild rain dance, and later clutched manila envelopes to their crotches, staring at the audience with cartoon-wide eyes. They asked Foremanian questions, like "How can this be a play if it recognizes itself as such?" then gazed loonily at the audience as they paddled the air with their feet like infants.
This work was an experiment, both on the part of the company and for John Blondell, the festival's organizer, who taught all four members of Ratatat as part of Westmont's theater program and gave them carte blanche to create a new work for the program. The result is a triumph of unrestrained creative expression in all its giddy glory, regardless of whether it's to everyone's taste.
Blondell often references the Edinburgh Fringe as a model for his festivals, and this performance shared the Fringe's raw vitality, curiosity, and enthusiasm—on both sides of the fourth wall. If actors Jessie Drake, Nolan Hamlin, and Anna Lieberman are representative of where we're going, the future looks bright. Maybe that explains those weird black face shields.