Arts & Entertainment
Charles Lloyd's New Quartet Releases New Album, Plays Lobero
Santa Barbara's Pre-eminent Jazz Musician In Concert
Often cited as America's greatest indigenous art form, jazz wriggles away from any univocal definition, resisting the confines of a single track like water flowing on broken ground. For the veteran saxophonist and composer Charles Lloyd, a long-time Santa Barbara resident who has just released a new studio album, Mirror, jazz represents an art form, a musical language, and an approach to life that has served him for decades. On Friday, September 24, Lloyd and his New Quartet—with Jason Moran on piano, Reuben Rogers on bass, and Eric Harland on drums—will perform at the Lobero Theatre before embarking on a European tour that includes dates in Spain, Portugal, France, Germany, Austria, and Poland. The Lobero concert has become a tradition not only for Lloyd and his musicians, but also for the city of Santa Barbara, which turns out in force to commune with this spiritual leader every time he appears.
One of the great paradoxes of jazz as a popular music is the way that a handful of recordings, many of them now fifty or more years old, still tend to dominate sales and reap the lion's share of attention from old and new fans alike. While there's no question that such albums as Kind of Blue (Miles Davis) and Giant Steps (John Coltrane) are true masterworks that have only gained in stature over time, it can seem to musicians working today that they are competing with the ghosts of the past when it comes to finding an audience. Charles Lloyd, however, makes for an important exception to this tendency. He has one of those unstoppable classics in his back catalogue—the immortal Forest Flower, recorded live with a young Keith Jarrett, Cecil McBee, and Jack DeJohnette back in 1966—but he also has a string of equally memorable and increasingly popular discs recorded in this century for the German label ECM. Maybe it's the stunning views of our Channel Islands from his home in the Montecito hills, or his commitment to Vedanta, or simply a work ethic that won't allow him to rest on his laurels, but Lloyd remains as relevant, engaging, and dynamic a musical force today as he was when he arrived on the scene fifty years ago.
I spoke with Charles Lloyd at his home a week ago about his music and the conditions that make great new jazz possible in the 21st century.
The new record is out and you are back on tour. How does it feel to be doing this again?
I know that at this point I'm supposed to be some kind of junior elder, but I approach life with a beginner's mind, so it's all still amazing to me. To play this kind of music requires that you become absorbed in something bigger than yourself. It's the manifestation of a trusting relationship that exists among the musicians and extends outward through the music. Through these sought-after qualities of trust and clarity within the ensemble you can sometimes achieve a state where you are playing together and you feel that you are soaring. It's like walking on water, and like crossing the Ganges in the fable, you've got to trust it, because there's no looking down or going back.
It would be easier for you to sit back at this point and maybe not press so hard to make new music. What keeps you going?
I have always had the blessing of music passing through me, even before I was any good! [Laughs.] When I was a child I played the saxophone in the bathtub, and I was not necessarily playing very well yet, but I loved the sound of the instrument, and the feeling it made going through me, and the way it connected to my breath. I was left alone a lot as a child, and I had to find a way out of that loneliness. If no one wanted me, I had to want myself, and music became my salvation, a form of meditation that allowed me to reconstruct the universe on my own terms.
Where and when did you first begin to see that music would be your life's work?
The milieu that I came up through [New York in the 1950s and 1960s] was rich with musical genius, so I was fortunate in that regard. That's where I first learned the big lesson of creation, which is that you must always go forward. I was so enamored of Lester Young's sound, of the tenderness in it. That's part of why I still play these beautiful saxophones from the 1920s and the 1930s, because they have the pre-war feeling; the metal is different. Of course a younger player today might not appreciate these older instruments because they don't have the flash, the speed of the best new horns. It's like there are these Ferraris out there, but I've sacrificed that glitziness for the burnished feel of an old Packard or something. Now all I've got to do is find a way to run the Packard without fossil fuel!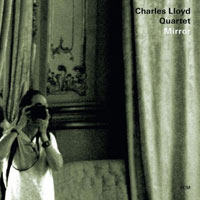 The song selections for Mirror are very interesting—diverse, yet somehow it all hangs together. Can you say something about how you chose some of these tunes?
Gabor Szabo was a friend of mine, and he used to sing "I Fall in Love Too Easily" in his Hungarian accent when he first came to this country. He had seen some things before he left his native country, like people held in refugee camps where they were reduced to making love in the dirt—he said that he actually saw that—and the experience changed him, it hurt some part of him, so that afterwards he was afflicted with a kind of Beat melancholia. [Lloyd then sings a few bars of "I Fall in Love" in a Hungarian accent.] I play it on the alto, which is not my regular horn, but it works with this tune. And what Gabor told me was that all the women in the audience wanted to take him home when he sang that song because they felt it that he had lost his love. My version is my own, but it's also a kind of tribute to him, and to the feeling that he brought to the piece.
You play "Caroline, No" from the Beach Boys' Pet Sounds on this album. How did you choose that?
The Beach Boys have been friends and allies for me since the beginning. I love Brian Wilson and what he can do with harmony. "Caroline, No" has a lot of yearning in it, and a kind of wistfulness. Caroline's a sad girl, but I made her mine. I feel like I just kind of took her up here on the hill and held her hand for a while. So that's how that one came about.
There are two gorgeous ballads by Thelonius Monk. Was he a big influence?
Monk is part of that generation of true masters that I got to be around, and they taught me humility. You have to be willing to look in the mirror and face your own inadequacies if you want to be great. I met Monk and played with him once. He was a bit cagey, the way he would get someone else, his manager or someone, to ask you out to his place to make music, and then act like he didn't even know you were coming. [Laughs.] But his son was there when I went to the house, and he told me when Monk was out of the room that nobody did anything for his dad that his dad didn't ask them to do, so I knew that he wanted me there. And playing with him was beautiful.
What about "Lift Every Voice and Sing"? How did you come up with that for this session?
"Lift Every Voice" is something I grew up with, something we sang in public school in the south. It was part of the pride that these wonderful teachers managed to instill in us—even though we all knew that the game was rigged. The group just kind of took that one, and the feeling of it, and deconstructed it, to set it free. That song also reminds me of India. Have you been to India? You really should go. I love it there because they have no animus. The dogs there are even cool—no barking. There's a certain knowingness about life in India that I identify with very deeply, and that's part of what I tried to communicate in this song. "Lift Every Voice" is an anthem of elevation.
4•1•1
The Charles Lloyd New Quartet will appear at the Lobero Theatre on Friday, Setember 24 at 8pm as the first concert in this year's Jazz at the Lobero series. For tickets and information call 963-0761 or visit lobero.com.