Columns
Move-In Weekend
Welcome to Isla Vista
Just when you think you've forgotten what an experience felt like, you relive it.
Watching the new students move into Isla Vista September 18 and 19 was not the same old same old for me. For some reason, I saw it this year through the eyes of the new students. When a friend described dropping off her niece at her dorm and having dinner with relatives at Hollister Brewing Company to celebrate, it made me remember what it was like to go to college for the first time. It was an adventure, anything but ordinary.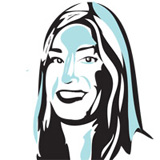 In preparation for receiving new students and their sometimes jubilant, other times heartbroken, parents UCSB puts up signs, fences, and other clues to help everyone get where they need to go. For example, residents moving into the Santa Catalina dorms (formerly Francisco Torres) were met with signs identifying the location plus the unusual opportunity to park across the street, on the grass in front of the UCSB family housing units. Without too much trouble, students could drag their comforters, clothes, and computer equipment across the street to their new rooms. It's great to be in a time of your life when all your possessions can fit in the back of a car.
The approximately 4,500 new students who will be attending UCSB this year can look forward to a unique experience. Sure, there are lots of great schools, in lovely areas, but there are some things about UCSB that make it a particularly desirable place to spend a few years. UCSB is home to Nobel laureates, researchers making great strides in startling technological developments, and world experts in marine sciences, not to mention boatloads of innovative programs in the humanities.
Students coming into UCSB have been chosen in part because of their academic accomplishments: Close to half of the incoming students have a GPA of 4.0 or above. But does this mean that the current freshman class will study all the time, and avoid the parties and other types of debauchery that students are known for? I think not. High GPAs won't stop them from spending part of their weekend walking from party to party on Del Playa.
But students can party anywhere. So why UCSB, and not another school? I think UCSB's location makes it the perfect place for students to be inspired to do great things. They might decide they want to solve the world's energy problems, or find a new way to stop the spread of malaria in Africa. When you walk by the beach every day, or spend hours surfing at Sands, or ride a bike from Campus Point to Ellwood on a regular basis, it's difficult not to appreciate Earth. UCSB classes aren't the only places students will get an education. They are being molded by their environment as well.
While it may take awhile for incoming students to find a favorite beach, or the perfect place to take someone on a date, there are some things about Isla Vista that they will probably take note of immediately. For example, there is a large and growing skateboarding contingent in I.V. In the not too distant past, I.V. skaters could and did from street to street, skating down rails and ramps. According to local skaters, there has been a resurgence in this type of activity. There are students who have built wooden ramps in their backyards, and invite friends over for skating sessions. And I'm not talking small ramps. There are some that are as big as a house, and more impressive than some skate parks.
If skateboarding is not their thing, students can surf, bike, or do just about any outdoor activity you can think of. UCSB has water-ski clubs, rugby teams, rock-climbing groups, etc., and if there isn't a group already doing what they want to do, they can start one. But if they don't want to be part of an organized group, there are still options. They can join Frisbee golf of volleyball games in parks along Del Playa.
Another reason to love I.V. is the fact that you can survive without a car. Students can bike to class, the supermarket, wherever. There are bike shops, hairdressers, a surf shop, a tattoo parlor, and many other businesses that make it easy for students to find what they want without having to go far. But if they want to go shopping downtown, that's easy too: students can take the bus, hitch a ride with a friend, or rent a Zipcar for an hour or so.
Just thinking about all the things students might do makes me feel optimistic. Maybe it's that I'm reliving my own college days, or maybe I am just imagining the possibilities. A new wave of students means another group that can become better educated, and more environmentally aware, and go out and share that knowledge.