Briefs
"That's Sooo Danish"
Solvang's Danish Days Festival 2010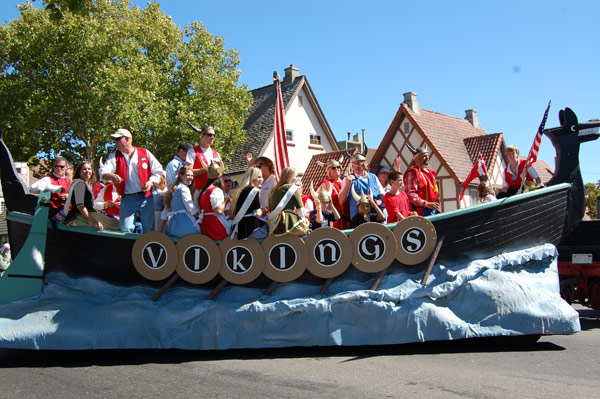 Venture through the Santa Ynez Valley until the valley vistas turn into Danish farm-style buildings with bindingsvaerk (half-timbered) walls, roofs of copper and simulated (mostly) thatch, and replica windmills. You will find people donning traditional Danish garb, so be prepared to experience some Danish hospitality.
The 74th annual Danish Days Festival in Solvang last week attracted thousands to be a "Dane for a day." From September 17-19, Danish history, tradition, and heritage were celebrated, and the most popular attraction embodied all three—the food. What better way to learn about a culture than through its cuisine?
Restaurants, bakeries, and chocolate shops attracted the most attention as lines of hungry patrons spilled out into the streets. Popular eateries include The Red Viking and the Bit o' Denmark Restaurant for smorgasbords all around. The latter is the site of the original folk school established by the Danish educators who founded the village of Solvang in 1911.
Authentic bakeries run by mostly third- and fourth- generation Danes offered pastries, cakes, cookies, tarts, and breads—even take-home versions to bake later.
A taste of Denmark came in the form of frikadeller (meatballs), rodkaal (red cabbage), aebleskivers (tennis ball-shaped pancakes), and medisterpolse (sausage). Carlsberg, an imported Danish beer, was featured in restaurants and the beer garden.
Aebleskivers and medisterpols drew the most attention at the traditional Danish Days Breakfast, the Aebleskiver Eating Contest, and local restaurants. According to one frankly fictional local legend, aebleskivers originated when a band of hungry Vikings returned to their ship with a craving for pancakes. Lacking a frying pan, they greased their shields, poured batter in them, and put them over the fire.
On a more studious note, the Living History Festival at Solvang Park featured hosts dressed in handmade Danish costumes while demonstrating old-world arts and crafts. The Ravens of Odin, a historical reenactment group whose encampments were present in Solvang Park, played out the carefully researched and choreographed Holgang, or duel of honor, between Halfdan the Berserk and Hakon. They also demonstrated and educated attendees on weapons, techniques, armor, shields, tools and helmets—and even had chain mail armor fittings!
Solvang locals, frequent visitors, and first-timers alike took in the rich history at the Elverhoj (pronounced el-ver-hoy) Museum and Hans Christian Andersen Museum, the latter filled with originals and copies of Andersen's books. Randel McGee performed storytelling in the persona of Anderson, the "father of the fairy tale," who wrote such classics as, "The Ugly Duckling," "Thumbelina," and "The Emperor's New Clothes".
From the first Danish Days Festival in 1936, which was done in the native language, to Solvang celebrating its centennial in 2011, Solvang traditions reflect the village's strong ties to the Danish culture. Here's to 100 more years of the Danish Days Festival and Solvang—kom snart igencome back soon!