Arts & Entertainment
Jason Mraz at the Santa Barbara Bowl
Friday Night Show Proves the Ladies Love Mr. A-Z
The girls went crazy — literally all of them. Moms, sisters, teenie boppers, daughters, grandmas, and most every girl born between 1980 and 1990 just went nuts the second Jason Mraz took the stage on Friday night at the Santa Barbara Bowl.
Mraz opened up solo with some brand new, acoustic material before his nine-member band of percussionists, horn players, and string section joined him to rock the Bowl with his practically patented mix of hip-hop, pop, jazz, and rhythmic music. And the performance was solid.
Meshing together new music, jams off We Sing. We Dance We Steal Things, and tunes from his earlier albums, the Grammy-award winning artist worked the crowd like the best of 'em. He brought two lucky concert goers up on stage (including Miley, who was celebrating her eleventh birthday) and gave them, personal, yet equally classy serenades that every other female in the place would have probably punched one another to get.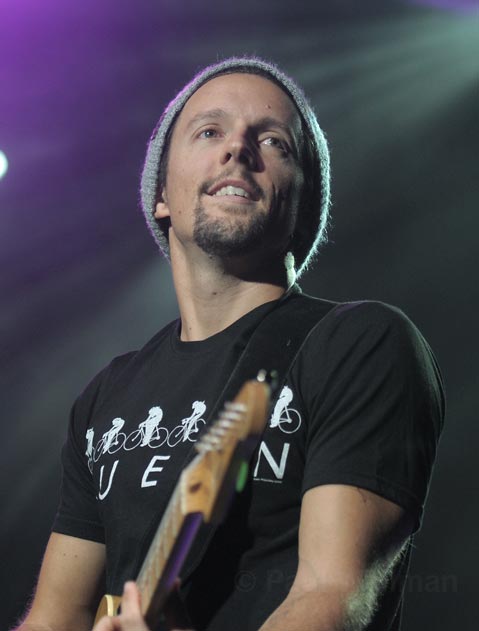 Mr. A-Z had the crowd moving to his delight long before he brought out special guest (and SoCal resident) Colbie Caillat, who along with Mraz performed the duo's Grammy winning hit "Lucky." Friday's show also featured a slew of other hits ("The Remedy," "I'm Yours") and some Spanish-language renditions ("Lucky," "Coyote").
Promoting a message of love, fun, and responsibility, Mraz highlighted his tour's attempts at remaining environmentally sustainable with a stage set made competely of recycled materials. Over 3,000 recycled two-liter bottles made up the entirety of Mraz's backdrop and displayed words that emphasized Mraz's message.
Still, perhaps the best part of Friday's concert was the diversity that the Bowl attracted that night. Although his smooth tunes may primarily kinder to the ear of a woman, music lovers of all color, race, age, and sex were there to watch this SoCal kid rock his heart out. And rock his heart out he did.