Travel
Oaks in Ojai
Rest, Rejuvenate, and Lose Weight
On the TV screen, a fit and attractive woman is seen gliding across the ice, executing perfect spins and jumps. The athlete is the now 74-year-old Sheila Cluff, competing in the 2009 Adult Ice Skating Championships. While Cluff was a nationally ranked ice skater in her youth in Ottowa, Canada, it's still a remarkable achievement to have stayed strong enough to perform the powerful moves required for ice skating. Then again, perhaps it's not so surprising, considering Cluff has spent a lifetime promoting an active and healthy lifestyle.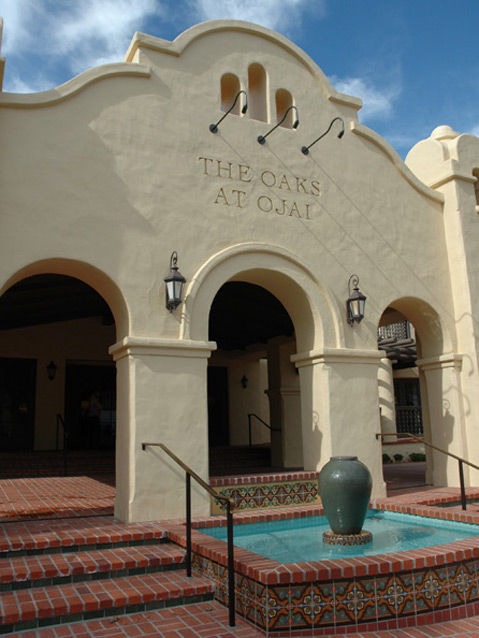 In her adulthood, Cluff was a phys-ed teacher, a CEO of several fitness businesses, a TV host for a show about women's issues, and an instructor for her own syndicated exercise segments. She also founded the Oaks at Ojai, a health and wellness spa—"once known as the original fat farm of the late 1970s," according to its Web site. I was invited to spend a couple of nights at the Oaks recently to see for myself what it was all about.
The Oaks was originally constructed as a hotel in the 1920s by Edward Libbey, who helped rebuild Ojai after a 1917 fire destroyed most of the town. The Oaks sits on the main thoroughfare, a stone's throw from shops and restaurants, making it convenient for guests to explore the charming town. But the Oaks has plenty of activities to fill your day, and it's such a pleasant space that many choose to stay within its walls for most of their visit.
The grounds are intimate, and the main building, where all activities take place, is informal and open 24 hours a day. During my stay, the guests consisted mainly of women who had come to the spa for rest and rejuvenation, to lose weight, and to be pampered. While the average age of those who come to stay is about 55, overall ages range from teens to folks in their eighties. Many guests come alone, too. (The spa has been awarded Spa Magazine's award for "Favorite Spa for Traveling Solo.") With only 46 rooms, the Oaks is a pleasantly manageable space. There are individual suites with private patios and fountains. There is also a pool for lounging and water aerobics.
The Oaks offers an appealing combination of activity and relaxation. Exercise classes (cardio, strength, and flexibility) are offered all day until 5 p.m., and exercise equipment is available around the clock. There are also morning hikes into the foothills. I partook in a 6:30 a.m. guided four-mile hill trek that took us high enough for a spectacular early-morning view of the Ojai Valley. Kayaking on Lake Casitas, horseback riding, and biking are some of the other off-site activities available.
Relaxation comes not only from the serene setting but also via the Oaks' top-notch spa, which boasts a menu of massages, skin treatments, and salon services. I treated myself to two of the offerings—a Scalp Chair Massage (head and shoulder massage and deep hair conditioning) the first night and Ultimate Massage Collection (hot stone, Thai, and deep tissue, among other therapies) the second night. They were both fabulous, and it was lovely to simply walk back to my room and plop into bed in a blissful trance.
All meals are included for the length of your stay. I was a bit skeptical when I learned that guests are allotted 1,000 calories per day's worth of food. I imagined eating only carrot sticks and rice cakes and feeling faint with hunger. To my surprise, 1,000 calories was more than enough to fill me up. And the menu was tasty and diverse. One dinner consisted of BBQ chicken, corn, coleslaw, green beans, and strawberries and shortcake. Lunch included pita pizza, salad, veggies and broth, and a tofu chocolate brownie. There were also snacks available throughout the day (fruit, smoothies, popcorn). There was coffee, but no cream. And no salt or sugar is used in any of the food prepared. Even so, the dishes were flavorful, and I had no problem gobbling them up.
4•1•1
The Oaks in Ojai can be found at 122 East Ojai Avenue. For reservations and more information, call either 646-5573 or (800) 753-OAKS (6257), or visit oaksspa.com.