Dance
Ballet Santa Barbara Gives Us the Kid-Friendly Show of the Week
The Company Performs at the Lobero Theatre this Wednesday Night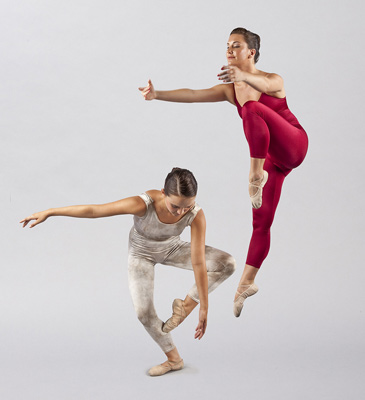 I was three years old when I first saw dancers perform live. Apparently, I stood up, turned to my mother, and, pointing at the stage, told her, "I want to do that." I don't actually remember making that declaration, but it changed the course of my life; I went on to become a professional dancer and then to write about the art form.
In this era of budget cuts and decreased funding, there's a lot of talk about young people losing access to the arts. Artistic Director of Ballet Santa Barbara Carrie Diamond has taken it as a personal mission to make sure young children get the opportunity to learn about dance.
Next week, Ballet Santa Barbara (BSB) will perform a series of matinees for young audiences at the Lobero Theatre. The dances themselves aren't designed for children; in fact, BSB will offer the very same program to the public on Wednesday, October 20. But on Tuesday, Wednesday, and Thursday morning, October 19-21, more than 1,000 public school students will fill the Lobero's seats. Many of them will be seeing professional dance live for the first time.
The performances are part of Moving to Learn, BSB's educational program that currently reaches 400 students at McKinley and Roosevelt Schools. As part of the Wednesday-evening performance, 3rd graders from Roosevelt will give a short demonstration. The rest of the show is devoted to two new works by Diamond: "Haringduet," inspired by the work of artist Keith Haring and set to a percussion score by New York composer Daniel Levitan, and "Wisperfal," a longer group piece created in collaboration with BSB's music director Eric Valinsky. For this piece, Diamond and Valinksy created the choreography and the score independently. Although "Whisperfal" is abstract, Diamond and Valinsky believe the power of the dancing itself will appeal to children. "It's a very friendly performance, but it won't talk down to them," Valinsky said. You never know—some of them might even decide to pursue a career in dance.
Interested educators should contact Holly Chadwin at 966-4946 x613 or email hchadwin@lobero.com. Ballet Santa Barbara performs at the Lobero Theatre (33 E. Canon Perdido St.) on Wednesday, October 20, at 7 p.m. For tickets, call 963-0761 or visit lobero.com.