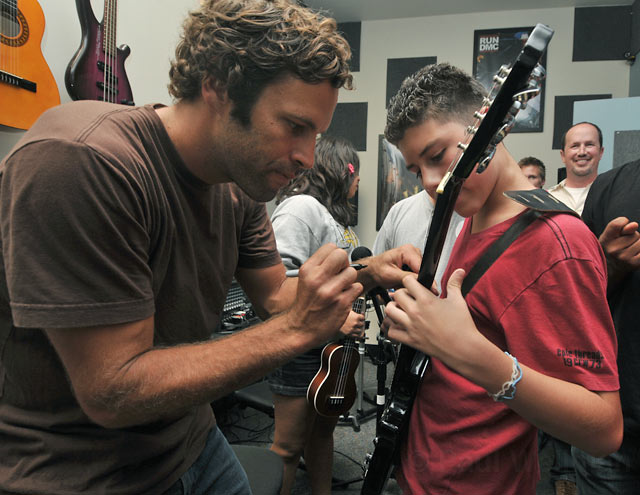 Hours before sound check, singer-songwriter, surfer, and musician Jack Johnson stopped by Notes for Notes at the East Side Boys and Girls Club on Wednesday to hit a few notes of his own before performing at the first of two shows that concluded his "To the Sea" tour.
Johnson's visit, which was joined by keyboardist Zach Gill and Rock and Roll Hall of Famer David Crosby, included a $5,000 donation along with a jam session with the local youth who participate in the music program.
"It's nice to have a place where kids can come back and keep building that fire," Johnson said.
Notes for Notes is a nonprofit organization that provides young people with free access to musical instruments, instruction, and music-making activities through MusicBox studios.
"What we offer them is the empowering feeling of being able to play music," said Phillip Gilley, Executive Director and Co-Founder of the program.
During the jam session, Johnson and the youth played along to songs like "Better together," "Sitting, Waiting, Wishing," along with a little freestyle.
Natalie Hurt, an 11-year-old student at Peabody Charter School who just recently began playing the congas, never imagined that she'd get her own solo while jamming with Johnson and Gill.
"I couldn't believe it when he (Johnson) called for a drum solo," Hurt said, cheeks still bright red. "I was thrilled but it was fun."
Sixteen-year-old Dani Loza, an eleventh grader at El Puente, strummed her four-string Lanikai ukulele alongside Johnson. She even got it signed.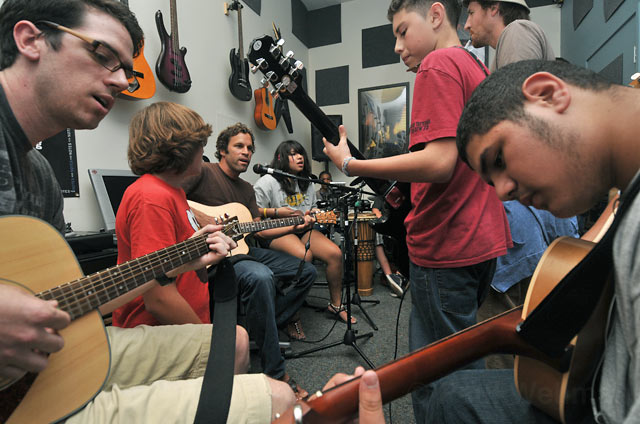 "It was a great honor to play with someone who puts so much soul into his music," Loza said.
Loza, who'd just begun playing the ukulele a month ago, has been coming to Notes for Notes on a daily basis ever since Gilley placed the Hawaiian guitar in her hands.
"It's nice to have a studio for kids to come and play music for free," Loza said.
While music programs nationwide have been shut down because of added pressure from the No Child Left Behind Act, which sets rigid standards in reading and math for schools to receive funding, Johnson said that what some don't realize is that music is a working example of both math and English.
"You study these things like math which comes along with the age old question, 'When am I ever gonna use it?'" Johnson said. "Music is one of the greatest things a kid can use."
"There's such an emphasis on math and English [in school], when music is mathematical. It's emotional. It's concrete."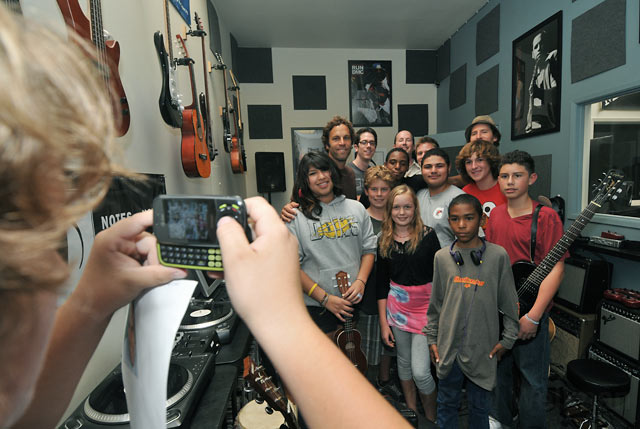 For those who have no place to play, or even learn, Gill is glad to know that programs like Notes for Notes is keeping the music alive.
"For some, this is the only option," Gill said.
Though many may never reach superstar status, as he thought he never would, Johnson stressed that keeping music about fun is what's first.
"Don't make it a goal to make it a living," Johnson said. "The path is about doing it for love."
The program, which hosts a membership of 100-plus kids, is getting ready to open a studio at the Westside Boys and Girls Club. And that's not it. In addition to developing locally, Gilley hopes that his next venture, a studio in Nashville, Tennessee, becomes a catalyst for MusicBoxes across the country.