Bottles & Barrels
Talkin' 'bout the Wine Ghetto
Take a Trip Down to Lompoc's Hidden Corner of Warehouse Winemaking Goodness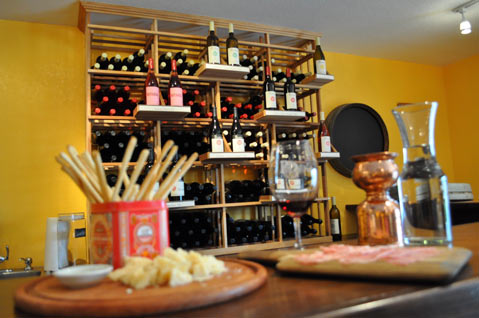 Some people want to see colorful rows of grape vines rolling over lush hills while they wind through scenic country roads. Some people want to swirl their glasses above marble countertops amid terra-cotta-tile tasting rooms. It turns out, though, at Lompoc's "wine ghetto," a lot of people — including world-class sommeliers and wine connoiseurs — just want to sip wines that make their toes curl in ecstasy, sans distractions.
The warehouse complex — whose underwhelming façade undoubtedly inspired its facetious moniker (nobody knows who coined it) — houses both winemaking facilities and a exponentially-growing number of tasting rooms. And while it doesn't look like much at first, the wine ghetto holds pure grape-juice gold.
Its down-to-earth modesty, position amidst the wineries, and neighborhood-like nature has Melissa Sorongon, co-owner of Piedrasassi and New Vineland (with winemaker husband Sashi Moorman, who also makes Stolpman's wines in the ghetto) calling it "a different kind of romance." Indeed, while the drab, gray buildings won't sweep you off your feet upon first glance, they house some of the most celebrated wines in Santa Barbara County — and not coincidentally.
Clinton Froehlich, assistant winemaker at Jalama Wines, opened a tasting room in the ghetto this summer. He believes the low-cost facilities enable small high-end wineries to thrive. "There's no way we could've afforded to open up a tasting room in Los Olivos with our production level," he avowed. "Our wines would have been priced out of the market."
One of the first ghetto residents, Angela La Vie of La Vie vineyards agrees that the location allows dreams of winemaking to come true because it proves "wine can be made anywhere. You can have a start-up business, get into winemaking without having to drop a fortune on the location and ambiance." She also believes that its proximity to the decidedly delicious Santa Rita Hills inevitably brings merit to the ghetto. "Just having the city name on the label indicates the wine is produced in a top-quality way."
Chad Melville, winemaker and founder of Samsara, has an advantageous perspective, considering his roots in the Melville family, a winery with a famously spectacular tasting room on its own scenic vineyard. He considers his ending up here "fortuitous" due to his fondness for the location's dynamics. "You know when you walk into the ghetto and buy a bottle of wine," he pointed out, "your money is going into what went into the bottle of wine, not into overhead."
Aside from facilitating superior winemaking practices, the ghetto requires an outstanding end product. "There have to be really exemplary wines here," Froehlich explained. "Lompoc doesn't have the big draws of fancy restaurants; we don't have high-end anything, really." In fact, the wines are so unfailingly sensational that Froehlich believes the ghetto has become the "anchor" of the Santa Rita Hills wine loop, a scenic route that includes the winery- and vineyard-soaked Santa Rosa Road, and the circle it makes the connects Lompoc and Buellton with a stretch of Highway 246.
And even those who admittedly have a hard time telling apart a ten-dollar cabernet from a $50 syrah, "going ghetto" may prove quite captivating, as visitors gain unparalleled access to meeting winemakers and watching them work, especially during harvest, which happens from September through December. Nowhere else in the county is quite like the ghetto, where several very different wineries' production facilities share such close proximity. Because tasting rooms are scattered in the industrial park, strolling through the ghetto puts tasters literally in the thick of winemaking territory, a behind-the-scenes opportunity they likely won't find elsewhere. It's an experience that, Sorongan concluded, "is more than a retail storefront."
It's also a place to visit often, as the number of tasting rooms booms, offering even greater variety. Kimberly Loring, whose Loring Wines tasting room opened over Labor Day, pointed out that even people who visited the ghetto as recently as July would have at least three new tasting rooms to check out now.
Everyone in the ghetto seems to agree that a very special camaraderie circulates through the winery warehouses and tasting rooms. "There's a really cool energy in the ghetto, people are really proud of it," Melville said. "People are pushing each other to be better." He finds constant inspiration from fellow winemakers like Steve Clifton (Palmina) and Sashi Moorman (Stolpman and Piedrasassi), adding, "I'm lucky to have them as friends."
And although not everyone would have chosen the industrial park's nickname, they can't help but own it. While Sorongon lovingly calls it, "our little ghetto," Clifton said, "We're proud of where we are," reasoning, "'Chablis' wasn't always the best-sounding word or the best place in France, but people slowly understood it as a great wine region."
4•1•1
The Lompoc Wine Ghetto is located at the intersection of 9th Street and Industrial Way in Lompoc, and includes at least 12 wineries at last count. See lompoc.com for links to a map and more information.