News
An Evening for Peace
Civil Rights Leaders to Be Honored
One was imprisoned for refusing to be in the Korean War draft, the other served as a captain in the Korean War — both are slated to receive the Nuclear Age Peace Foundation's Distinguished Peace Leadership Award.
Reverend James Lawson and Glenn Paige will be honored at the organization's 27th annual Evening for Peace event on October 29 at the Four Seasons Biltmore Coral Casino. Both individuals made time to speak to The Independent about their experiences and efforts toward reaching social equality and global nonviolence.
Reverend James Lawson
Reverend James Lawson says his experiences growing up in Masillon, Ohio, were the driving force behind his goals for peace and equality. A mentor to Dr. Martin Luther King Jr., Lawson was dubbed "the leading theorist and strategist of nonviolence in the world" by King himself. Thrown behind bars for refusing to report for the Korean War draft and for being a protester in the American civil rights movement, Reverend James Lawson's reputation is nothing to be modest about.
What got you to become an activist for nonviolence and the civil rights movement?
I was born black in Pennsylvania. [Laughs.] When I moved to Masillon, I was met with racial epithets, insults, and slurs. That experience caused me to become an activist. It gave me character and strength, but also showed me ways by which wrong could be corrected. I realized the way society allowed itself to make me something less than a human being in the image of God was wrong.
You're now currently living in Los Angeles. Can you briefly tell me about your journey from Ohio to California?
I spent three years in India as a missionary and 13 months in United States federal prison as a draft resistor from 1951-1952. I spent 17 years as a United Methodist pastor in Tennessee and moved south sooner than I might have because I shook hands with Martin Luther King Jr. on February 6, 1957.
Can you tell me a little bit about your involvement with Dr. King?
I had practiced nonviolence for some 10 years or so by the time [we met]. When he learned that, he asked me to come south immediately and participate in the emerging movement of nonviolent direct action. I moved south in 1958 and traveled around the South teaching nonviolent struggle. Then in conjunction with colleagues, we began a training project in nonviolence to desegregate downtown Nashville. King called it the model movement of that time, and we produced a blueprint for nonviolence for the emerging movement.
So what exactly is "nonviolent direct action"?
It was coined "nonviolence" by Mohandas Gandhi. For Gandhi it was a science of social change — how you begin to make change of social political oppressions, how you create self-determination out of colonialism. There are certain kinds of principles [you have to follow] if you want positive social change: You cannot imitate evil and wrong, and you cannot organize an effective campaign on untruth.
So how exactly do you teach nonviolence?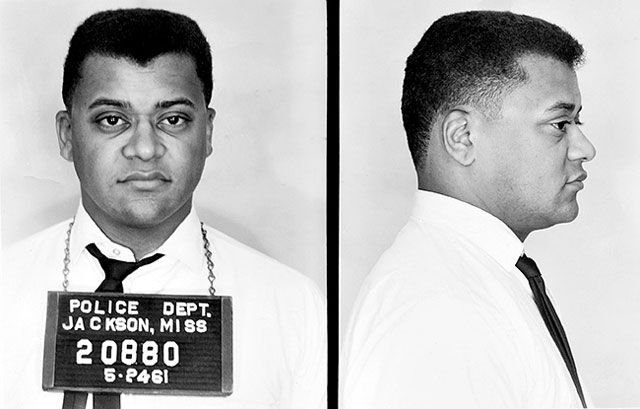 In 1958, I gave the Little Rock Nine at Central High School their first lessons in nonviolent resistance to white citizens who were trying to drive them out. These students were being harassed, intimidated, and bullied verbally, psychologically, and physically. I tried to help them see that they had every right to be in the school for better education, that they were courageous for volunteering to do that, and that they could resist and defend themselves.
In the case of Nashville, I began the teaching for the Southern Christian Leadership Conference in 1968 and did basic workshops on nonviolence. My approach used the experiences of black people in American history as illustrations.
What was the best part about teaching nonviolent direct action?
The most important instance of teaching was the fact that most of these people were convinced that love and truth was the way they had to conduct their lives, and that if they dug deep enough, they could figure out how to respond in hostile situations and incidents.
What's your proudest accomplishment?
[Long pause] Historically, we changed the United States. Through the 1960s and 1970s, it was common to experience signs across America that said, "No Negro Allowed." These signs were in public buildings and were not there by law. They were there by the custom of former racism that permeated the country. As a consequence of the national movement, because we started the process of pulling the signs down in demonstrations, those signs all came down. In 1964, the United States Congress passed a law that said that such public signs were unconstitutional. That's a rather phenomenal event. So, I am most pleased and proudest of what we accomplished in changing the face of America in that fashion.
What were the toughest challenges you faced in your journey?
I've worked against the grain. We have a society that has a 400 year or so history of romanticizing violence. That's how we got these 50 states. [Laughs.] I have found that the American romanticism on the efficacy of violence is what is causing great harm in [our] country. And that, in many ways, threatens our future. You put the amount of money we put in the war over the last four years into quality education, affordable housing, and health care, and this world would be vastly further advanced than the way in which we made any kind of progress in the last four years anywhere in the world.
What's next on your agenda?
I'm trying to get people to be aware that we're talking about an area of human experience that does merit a serious study and serious academic treatment. I am trying to get it into a process of both writing and teaching to help others pick up the work and the task. There is much to be done, but a good start has happened.
Glenn D. Paige
A published author and the founder of the Center for Global Nonkilling, Glenn Paige is a Korean War veteran, where he moved up the ranks from recruit to captain. One who wrote his doctoral dissertation in defense of the Korean War, Paige's evolution from a soldier to a scholar and advocate for peace includes the development of the academic concept for nonkilling. Paige just returned from the Global Nonkilling Leadership Academy in Honolulu and spoke to The Independent.
I understand you served in the Korean War — even as a captain. That's pretty interesting, considering you're now an advocate for nonkilling.
After the war, I went back to school and I wrote a book called The Korean Decision about why we entered the Korean War. I interviewed President Harry Truman for my doctoral dissertation when I became a political scientist. I justified the war.
What got you to change your stance from justifying war to being against it?
I studied North and South Korea carefully. I studied the Korean language, Japanese language, Russian, and Chinese to understand Korea in the past century and what had happened. I was following the results of the war. One day in 1974, it was quite remarkable. Three words came to me, very silently: no more killing.
Is the term "nonkilling" as simple as it seems?
Nonkilling is not Mom's apple pie. The word "nonkilling" is not in the English dictionary — it's kind of a new word. The idea of not killing people has been around for thousands of years, but in English, to put a word on it is sort of unusual. Nonkilling has four main interests: one is spiritual; second, is science; third, is skill. You can have all the spirit, like Dr. King or Gandhi, and you might have all the knowledge, but you have to have skill to put the spirit and the knowledge together and do something or make change. The last one is song. Martin Luther King Jr. said, "If you don't got a song, you ain't got a movement." [Laughs.]
How does it feel to be honored at the Evening for Peace?
I'm very pleased, surprised, and honored. It's a great blessing and encouragement, not for me, but [for] the idea of nonkilling.
Why do you say it's surprising?
I founded the Center for Global Nonkilling in the state of Hawaii in 1994 as a nonprofit. There are seven workers in that center. We don't have an office building, but we have workers stationed all over the world. While I was trying to establish this center for nonviolence, I was writing a book, Nonkilling Global Political Science. I sent the manuscript to the editors at Oxford, Harvard, Yale, and Princeton. Even though I had 20 rave reviews, the editors [rejected me]. Here's a case of an American scholar who had the advantages of education, opportunity, and eventually tenure, and everybody else [didn't] agree with me. That book took 28 years of research, teaching, and discovery of nonviolent spiritual matters, academic disciplines, and history. Finally I published it in 2002 and posted it free on the Internet under our Web site. After eight years, it's been translated into 22 languages. I call it the "miracle story" that the book got published at all, and the world's responsiveness to it.
Can you give us a preview of what you'll be saying at Evening for Peace?
Gandhi said, "My life is my message." But in my case, the question is the message. And that is, "Is a nonkilling society possible?" I will make a plea for support for what people are doing from a nonkilling perspective. A commitment to kill leads to violence against women, destruction of the environment, violation of human rights, and the division of ethnic groups and countries. Killing can't solve any of those problems.
In your opinion, do you think a nonkilling society is possible?
The idea's been [set] loose in the world that it's possible for us human beings, over time; we can stop killing each other. It's a vision — no doubt about it — but there's a lot of evidence that it is thinkable. Once you cross the threshold that it's unthinkable, you're able to do something. The idea's loose and I'm happy about it. So is a nonkilling society possible? Yes!