Cover Story
'Tis the Season: A Guide to Winter's Festivities
Ho, ho, ho! Cold weather has finally arrived in Santa Barbara, bringing with it a plethora of events that celebrate the holiday season. To make sure your calendar is filled with wintery wonders, Devon Claire Flannery, Independent listings editor, and Debbi Shibuya, talented calendar section intern, have compiled a comprehensive guide to 'most all the festive December goings-on in our area. Whether it's ocean-side sleigh rides, boutique shopping, meetings with Santa Claus, and even playing in the snow, the following pages give everyone—from enthusiastic holiday revelers to those feeling a tad grinchy—fresh ways to bring light into the short days of winter. Happy holidays!
Community Events
Art From Scrap Holiday Open House and Party
Enjoy mulled wine and appetizers while you make an ornament with local assemblage artist Mary Price.
Fri., Dec. 10, 5-7pm. Art From Scrap, 302 E. Cota St. Call 884-0459.
Candy Cane Train
Take a ride on the Railroad Museum's festive miniature train, a tradition now in its 18th year, then check out the Toy Trains and Teddy Bears children's exhibit. Miniature train riders must meet the 34-inch minimum height requirement.
Daily through Fri., Dec. 24, 1-4pm. South Coast Railroad Museum, 300 N. Los Carneros Rd., Goleta. $3.50-$4.50. Call 964-3540.
Goleta Holiday Tree Lighting Ceremony
Meet Santa, eat Christmas cookies, and sing carols as you watch the lighting of a large holiday tree.
Fri., Dec. 3, 5:30-7:30pm. Goleta Valley Community Ctr., 5679 Hollister Ave. Call 967-1237.
Goleta Valley Historical Society's Holiday at the Ranch
A holiday open house with Santa Claus and his "rein-goats," plus live music, tours, story time, and more.
Sat.-Sun, Dec. 11-12, 11am-4pm. Stow House, 304 N. Los Carneros Rd., Goleta. Call 681-7216.
Holiday Gingerbread House
Bring the whole family to Olsen's Danish Village Bakery to see the impressive 8- by 11- by 10-foot-tall gingerbread house created from scratch annually by fourth-generation Danish baker Bent Olsen. Every year, Olsen uses 250 pounds of gingerbread dough, 150 pounds of powdered sugar, and three gallons of egg whites to bake and construct the massive and tasty holiday creation.
Open for viewing daily through Fri., Dec. 31, 7am-6pm. 1529 Mission Dr., Solvang. Free. Call 688-6314.
Holiday Nature Craft Family Workshop
Sip cider as the garden's education staff instructs you and your family how to make wreaths, wrapping paper, and ornaments by hand to celebrate the winter season in S.B.
Sat., Dec. 11, 10am. S.B. Botanic Garden, 1212 Mission Canyon Rd. $50/family of four; $10/additional person thereafter. Call 682-4726 or visit sbbg.org.
Light Up a Life Celebration
Three special nights to remember those we love by lighting a star on the Hospice Tree. Hundreds of lights and stars will illuminate the memorial tree, with more stars available at each ceremony for those who wish to hang their own personalized tribute. All donations benefit Hospice of Santa Barbara, Inc. 
Sat., Dec. 4, 5:30pm: Camino Real Marketplace, 7004 Marketplace Dr., Goleta; Sun., Dec. 5, 5:30pm: Lobero Theater lawn, 33 E. Canon Perdido St.; and Sat., Dec. 11, 5:30pm: Linden House, 789 Linden Ave., Carpinteria. Suggested donation for a star is $10; attendance is free. Call 563-8820.
Miracle on State Street Downtown Holiday Parade and Tree Lighting Ceremony
Santa Barbara's Downtown Organization invites all to join the Holiday Prince and Fairy for the city's official tree-lighting ceremony, which kicks off the 58th Annual Downtown Holiday Parade. More than 50,000 will gather to watch giant helium balloons float down State Street, along with marching bands, holiday floats, festively clad performers, and a horse-drawn carriage carrying the Holiday Prince and Fairy, accompanied by the parade's Grand Marshal and Old Saint Nick.
Fri., Dec. 3. 6:30pm. Tree lighting at State and Victoria sts. Parade then travels down State St., from Sola to Cota sts. Free. Call 962-2098 x23.
Panzumo Winter Solstice Party
Fourth annual holiday performances by rhythmic song and dance three-piece Panzumo and special guest performance by Dramane Kone and area students to benefit "Rhythm, Song, and Dance" programs at S.B. and La Cuesta high schools. Guests will enjoy a marketplace featuring local artisans' works, and delicious and healthy refreshments.
Fri., Dec. 17, 7-10pm. Unitarian Society, 1535 Santa Barbara St. $10-$20. Call 966-4604.
S.B. Harbor Parade of Lights
The city pier will transform into Santa's Village this year, complete with 10 tons of snow, kids' activities, and holiday music during the day. After the sun sets, spectators will enjoy the 25th Annual Parade of Lights from boats decorated to the theme "Silver Bells and Winter Swells," followed by a spectacular fireworks finish.
Sun., Dec. 12, 3pm. S.B. Harbor to Stearns Wharf. Call 564-5530.
Sledding at the Zoo and Snow Leopard Festival
A fun winter celebration of the endangered snow leopard, two of which live in naturalistic habitatsat S.B.'s wild animal park. Sledding and playtime in 75 tons of snow will delight kids ages 4-12, and a play area with the same fresh powder will be available for tots. Adults and older children can watch as snow and frozen treats are fed to snow leopards, elephants, gorillas, lions, and other zoo animals.
Sun., Dec. 5, 10am-3pm. S.B. Zoo, 500 Niños Dr. Admission: $12/adults, $10/children and seniors; $3/snow sledding access. Call 962-5339 or visit sbzoo.org.
"Sleigh" Rides at the Beach
Sip apple cider and hot chocolate while dashing from Butterfly Beach to Montecito's lower village on a horse-drawn "sleigh."
Fri.-Sat, Dec. 3-4, 10-11, and 17-18, 4-9pm. (Rides last 30 minutes.) Four Seasons Biltmore Resort, 1260 Channel Dr. $150 for up to four adults; please RSVP. Call 565-8291
Solvang Julefest Tree Lighting Ceremony and Julefest Parade
Amidst a decked-out Danish holiday evening, watch the lighting of a giant Christmas tree, partake in caroling, then enjoy a special appearance by Santa Claus. The next day, the Julefest Parade will feature a procession of Danish dancers, musical groups, vintage vehicles, horses, carriages, and more in the city's downtown area.
Lighting Ceremony: Fri., Dec. 3, 5pm. Solvang Park, Mission Dr. and First St., Solvang. Parade: Sat., Dec. 4, 11am, travels from Old Mission Santa Inés (1760 Mission Dr.) to Alisal Rd. post office. Free. Call 688-6144.
Trolley of Lights
See all the sights and Christmas lights on a 90-minute trolley tour around downtown S.B. Reservations are required for this local favorite, now in its 11th year.
Dec. 10-23, 6:30pm. Tours depart from Wheel Fun Rentals, 22 State St. $13-$22. Call 965-0353 or visit sbtrolley.com.
Winter FUNderland
Sun-drenched Santa Barbarans can enjoy cold-weather holiday fun this season at the FUNderland fest! Highlights at this popular annual event include a magical gingerbread village to explore, a chance to snuggle up for storytelling in a "hibernation den," shopping for holiday gifts, photo ops with Santa, and the virtual night-sky journey "Santa's Starry Ride," an enchanting winter planetarium show.
Sat., Dec. 18, 10am-4pm. S.B. Museum of Natural History, 2559 Puesta del Sol Rd. Free with paid admission ($6-$10). Call 682-4711.
Dance and Theater
The Christmas Revels: A Bavarian Celebration of the Winter Solstice
Santa Barbara Revels' annual performance celebrating the Winter Solstice is both engaging and family-friendly, featuring more than 60 singers, actors, dancers, and instrumentalists. The Christmas Revels transports audiences to early 19th century Bavaria, to enjoy the colorful costumes, lively dancing, glorious choral and instrumental music, and engaging storytelling of that time and place.
Sat., Dec. 18, 3 and 8pm; Sun., Dec. 19, 3pm. Lobero Theatre, 33 E. Canon Perdido St. $12-$35. Call 963-0761.
A Gem of a Nutcracker
West Coast Ballet, with artistic director Ellen Schipper, presents its 20th annual full-length production of this classic holiday ballet.
Fri.-Sat, Dec. 17-18, 7:30pm, and Sun., Dec. 19, 2:30pm. Center Stage Theater, 751 Paseo Nuevo, 963-0408.
It Had to Be You
Proceeds from ticket sales to this stage production of a classic Christmas-time romantic comedy, presented by Acting Up Productions, will benefit S.B. County dog rescue group K9 Pals.
Thu.-Sat., Dec.2-4 and Dec. 9-11, 8pm; Sun., Dec. 5 and 12, 2 and 7pm. Center Stage Theater, 751 Paseo Nuevo (Upper Arts Terrace). $20-$25. Call 963-0408.
Miracle on 34th Street: The Musical
The timeless, uplifting story about the spirit of Christmas is reimagined on stage as a live musical production.
Sat., Dec. 11, 2 and 7:30pm, and Sun., Dec. 12, 3pm. Granada Theatre, 1214 State St. $12-$55. Call 899-2222 or visit granadasb.com.
The Night Before Christmas and Les Patineurs
An annual Montecito School of Ballet holiday production for 19 years, with a special 2010 guest appearance by performers from S.B. Dance Theatre.
Fri., Dec. 10, 7:30pm, and Sun, Dec. 12, 2pm. Lobero Theater, 33 E. Canon Perdido St. $16-$24. Call 963-0761.
The Nutcracker at the Arlington
The Santa Barbara Festival Ballet's annual dance performance of the classic tale of Clara and her prince celebrates its 36th year in S.B.
Sat., Dec. 11, 2:30 and 7pm, and Sun., Dec. 12, 2:30pm. Arlington Theatre, 1317 State St. $25.50-$47.50. Call 963-4408.
Rudolph
A children's holiday ballet by performers from Gustafson Dance, featuring enchanting Christmas characters like Santa and his elves, a delightfully "abominable" snowman, and the red-nosed member of St. Nick's reindeer team.
Sat., Dec. 4, 2 and 6pm. Lobero Theatre, 33 E. Canon Perdido St. $8.50-$17. Call 963-0761.
Solvang Annual Nativity Pageant
Choir groups, actors and dancers in elaborate costumes, as well as live animals make this popular biblical story come to life.
Sat., Dec. 11, 5 and 7pm. Solvang Festival Theater (outdoors), 420 Second St. Free. Call (800) 468-6765.
State Street Ballet's The Nutcracker
Based on the book The Nutcracker and the Mouse King by E.T.A. Hoffmann, featuring opulent Moscow sets and guest dancers from Gustafson Dance.
Sat., Dec 18, 2 and 7pm, and Sun., Dec. 19, 2pm. Granada Theatre, 1214 State St. $17-$53. Call 899-2222.
We'll Be Home for Christmas
An original holiday show by the Ojai ACT group, bringing an air of traditional and unique songs to a joyous holiday family atmosphere.
Fri-Sat., Dec. 3-4, 10-11, and 17-18, 7:30pm; and Sun., Dec. 5, 12, and 19, 3pm. Ojai Art Ctr. Theater, 113 S. Montgomery St., Ojai. $8-$15. Call 640-8797 or visit ojaiact.org.
Holiday Markets
Alpaca-Style Holiday Boutique
Meet some cute, furry alpacas as you shop among hand-made goods, yarns, and imported alpaca items in this 5th annual event.
Sat.-Sun, Dec 4-5, 10am-4pm. Ranch of the Oaks, 3269 Crucero Rd., Lompoc. Free. Call 451-4104.
Art on the Mesa Holiday Party
Browse works by more than 40 local artists in a holiday marketplace, hear live music and holiday tunes by Eric Dover and SluggoTheOne, watch a tree-lighting ceremony, and more.
Sat., Dec. 4, 11am-5pm. Various locations on the Mesa: Meigs Rd. and Shoreline Dr. Call 965-3302.
Christmas in the Valley Gift and Antique Show
The Santa Ynez Valley Elks' holiday gift show will feature a visit from Santa Claus, and goods from various art dealers and producers from throughout the region.
Sat., Dec. 4, 9am-4pm. 1095 Meadowvale Rd., Santa Ynez. Admission is $3 for adults; kids are free. Call 688-4235.
Deck the Halls: A Holiday Pop-Up Mall
All 17 rooms of a hip S.B. motel will be transformed into pop-up shopping stores, each with unique one-of-a-kind goodies for everyone on your list—in addition to live music, food, and good holiday vibes abound. Vendors include Miss Behavin', The French Press, Collage Philosophy, and many more.
Sat., Dec. 4, 5pm-midnight. Presidio Motel, 1620 State St. Call 963-1355.
Folk and Tribal Arts Marketplace
This year marks the silver anniversary year of the largest folk art show on the Central Coast! The unique event features one-stop holiday shopping for whimsical, practical, and exotic goods crafted around the world—plus food, live music, and dance performances to keep you busy all day. Proceeds benefit museum education programs.
Fri.-Sun., Dec. 3-5, 10am-5pm. S.B. Museum of Natural History, 2559 Puesta del Sol Rd. Admission is free. Call 682-4711.
Get Gifted Giveaway Days
Holiday cheer awaits Friday afternoon early birds at one of S.B.'s most popular shopping centers this month, when representatives of Paseo Nuevo Mall will hand out free $10 gift cards to the first 100 people in line at the complex's center court. Gift cards can be used at any store in the mall.
Fri., Dec 3, 10, and 17, 1pm. Paseo Nuevo Mall, 651 Paseo Nuevo. Call 963-7147.
Los Alamos Holiday Stroll
Bell Street will be bustling with art on display, live music and caroling, holiday cheer, and more.
Fri., Dec. 3, 5-8pm. 400 block of Bell St., Los Alamos. Free. Call 344-3807.
Tone-Up's 7th Annual Holiday Boutique
Gifts for women and children, jewelry, art, clothing, beauty products, children's items, and more.
Sat., Dec. 4, noon-5pm. Tone-Up Santa Barbara, 3006 De la Vina St. Free. Call 898-8910.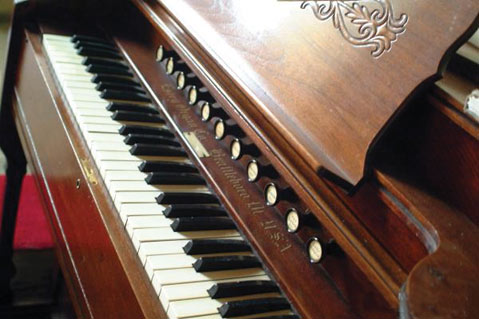 Music
Advent Organ Series
Celebrating the 27th season of this Christmas music series in sacred space.
Sun., Dec. 5, 12, and 19, 3:30-4:30pm. Trinity Episcopal Church, 1500 State St. Call 965-7419.
Christmas Carol Sing-Along
A nondenominational celebration through song. Carolers and spectators are both welcome.
Fri., Dec. 17, 7:30pm. Trinity Episcopal Church, 1500 State St. Call 965-7419.
A Christmas Pageant and Concert
Mama Pat's Inner Light Community Gospel Choir joins forces with students from Marymount School to enact a classic Christmas tale with spoken word and song.
Sun., Dec. 5, 6:30pm. First Congregational Church, 2101 State St. $15. Call 729-1159.
Quire of Voyces' Mysteries of Christmas
Featuring Christmas music dating from the Renaissance to the 21st century, plus Spanish, English, and American carols.
Sat., Dec. 18, 7pm, and Sun., Dec. 19, 3pm. St. Anthony's Seminary, 2300 Garden St. $15-$20. Call 965-5935.
A Very Mariachi Divas Christmas Show
Unique cultural music ensemble Mariachi Divas will perform holiday tunes in their signature fusion musical style, dubbed "ranchengue," a mixture of ranchera and merengue.
Thu., Dec. 9, 8pm. Chumash Casino Resort, 3400 E. Hwy. 246, Santa Ynez Valley. $15-$25. Ages 18+. Call (800) 585-3737.
Weihnachtskonzert
The Edelweiss Choir of Santa Barbara, accompanied by a string quartet, will perform a Christmas concert featuring traditional carols from many lands, sung in their original languages.
Sun., Dec. 12, 3pm. Trinity Lutheran Church, 909 N. La Cumbre Rd. $12. Call 682-1537.
Services
Christmas Eve Unitarian Services
Service for families with children meets at 5pm; adult contemplative service begins at 9pm.
Fri., Dec. 24. Live Oak Unitarian Universalist Congregation, 820 N. Fairview Ave., Goleta. Call 967-7867.
Hanukkah Candle Lighting
Each night, one more candle will be lit on the Temple's menorah.
Nightly through Wed., Dec. 8, 7-8pm. Congregation B'nai B'rith, 1000 San Antonio Creek Rd. Call 964-7869.
Old Mission Christmas Eve Vigil Mass
S.B. Parish's traditional Roman Catholic Mass in splendid surroundings.
Fri., Dec. 24, 5pm and midnight. S.B. Mission, 2201 Laguna St. Call 682-4151.
Old Mission Christmas Day Mass
S.B. Parish's traditional Roman Catholic Mass in splendid surroundings.
Sat., Dec. 25, 8-9am, 10-11am, and noon-1pm. S.B. Mission, 2201 Laguna St. Call 682-4151.