Arts & Entertainment
The Black Crowes Celebrate 20 Years
Drummer Steve Gorman on the Band's History, Future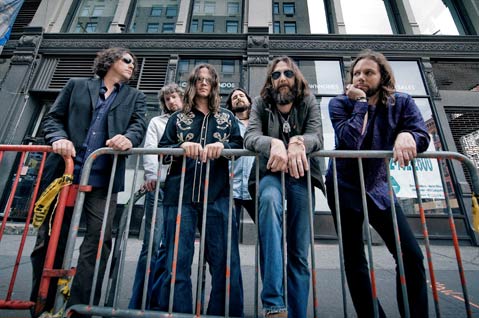 This January marked 20years since Shake Your Money Maker, the unexpected smash 1990 debut by blues rockers The Black Crowes. Launched into a world of hair bands and glam rock during the Sunset Strip's hard rock heyday, the Crowes didn't seem to stand a chance, yet they managed to soldier on, winning rave reviews and braving the grunge storm with their classic rock flag held high.
Years, and multiple disputes, arrests, addictions, and lineup changes later, it seemed The Black Crowes were all but done for, and the band's indefinite hiatus in 2002 only served to seal the deal. But five years later, to the surprise of even the biggest Crowes believers, they were back at it again, releasing what many would argue are their two best records to date: 2008's Warpaint and 2009's Before the Frost … Until the Freeze. Most recently, though, it's the band's 20th-anniversary double-disc, Croweology, that has folks talking. The 20-track, all-acoustic collection finds the band revisiting and reworking their tunes, from 2001's "Soul Singing" to Money Maker's standout hit "She Talks to Angels." Furthermore, the subsequent tour, which hits the Arlington this Tuesday, is confirmed to be the band's last … at least for a couple years.
I recently spoke with drummer Steve Gorman about the past, present, and future of The Black Crowes.
I'm curious to know a bit of the backstory behind Croweology. Was this a project that you guys had planned on doing for a while? Actually, it came up just a few months before we made the record. We were discussing the fact that this would be the 20-year mark since the first album, and several conversations about what we would want to do to acknowledge that led into [the fact] that we didn't want to just re-release the first album. To us, we wouldn't really care to celebrate one album. It was more like, wow, the band's been here 20 years. That's what we were excited about. We didn't just want to put together a compilation of 20 songs over 20 years—that's all been done. And in late '08 and '09 we had done a handful of acoustic shows and a lot of acoustic songs in the studio and were just really enjoying working in that format. … It covered a lot of desires that we had to acknowledge the 20-year mark in a way that would still be new and fresh and exciting for us.
I imagine a project like this brings with it a lot of time for reflection. What would you say you took away from Croweology? At the time we were doing it, I certainly had a great appreciation for all the tunes. It's real easy to take your own songs for granted when you play them for so many years, you know? I've never taken for granted the reactions we get from our fans, and when people come up and tell you how much a song means, that's always great to hear. But I was reminded more often of what I felt like when we were first recording than I would have ever remembered otherwise. They were not all the most pleasant memories, but certainly they were the ones that all factored in to the mood and the feeling of things. … I listen to Croweology and I think, "Wow, this is 20 years talking." It's a very different band than the one that made Shake Your Money Maker in 1989. That was some guys with some pretty grand ideas about what they might be one day, and this is the band that I think is all we ever hoped we would become.
There's no denying the renaissance this band has seen in the last three years. What do you think kept The Black Crowes from calling it quits? We had that sense that there was still a lot to be done. When we went in [the studio] in '07 to start Warpaint, I know there was some trepidation—not that we were discussing it in such easy, linear terms—about what we were going to come up with. That was our first time in a studio together since 2000, and I'm sure there were some pretty strong feelings of, "I hope this works out. I hope that we still have something that makes us feel like we're on the right path." Then we got in the studio and wrote "Movin' On Down the Line" the first day in there, and to me that's the song on Warpaint that sort of centers the album. If one song sums up everything we wanted to be in there, it would be that one. It covers a lot of ground. And I think that when we put that down the very first night, we got back in the studio and then listened to it the next day, right then everything changed. It made us think, "Okay, we do know what we're doing. This is the right time to be here. We did wait long enough." That feeling is something you can't make up, and when it's there, you can't get rid of it.
If this is the end for The Black Crowes, do you feel like you're going out on top? Well, yeah. The idea that you're walking out at the top of your game is certainly appealing. You never want to look back and say "We could have done better at the end," and we won't be saying that this year. I know that. It is a great way to say, "Let's stop for a while."
4•1•1
The Black Crowes play the Arlington Theatre (1317 State St.) this Tuesday, December 7, at 8 p.m. Call 963-4408 or visit ticketmaster.com for tickets.