Visual Arts
Uncharted Journeys at The Arts Fund
Seldom Seen Photographs by Four Santa Barbarans
Now on view at The Arts Fund, Uncharted Journeys brings together the work of four women whose photographs provide views into cultures and communities far from our own. Leinie Schilling Bard, Susan Bower, Mercedes Eichholz and Virginia Castagnola-Hunter are best known in Santa Barbara for their philanthropic contributions to the arts and to social justice. When curator Nell Campbell discovered their archives of slides and negatives, taken over the course of nearly five decades of international travel, she knew they were worthy of public attention. Though these women worked and traveled independently of one another, there's nevertheless a sense of adventure, a fascination with the unfamiliar, and a humanity that pervades all of their work.
The earliest images here are from Eichholz's journey to Mongolia in 1961, where she shot on assignment for National Geographic. You can almost feel the bitter cold in her images of the Mongolian steppe, where she lined up children for group portraits as a dark storm blew in over distant, barren mountains. A little boy in a double-breasted coat two sizes too large squints from beneath his knit cap; another stands bravely in his boots beside an enormous, hairy yak.
Five years later, Bard visited Afghanistan, where she recorded the streets of Kabul in winter. In one arresting image, a child nestles against his father's side in a shop door, a tattered poster of flags of the world on the wall behind them serving as a foil to this very particular place and time.
Bower's images from southern India were taken in 2002, and capture that region's brilliant colors in close-up portraits: A young woman seen in profile balances a basket on her head, her neck laden with silver rings and strands of beads. A closer look reveals a deep scar on her temple, peeking from beneath her colorful headdress.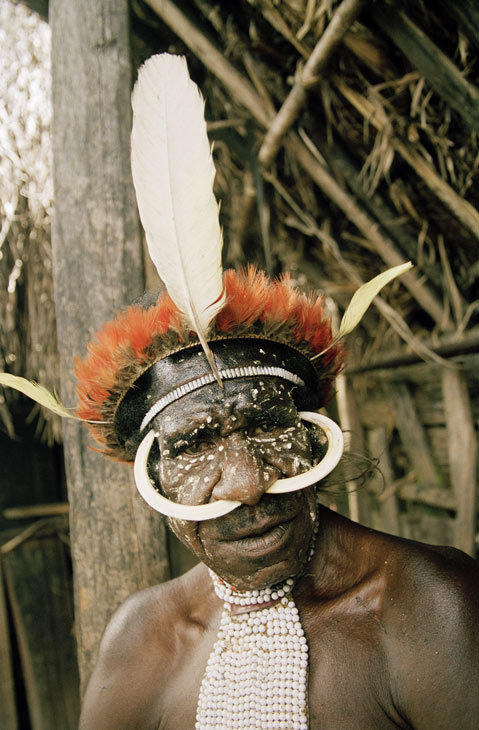 Most astonishing of all the works in this show are Castagnola-Hunter's images of the Dani and Asmat tribes on the remote Indonesian island of Irian Jaya. A special government permit allowed the artist access to a virtually untouched culture. The images included in this show feature men engaged in a ritual: In one shot, they dismember a pig; in others, they sport phallic appendages, body paint, and feathers. Taken only six years ago, these are records of a culture as distant from ours as the imagination can reach, and at the same time, these subjects gaze directly at the lens, as if they can almost see us looking back.
4•1•1
On Wednesday, December 15, at 3 p.m., The Arts Fund will host a gallery talk with the Uncharted Journeys artists. For more information, call 965-7321 or visit artsfundsb.org.