News
Modular Homes Come to Santa Barbara
Prefabricated Dwellings Reportedly Cheaper and More Eco-Friendly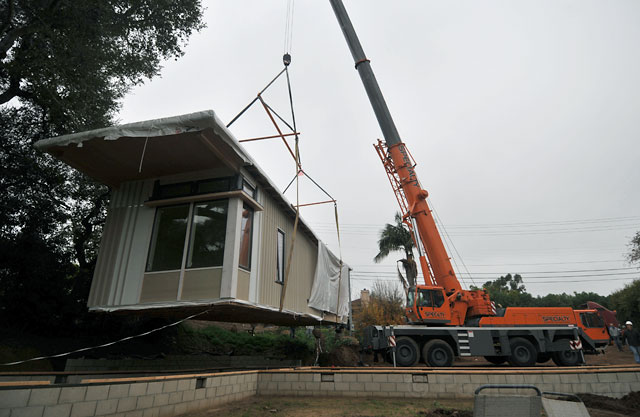 Early Wednesday morning, neighbors of Santa Barbara business owner Art Gaspar watched as construction crews craned into place an up-and-coming trend that's helped reshape the way people think about purchasing homes.
About a dozen of Gaspar's neighbors, some still in their pajamas, sipped coffee on their patios as workers with the Seattle-based company Stillwater Dwellings introduced one of more than 20 eco-friendly, prefabricated homes to the area. The 1,950-square-foot, three-bedroom, two-bath home is made up of three modules, arranged in an "H" to form two courtyards.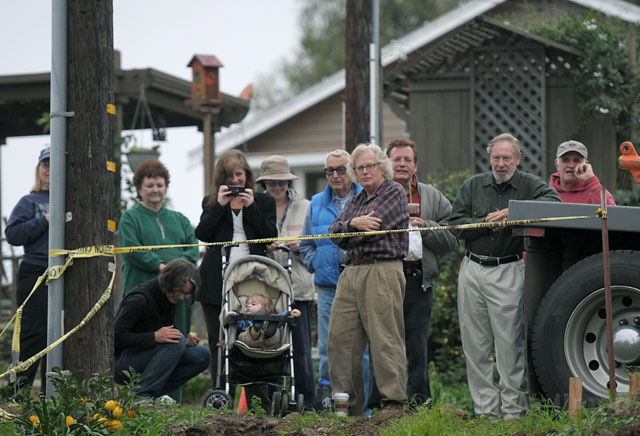 Designed in Seattle and built in a warehouse in Idaho, the home took a little more than two months to construct. Once the modules are installed, and final work is complete, the home should be move-in ready within three weeks.
Bart Mitchell, one of three partners at Stillwater Dwellings, said that a home like this, if built by anyone else, could take at least five months.
"What's great about these homes is their predictability," Mitchell said. "Buying a home shouldn't be a guessing game."
Mitchell said that passed deadlines and missed price estimates, which usually end up going above more than below, are the most common thorns in the construction business. Prices for the prefabricated homes built by Stillwater are fixed and range from $180 – $250 per square foot. Depending on gas prices, the cost of transporting the modular homes is the only variable that may change, he said.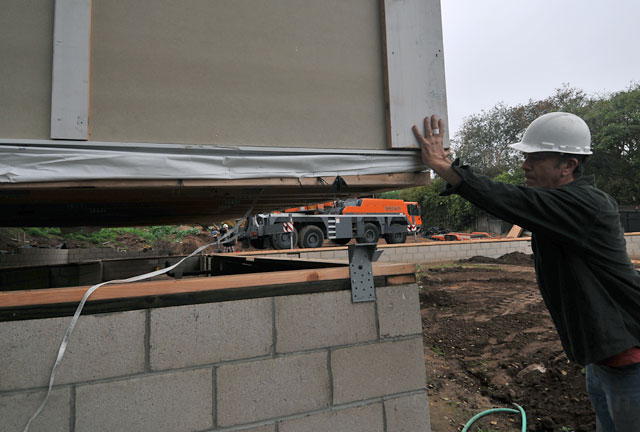 The prefab homes are also built in a warehouse where the materials aren't weathered nor so they see a drop of rain, which is a common problem when building a home on site. Using modules also reduces construction time and produces less waste than typical methods. And because these homes are constructed to survive transport, Mitchell said that the homes are built better and the modules fit together tighter and form a more efficient envelope.
Other features of the house include: bamboo flooring, recycled quartz countertops, low-flow fixtures, and double-paned windows, amongst other things. Stillwater Dwellings is targeting LEED certification for homes and Built Green four-star certification.
Gaspar, who found the home online, said that his new home — if built by an architect from the ground up — would have cost him $800,000. He paid $500,000. More than a year ago, Gaspar hired an architect to design a home for him, but the price got out of hand.
"You know how expensive an architect can be?" Gaspar asked. "Once we saw how well built these homes are, we were sure this is what we wanted."