Voices
Guns Are Not Babysitters
But Try Telling That to My Brothers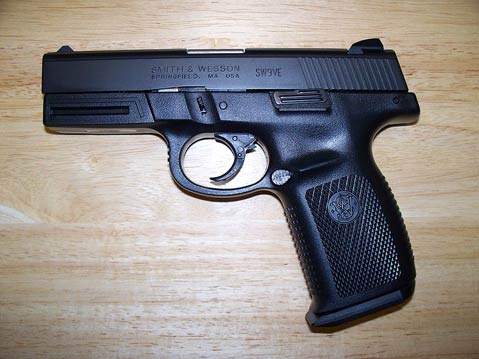 Upon noticing that there is a surge in violence in lovely Santa Barbara, and discussion about whether or not to carry a gun was sensible, I started thinking about my childhood in upstate New York. My father was not just a gun collector, but a gun fanatic. My father worshipped guns. I swear he was a cowboy in a past life. My first hand-me-down was my brother's 16-gauge Remington side-by-side. I was five. The gun was taller than me. But as my father's child, I had no choice.
Our family events rotated around opening days. For opening day of pheasant season, I was up at 2 a.m. to start eggs, bacon, and coffee for the ascending hordes of men—usually about 75 to 150 men at our home for breakfast at 3 a.m. For deer season, it was a neighborhood event to see my brothers come home with a stag (nothing less than 12 points) and clean it in the front yard. The family motto was "If you kill it, you clean it!" All my friends would gather to see my older brother explain the ins and outs of a deer.
My father was a widower, so my brothers became my babysitters when Dad stepped out. At that time, drinking age in New York was 18, which of course meant 16. (My brothers practically built the Anchor Bar.) So what did my brothers do?
"Okay, here's the gun." (A Luger, taken off some dead German.)
"It's loaded." (They all were—including the guns.)
"Remember, there is a bullet in the chamber. It's ready to go!" (So were their dates.)
"Now if there's someone at the window, shoot first, but remember to pull him in the window before you call the police." (I was eight.)
I would spend the next four hours hovering by the TV with my Barbie doll in one hand and a loaded Luger in the other. You can't imagine how much a house can creak when you're eight.
When we moved to California, all the guns finally were counted. There were 421 shotguns, from all eras. We had a flintlock, bayonets, crossbows, Winchesters, Remington's, automatics, semiautomatics—well, you get the idea. When my paternal grandmother died, I inherited her "Lady Derringer." Of course, my mother's side of the family was not to be outdone; I inherited a cemetery plot—oh, the symmetry!
All our family stories revolved around guns. My father was councilman of our town; we would enviably get "death threats" on the phone at which we would all laugh. When my brother was evacuating his house because of fires in Sacramento, I jokingly asked what went on the truck first. He said diapers. "Diapers!" I exclaimed. "Ya," he said, "I needed something to cushion the guns." Of course.
I have a photo of my niece, age five, in camo, with a dead deer to her right and a Beanie Baby on her left shoulder. Veronica had to stop talking about family outings because other kids were horrified that she had killed Bambie. My brothers never, ever remembered my birthday, but they could recall how the nick in my gun got there. (Charlie had a fever of 104 so he dragged the gun home).
Of course there were some accidents. My brother came home one night (morning) and asked me if he was bleeding. It turned out that he had been shot in the head by some kid who mistaken him for a woodchuck. We all thought it was hysterical. No, we're not sadists: What was funny was that Charlie had just returned from Viet Nam (as a Green Beret with five Bronze Star Medals) and he didn't get a scratch on him. My brother asked me to put a Band-Aid on the wound and wake him up in a couple of hours because he was mad he didn't get a woodchuck.
Dad was a defense contractor. He had ton of empty missile shells littering his garden, like gnomes. When Dad passed, my husband and I were emptying his house. My husband told me in no uncertain terms that he was not going to move all those shells. What do you do with empty missile shells? When Saddam's cache of weapons was revealed, I was so mad—Dad had more shells in is garden than Saddam did! (My husband suggested I send them to "W" to pad Saddam's WMD's.) You had to "pat down" all of Dad's sport jackets, because that was his favorite place to hide his (loaded) revolvers. When empting Dad's van, we found two guns, a set of brass knuckles, numchucks, and a police baton—Dad always carried a lot of cash and he liked to be prepared.
So do I recommend you carry a gun? Yes. If you carry lots of cash, and if you remember to you pull the burglar in the window first!