News
House Not "Snookered"
But Concerned Rowse Has Long-Term Ambitions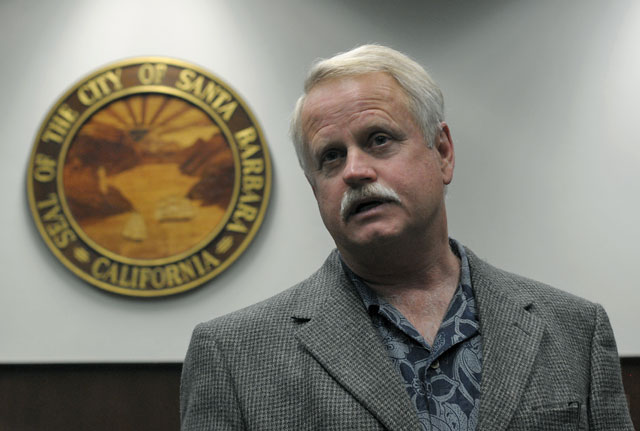 Santa Barbara City Councilmember Grant House is still weathering fallout over his decision to break with his more liberal colleagues on the council last week and appoint a more conservative moderate — Randy Rowse — to fill out liberal, former-councilmember Das Williams's remaining year in office, thus giving the right an apparent four-vote majority. "Some people think what I did was nonpartisan statesmanship," he said. "Others say, 'Grant, you traitor.'" House said the community deserved a council with the seven members the City Charter required.
House nominated Rowse for the post — after seven deadlocked 3-3 votes — only after Councilmember Dale Francisco, leader of the conservative bloc, assured him that Rowse had no intention of running for reelection once the year left on Williams's term expired. (House had argued he couldn't support anyone with long-term political ambitions.) Almost immediately after being sworn in, however, Rowse made it clear he never said never, only probably not. "Randy left the door open a crack, but in the world of politics that means it's wide open," said House. "That concerns me."
Among liberal Democratic activists, there's a suspicion that Francisco pulled one over on House, thus giving the conservatives the edge that liberals won at the ballot box. House disagreed. "I was snookered by Dale Francisco?" he exclaimed. "Come on!" Likewise, Francisco said he never grilled Rowse on the subject, but did talk with him about it at a meeting held two weeks ago at the Paradise Cafe, which Rowse owns. "He said, 'One year will be plenty for me. I can't imagine serving for four,'" Francisco relayed.
House's liberal colleagues were caught flat-footed when House nominated Rowse without any preambulatory discussion. Daraka Larimore-Hall, head of the county's Democratic Central Committee, said he understood the public could become seriously disenchanted if the council remained split 3-3 on all serious matters between now and next January. But he said House had other options than appointing someone with whom he fundamentally disagrees on policy matters. The council could have delayed making a final decision and agreed to try again at a later date. "Why is the City Council majority acting like the Democrats in the state legislature or Congress — and behaving like we're a minority — when we have a clear majority?"
In a recent interview, Rowse affirmed that he doesn't believe in making absolute statements about his future plans, and added, "I still have no plans to run." Rowse said he's troubled by the political calculus underlying the question, saying the two polarized camps' approach has not served the community well. Rowse acknowledged he and House disagree on many issues, but took exception to many of the assumptions that he'll be a lockstep conservative on the dais. "That idea would be absolutely hilarious to the buddies I went to school with at Environmental Studies," he said. "They think they know who I am; they haven't seen me perform." Later he added, "I've been in the peanut gallery all these years; it's easy to pop off. What happened is that Grant just called my bluff."