Columns
Christmas in Brazil
North Pole Accessories, but Rio All the Way
It is against my instincts to get into the holiday spirit as temperatures soar toward 100° F rather than stubbornly hiding out below freezing. There were no fireplaces or snowmen. No evergreens. Just palms. No eggnog, just cachaça. And the only steam coming from cookies was due to extreme humidity.
But thanks to a Brazilian obsession with American culture, it was impossible to escape the northern December images. In fact, in the month preceding Christmas, I was dispirited to see that Brazil's ideas of Christmas are largely imported from Hollywood. Tan women wearing sleeveless lightweight dresses and sandals stream through the entrances of heavily air-conditioned malls decorated inside and out by sparkling snowflakes, trees, and the well-known north pole residents. Sweaty shoppers stroll past storefronts decorated by images of happy Christian families frolicking through snow in mittens. I imagine kids coming in from days at the beach to be bombarded by Hollywood's colossal collection of Christmas films on TV.
But as much as the American images wouldn't leave me alone, come the 24th, I'd recognized some authenticity – some Brazilian spice in the Christmas punch. Outside of the commercial world of shopping malls, storefronts, and TV, Christmas in Rio de Janeiro is nothing like it is in the USA. If anything, it's more like the Fourth of July.
This became clear to me on the eve of Christmas as I walked home. My route of choice this evening was from the beach, inland toward the picturesque lagoon, geographical centerpiece of Rio's Southern Zone; around it, through the wealthy Gávea neighborhood; and up the mountain Dois Irmãos, on which Rocinha, my home, lies. This route seemed appropriate on Christmas Eve – since December 4, an 85-meter-tall tree has floated at the lagoon's center, offering a backdrop to myriad family photos and romantic holiday strolls.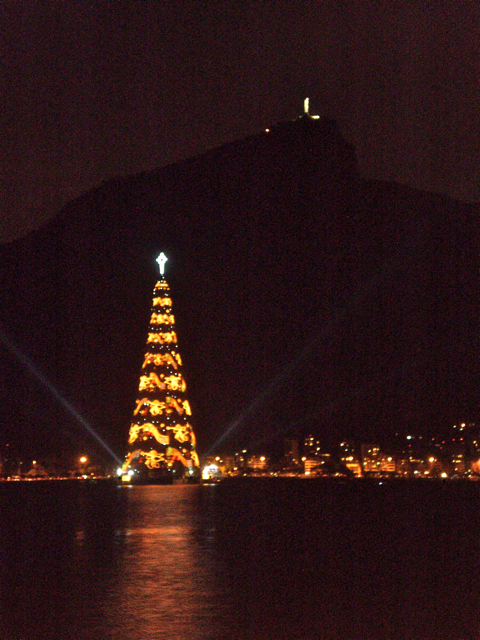 I must note that the tree is not really a tree at all but a gargantuan, buoyant, cone-shaped light show. Five minutes in its glow shows sparkling blue and silver, replaced by golden horizontal rings, which are soon filled in by a golden lace pattern, which shifts into red and green and blue musical notes. Golden staffs soon appear for the notes to rest on, silver sparkles throughout. Then surge the golden bells and doves and penguins, which transform to arrangements of flowers and candles, their flames fading and materializing, fading and materializing. The series completes with a full display of silver-sparkling-golden eight-pointed stars and snowflakes, appearing from darkness near the cross-topped, white tip of the tree and gradually spreading to the base. Sparkling blue and silver take over again, and the cycle repeats.
Hundreds of humans border the side of the lagoon that offers a view of Cristo Redentor behind the tree, as I am trying to navigate the path and the sun is setting. They snap shots with their cellphones while sharing hot dogs, meat sticks, sweet popcorn, tapioca, and cotton candy.
When I finished circling the wet, festive puddle, I found myself in quiet, deserted streets. The foreignness of the Brazilian Christmas was finally revealing itself to me. By 6 p.m. on the 24th, businesses had closed and workers had rushed home to clean up for Christmas dinner. That's right, Christmas dinner in Brazil occurs before Christmas itself, on the eve. In fact, that's when most of the celebrating goes down. I climbed higher and higher above Gávea, its spacious, peaceful homes hosting family dinners to the tune of classical music. Ascending into Rocinha was fascinating. In contrast to ever-increasing stillness below, noise and crowds were on the steady incline on the streets up here. Explosions punctuated the calm night air every few seconds. They resonated from guns, fireworks, firecrackers, sparklers, flares, and rockets. Rooftops filled with families, cases of beer plunged into seas of ice, top 40 American rap blasted from home stereos.
At midnight, to the deafening tune of explosions, the Christmas meal was served. It reminds me of any other Brazilian meal – a meat dish, a "salad" of diced carrot and potato mushed up in mayonnaise, whole baked or roasted buttery potatoes. But instead of the usual steak and sausage, the Christmas meat of Brazil is ceia, turkey whose white meat is specially prepared. And the most important part is the dessert: rabanada, famous as the Christmas fattener. It's kind of like French toast, though it looks more like leftover Shake-N-Bake chicken to me. It's soggy bread, soaked in whole milk, fried in egg, and matted with cinnamon and sugar.
It was while tipsily examining the insides of a slice of rabanada, explosions out the window decorating my peripheral vision, around two in the morning on the 25th, that I thought about my American counterparts. After setting out the milk and cookies, you'd all been to sleep by midnight. In a few hours, you'd all be waking to open presents. And Christmas dinner would finally occur the night of the 25th. Here, all thoughts of Santa Claus seemed absent as gifts were exchanged somewhere in the blur of fireworks, drinks, dinner, and rabanada.
By sunrise, rooftop parties, blasting music, and the setting off of fireworks had died down, although not entirely ceased. People were napping in preparation for a long day at the beach. The day was a sunny one. Beaches throughout the Southern Zone were practically the only places food and drink could be purchased, from Rio's perpetual army of beach vendors. Nobody else worked. And come sundown, as on all remaining nights through the end of the year, random personal fireworks surged again.
So for a city that loves American culture but has never seen even a flake of snow, Rio did all right. How could anyone resist light shows, sunburns, and hangovers in place of wholesome North American traditions?