Voices
To Addiction and Back
Mother's Account of Teenaged Daughter's Victory Over Cocaine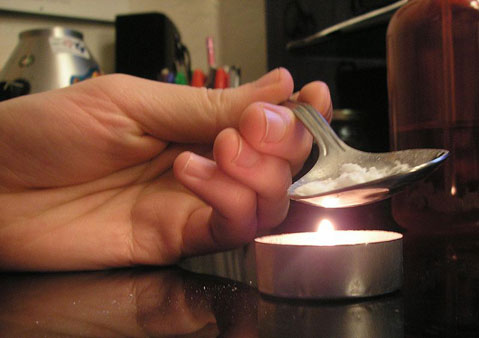 After speaking to many families around Santa Barbara who have friends or family members suffering from addiction, I feel compelled to share our story in hopes of starting to lift a stigma, and to help create an environment of honest communication as it relates to drug and alcohol abuse among our youth. While most adults look the other way, many high school and college students in our area are destroying their lives through some form of alcohol and/or drug abuse.
Among the many personal stories I could share on this topic, this one takes precedence because it involves my daughter. Hopefully, our experience can comfort and aid others who feel lost in the maze of embarrassment, disbelief, fear, and worry over a child's problems with addiction. Maybe we can even provide some hope.
One New Year's Eve, at the age of 17, my bright, beautiful, family-oriented, not incredibly social daughter tried cocaine. And, as they said at rehab, she was probably addicted from the moment she tried it, especially since she comes from a long line of addicts on both sides of the family.
She was the child I didn't really worry about – mature for her age, very driven in her desires, an incredible caregiver for her siblings, a hard worker, and not much of a drinker. But my daughter used cocaine for six months, spending $12,000 of her own hard-earned money (because heaven forbid this driven little soul wasn't going to make her own money). Eventually she was using three grams of cocaine a day. If you don't know whether that's a lot or a little—just think deadly
"So," people asked, "couldn't you tell?" or "Didn't you notice anything?" What they really wondered was, "How could you let this happen?" or "What is wrong with you as a parent?" As far as being able to tell, my daughter had always had a somewhat volatile personality, so changes in mood didn't shock me, and, although her energy was a bit extreme during this time, she seemed really happy and just acted kind of silly. All I really thought was, "I am so ready for her to go to college!"
In retrospect, her obsession with the nonexistent mouse in her room probably should have been a red flag, but at the time—I thought there really was a mouse, and I tried to find it, or at least convince her that it wasn't going to get on her bed and crawl all over her in the night. As a parent, you aren't thinking "Cocaine!" You're thinking, "Are you kidding me? A mouse? What next?" The thought that your child has imagined a mouse in her room because she is high on cocaine really isn't in the forefront of your mind.
Anyway, one night my daughter called me to her room because she believed she was having a heart attack. I couldn't think of any reason a 17-year-old would have a heart attack, but I took her to the hospital just in case. After they admitted her, I waited outside her room for about four hours until the hospital staff realized that she wasn't 18, so I had to be told.
I was calm and understanding but reeling internally. Ultimately, my best move of the night was remembering, at this vulnerable time, to ask her where she kept the cocaine so that I could confiscate it when we got home. Much to her chagrin, her stash was discarded as soon as I found it.
Once I processed the reality of the situation, my mind was moving a million miles a minute because, if I am anything, I am a problem solver, and I was determined to solve this problem. Unfortunately, it was a Friday when we returned home, and many rehabilitation centers don't take patients over the weekend. Of course, the luxurious, Malibu, $40,000-a-month facilities will take you anytime, but those weren't in the budget and weren't covered by our insurance, which, as I found out later, was a blessing in disguise. No matter how much money you have, you don't necessarily want the addict to have some lavish, comfortable experience at rehab or they won't want to come home and won't even mind going back. Rehab is meant to be difficult and to have an impact that causes the addict to dread the thought of returning. Tough love in a non-luxurious facility would be my recommendation. But even then, it is the rare addict that recovers and remains sober.
While sitting on the bed trying to find a facility that would accept my daughter over the weekend, I had a very unusual experience. Basically, my daughter was not my daughter. She started crawling all over me like an animal and digging in all of my pockets. It took me a minute to realize that she was looking for drugs, on me. She was crying one minute and laughing the next. Withdrawal had already begun, and it was a sight to behold! If the situation hadn't been so serious, I think I would have laughed because the scene was so unbelievable it was comical. My daughter doesn't remember any of this.
After checking the facilities our insurance would cover and making the phone calls, I settled on a place in Orange, California called the Chapman Medical Center PALS Unit. The only way I could get her admitted over the weekend was to go through the emergency room. Another long wait with a "child" rummaging through everything in the room, crying, laughing, agitated, faking her urinalysis, taking pictures of herself with her phone, making paper airplanes, and in general acting like a five-year-old menace.
Finally, we were taken to the back hall where the PALS Unit exists. I wanted to cry. It was truly just a hallway, carpeted at least, with rooms down either side, boys on one side and girls on the other. I couldn't believe I was leaving my daughter in such a minimalist environment with a bunch of addicts. I was sure that she was different from the rest of them. Denial is common! However, I did feel some sense of relief when the other kids welcomed her and accompanied her to put on her hospital gown. Earning your clothes back by completing a variety of assignments was one of the, shall we say, "rites of passage." No sooner was she was settled onto the unit than she was quickly whisked back to the emergency room because her urine was testing with high levels of acetaminophen.
As it got later and later and the doctors assured me that she was going to the unit soon, I left. At about 10:00 p.m., when I was halfway home, my daughter called me (she had snuck to a phone) to report that she was still in the emergency room. I was sobbing. I was exhausted, emotionally and physically. Should I go back? No, I just couldn't. But soon she was on the unit and going to bed. The initial acetaminophen reading had been a false alarm.
The next 30 days were grueling. She worked and I worked. I drove back and forth to Orange two evenings a week and on Sundays. There were family and group meetings of all sorts. First, there was the hot seat where each new patient has to tell the group all that they have done, which is almost always more than the parent thought. My daughter, still in a state of withdrawal, as most of them are at this point, proceeded to brag about her high level of intelligence because she knew how to get the best cocaine from the best dealers straight out of Mexico. It was a proud parental moment!
The group leader quickly pointed out to her that she was so incredibly smart that she ended up in rehab. That shut her up. Anyway, there were meetings for both the parent and child to express hurt, meetings to ask for forgiveness, and meetings to make amends. I felt a sense of connection with the other families and was always sorry to see them go, often because their child had been kicked out for some forbidden offense. My daughter (who is a very determined child) eventually became the unit manager.
Then, one night toward the end of her 30 days, I came for a meeting, and she had her mind secretly set on the fact that she was going home. So, while I was in my meeting, she went AWOL—she ran away from the unit. Another proud parental moment! I had never been so angry or felt so defeated in my life. We were so close to the end of the program, and she just had to throw a dramatic twist into the final days. Typical! I went out looking for her and found her at a Starbucks down the street. I yelled and yelled to the point where she really thought I was going to give up on her (the last thing she wanted). The counselors agreed to take her back, which is rare, but they made her return to the hospital gown and earn her clothes again. A week later she was home. In retrospect, the AWOL experience, coupled with a talk from a counselor, really changed everything. My daughter went from still playing some kind of game with the system to honestly recognizing that she had to change.
However, once she was home, the work really began. As upsetting as it may be to have your child in rehab, there is a sense of relief in knowing they are safe and busy, and parents are able to go on with their daily lives without worrying. Once the addict comes home, the isolated environment and supportive staff of the treatment center are gone. I believe that this transitional period is one of the most crucial periods in determining whether the child continues on the path of recovery or slips back into the world of drug use. This is the time, I believe, when most parents make the huge mistake of not realizing how fragile these kids are when they return to the environment that was basically the "scene of the crime." Coming back to the town, family, school, and friends that they knew before rehab exposes them to the many "triggers" that remind them of their previous life of drug use. These familiar triggers can easily send the addict back to using.
In our situation, my daughter hadn't done cocaine socially. She didn't even tell her friends. She would meet with the drug dealers on her own and then use by herself. So when we would drive by certain locations, she would relive whatever had taken place at that spot. It was for this reason that I took a leave of absence from work. I needed the money but felt that I was dealing with a life-or-death situation. If she returned to these places on her own, she could be vulnerable. She didn't have any dealers' phone numbers, since they had been erased while she was at rehab, but she knew where some of them worked—locations that are familiar to all of us, by the way.
Soon after my daughter returned home, I entered her in a special county-run high school called Summit. It only accepts students who have completed a rehabilitation program. The students are able to do independent study in a calm, quiet environment where they see a psychologist everyday and have a teacher and aid for academic support. There are usually somewhere around five kids in the school at a time. Most people don't even know Summit exists, but we are incredibly lucky to have it in our community. The alternative of sending an addict back into their original high school environment and surrounding them with their same peers is the situation parents of addicts hope to avoid.
After finishing high school a semester early and remaining sober, my daughter enrolled in Santa Barbara City College, where she excelled. Being a semester ahead allowed her the opportunity to go abroad for six months, then return and still be on track. Once back at SBCC, she took a full load of classes, worked hard, made good grades, held a job, and built a wonderful resume. All of these efforts combined, along with her ability to overcome her learning disabilities and her battle with cocaine, made her an appealing candidate to many colleges. She was accepted everywhere she applied, and ultimately chose a top college that she had never dreamed of being able to attend.
My daughter will always have to monitor herself, since drug addiction is a lifelong battle, but she has made it through the past four years successfully, and I believe whole-heartedly that if anybody can prevail, she can. She is a very strong, beautiful young woman who learns from life's lessons, is driven to succeed, and should be an inspiration to us all.