Arts & Entertainment
Mat Kearney Headlines Kids Helping Kids Gala
Annual Benefit Concert Moves to the Granada for 2011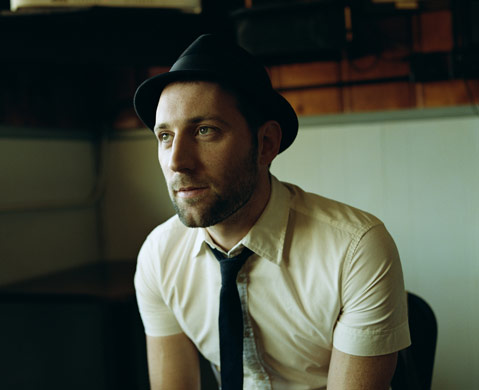 With the New Year comes a new list of things to do, and whether your list involves traits to improve upon or good causes to get involved with, this Saturday's concert at the Granada will no doubt lift your resolution-filled spirits. It's there that Kids Helping Kids (KHK), one of the only student-run nonprofits in the country, will host its ninth annual fundraising gala in support of the Santa Barbara Unity Shoppe. Since 2001, San Marcos High School's advanced-placement economics students have spearheaded the KHK campaign and raised more than $450,000 for the S.B. community, and this year alone they are set on breaking the $150,000 mark.
To aid their efforts, the KHK class has enlisted the help of countless Santa Barbara businesses, as well as the talents of two of music's humblest troubadours. And on Saturday, their forces will combine to create an event unlike any the group has hosted to date. Under the students' planning and guidance, the Granada Theatre will transform into a world of do-gooding, complete with live and silent auctions, a Vespa raffle, and performances by singer/songwriters Mat Kearney and Tyrone Wells.
Kearney, who's currently hard at work on his third studio album (tentatively titled Young Love), is making the trek from Nashville, Tennessee, just for the occasion. An Oregon native, Kearney has forged quite the path in recent years. Since releasing Nothing Left to Lose through Columbia Records in 2006, he's become a familiar name on contemporary radio and licensed his songs to a sizable stock of endeavors, including Grey's Anatomy, 30 Rock, and the big-screen romantic comedy Catch and Release.
I recently caught up with Kearney from his home in Nashville to discuss the new album, his West Coast roots, and why Kids Helping Kids has prompted him to put Young Love aside.
Word on the street is that you're working on a new album.
I'm in the middle of recording right now, yes. I'm almost done, it feels like. We're maybe three-quarters of the way done with the new record. We're recording in Nashville, Tennessee, at my friend's studio.
Can you tell me a bit about the new stuff? How would you compare it to City of Black & White or Nothing Left to Lose?
It's somewhere between … It's a lot like my first record in that it's very rhythmic and beat driven. The working title, I think I'm going to call it Young Love. It's a lot of fun, but it's also full of stories. I don't know. It's not that easy to talk about. It's like when you just find out what sex your baby is, but it's in the womb still. It's a lot of fun and we've been building it to be kind of somewhere in between Paul Simon and Kanye West. It's a mix of rhythm and storytelling. … It's a lot of love songs. I got married this year. There's this song called "Brad Chester," which is like the depths of my family. It comes from a very personal place. It's a very autobiographical album about me and my friends and the people close to me. When I started writing this record, I made a decision to stop writing songs and start telling stories; for me that was an important shift in my songwriting. I want to tell the stories that I know and that the people around me know, and it's opened up all these songs about my family, people I love—simple things.
Is there a producer in the mix?
I'm doing it with a couple of guys who are just friends of mine, really. It's me, Robert Marvin, this guy Jason Redding. … Robert's worked on all of my records and Jason's just a buddy who engineers who's working on some stuff. It's not like a big name; it's more like a homegrown group of friends.
You've talked a lot about your Northwestern roots and the influence they've had on your music. Do you feel like Nashville is starting to be a part of your work?
I've always recorded here, so I don't know anything different from recording in Nashville. Being from Oregon, it's part of who I am. My friends always say I'm an Oregon snob. [Laughs.] I'm always talking about the food and the wine and the culture. I think coming from the Northwest is something that's born in your blood. On my mom's side I'm like a sixth-generation Oregonian. My family came over in the covered wagons, Oregon Trail-video-game-style. Maybe the pioneer mentality runs in my blood because they were all pioneers.
Not too many artists are willing to leave the recording bubble to play live. How did you get involved with the Kids Helping Kids benefit show?
I think it was a friend who called me and asked me to do it. He kind of said, "Hey, there's this really great charity." It seemed like something cool, and it's for a good cause, and I love Santa Barbara. If someone's asking me to come [there], usually it doesn't take much. You don't have to pull my leg.
4•1•1
Mat Kearney and Tyrone Wells play the ninth annual Kids Helping Kids Benefit at the Granada Theatre (1214 State St.) this Saturday, January 8, at 7 p.m. Visit granadasb.org or kidshelpingkidssb.org for tickets and info.