Arts & Entertainment
Hello Seahorse Headlines Velvet Jones
Mexican Rockers Play Santa Barbara This Friday
Sample this lyric premise: A lost polar bear is walking through the streets in search of his home and playing a hide-and-seek game. When he covers his eyes, the people around him disappear and their laughter makes him get even more lost. There's an idea here—maybe something about the power of imagination versus the apparent strength of mere size—but in the end what you've got is a great example of how Hello Seahorse's unique style is changing the face of Mexico's indie rock scene. "La Bamba" this is not.
Since forming in 2005, Hello Seahorse has quickly climbed the musical ranks. Their previous album, Bestia, has become a point of reference for many young Mexican music fans, thanks to great lyrics and the prayer-like vocals of frontwoman Denise "Lo Blondo" Gutierrez. In just five years she has become the top goddess/symbol of indie rock in Mexico. The rest of the band—bassist/keyboardist Fernando "Oro de Neta" Burgos, drummer Gabriel "Bonnz!" De León, and guitarist José "Joe" Borunda—help give their multiple hit singles a recognizable Hello Seahorse bounce.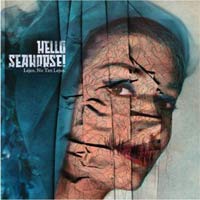 This Friday at Velvet Jones (423 State St.), Hello Seahorse gives us a sneak peek of their latest album, Lejos, No Tan Lejos (Far, Not That Far). The album comes out on January 25 and was produced by Money Mark (of Beastie Boys collabo fame). Their new single, "Casa Vacía" ("Empty House") has already become a huge success in Latin America, and their live show offers a great opportunity to clarify a few common misconceptions about contemporary Latin music.
1. It's not all folk: Latin music is not only about folklore. Yes, mariachi music is still popular in Mexico, but indie rock bands across the country have emerged so fast that the only musical difference between the American and the Mexican music scenes today is the language. Hello Seahorse have even written songs in English!
2. Latin rock bands don't get award recognition: Not true. The Hello Seahorse album Bestia won several MTV Latin America Music Video Awards, received two Latin Grammy nominations, and earned Hello Seahorse an iTunes nod as best new Latino artist in 2009.
3. The language barrier matters: If you are into indie rock and care about hearing the best new bands, you really can't afford to miss Hello Seahorse—regardless of their predominantly Spanish lyrics. Give them a chance and, who knows, maybe your next move will be to a Spanish-English dictionary. Why? Because after seeing and hearing them, you will want to know more. For tickets and info, call 965-8676 or visit clubmercy.com