Courts & Crime
Tennis Coach Convicted of Sex Crimes Back in Jail
Arrested for Allegedly Failing to Register Address and Notify Students' Parents of Sex Offender Status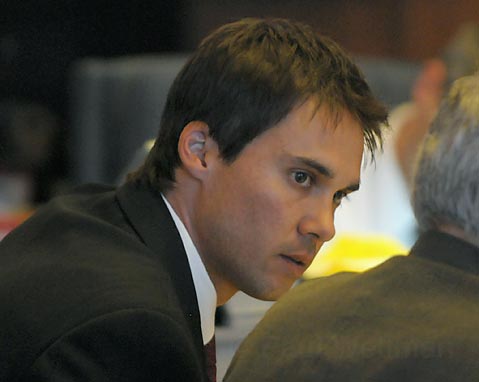 Peter Jeschke — the former Santa Barbara High tennis coach already convicted on several counts of having sex with and giving intoxicating substances to a minor and facing more charges for allegedly dissuading a witness — was arrested once again Wednesday morning and was still in Santa Barbara County Jail as of Thursday afternoon.
Jeschke — who as part of his first conviction and sentence had to register as a sex offender — was arrested at his residence on Summit Road just before 8 a.m. for failure to register his address with authorities, and for failure to notify parents upon application or acceptance of a position involving children — in this case, giving tennis lessons to minors without telling their parents of his previous convictions, according to Santa Barbara police spokesperson Lt. Paul McCaffrey. The former would be a felony charge.
Charges, which could include a violation of probation related to the new allegations, had not yet been filed by the District Attorney's Office as of Thursday evening. Prosecutor Tony Davis, who is handling Jeschke's other case, said he hadn't received the reports that had come in. Deputy Public Defender Michael Hanley, who is representing Jeschke, said in an email Friday morning that Jeschke would be in court Tuesday. "I'm confident these hearings will provide a fair opportunity to find out what really happened and whether there was a violation of law or a violation of Peter's probation," he said.
In November 2009, Jeschke, who was facing more than seven years in state prison on the crimes related to inappropriate relationships with his tennis students, was instead sentenced by Judge Frank Ochoa to five years of probation. If found guilty of a probation violation because of the new allegations, however, Jeschke could be looking at prison time.
In May, Superior Court Judge Bruce Dodds found sufficient evidence during a preliminary hearing that Jeschke should stand trial on a conspiracy to dissuade witnesses during his first trial. Authorities allege that Jeschke sent text messages to two people, asking them both to commit perjury on the stand and also to send messages to witnesses in his trial, dissuading those people from testifying against him. Jeschke is supposed to be back in court on those charges February 2.