Arts & Entertainment
Mark Hummel's Harmonica Blowout at SOhO
Harp All-Stars Converged in Santa Barbara on January 13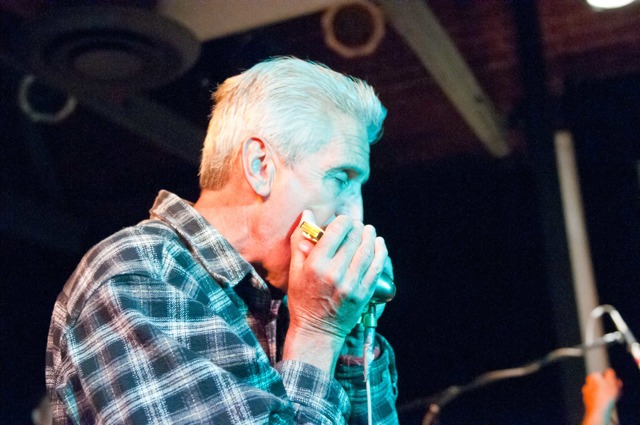 Mark Hummel's 20th annual Blues Harmonica Blowout came blowing into town the other night at SOhO Restaurant and Music Club with Rod and Honey Piazza, Sugar Blue, and Billy Branch with Mitch Kashmar. These guys brought with them a historical ride through Harmonica Blues music. They have played with some of the greats in blues music from Chicago blues, Delta Blues, East and West Coast Blues. They were sharing the stage together with their own style of the blues to a packed crowd that did not want the music to stop.
As the evening got going, Sugar Blue walked around in the crowd with his newsboy cap and a classic well- used leather harmonica belt which brought the audience and the blues man together. At points in the evening the audience was silent and spellbound by what they were witnessing and at other times everyone was either dancing in their seats, in the isles, or on the dance floor another night to remember at SOhO.
Since 1991, Mark Hummel has been both producing & performing at his Blues Harmonica Blowout series. These shows have grown to be a much heralded event and continue to draw sellout crowds wherever they appear. The list of participants is a Who's Who of Blues harp history: John Mayall, John Hammond, Norton Buffalo, Charlie Musselwhite, James Cotton, Huey Lewis, Curtis Salgado, Kim Wilson, Watermelon Slim, Sugar Ray Norcia, Fingers Taylor, Snooky Pryor, Rod Piazza, Magic Dick, William Clarke, Billy Branch, Lazy Lester, Little Sonny, Sam Myers, and many more!
Here's a look at the performers during the recent Mark Hummel's Harmonica Blowout at SOhO:
ROD PIAZZA: He's been working the blues music scene since the early '60s, having signed a recording contract with ABC Bluesway while still a teen. He's always backed by top-notch bands — including his latest unit, the Mighty Flyers. He performed at the Blowout, as usual, with his piano-playing wife, Honey, at his side. "He's a hell of a harmonica player," Hummel says. "But I think his real strength is that he is a really confident performer."
SUGAR BLUE: "Discovered" playing mouth harp in a Paris subway by Keith Richards, Blue became widely known for his work with the Rolling Stones. He was featured on three Stones albums: "Some Girls," "Emotional Rescue" and "Tattoo You." His defining moment can be found in the Stones' hit single "Miss You."
BILLY BRANCH: This Grammy Award-winning Chicagoan keeps mighty good company. Notably, he was featured on Alligator Records' "Harp Attack" record, which also included efforts by such legends as James Cotton, Junior Wells and Carey Bell. "He's just got a ridiculous resume," Hummel says. "He's probably been on 200 sessions out of Chicago."