Sports
Healthy Teen Living
La Cumbre Junior High Launches Fitness and Lifestyle Program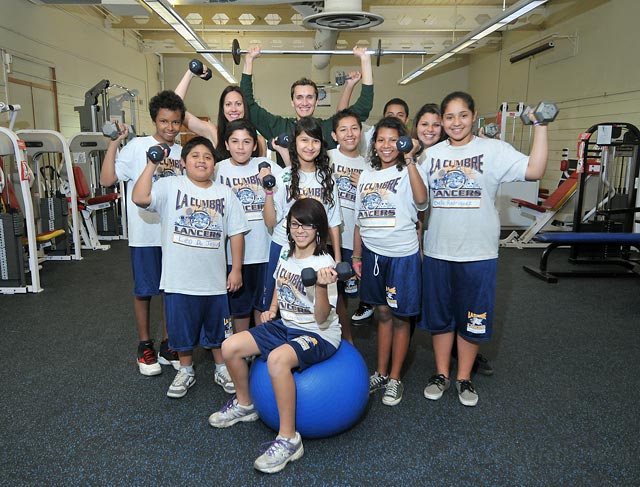 It is the dream of many an athletically inclined youngster to be walking toward the camera after a Super Bowl victory and being paid to say, "I'm going to Disneyland."
La Cumbre Junior High is giving 150 of its students the opportunity to conclude the school year with the same expression, provided they keep up with the ambitious Healthy Lifestyles and Fitness Program that the school is about to launch. The program consists of cooking classes, with an emphasis on healthy ingredients, and a physical regimen that combines cardio exercise, weight training, and dancing.
La Cumbre principal Jo Ann Caines said she sees too many children going down the road that leads to obesity, diabetes, and heart disease. The time and effort spent on encouraging salutary choices now could save billions in future health care dollars.
"We are targeting kids to guide them to a better lifestyle," Caines said. "A lot of these kids have been teased, bullied, the butt of jokes. This is a life-changing beginning for them. They can maintain a whole new outlook after they graduate from La Cumbre."
Sal Williams, director of after-school programs, will coordinate the new project. Every component will be taught by an expert in the field. Cardio and weight training: Doug Holt, owner of Conditioning Specialists, and his staff. Dance: Tamarr Paul, a La Cumbre graduate, a hip-hop specialist who owns the Rhythm Dance & Fitness Studio in Goleta. Nutrition: Troy Peters, student chef in the SBCC Culinary Program, assisted by restaurateur Mark Sherman.
Participants in the program will have their weight, body fat, and heart rate measured weekly. "They'll set goals, and if they achieve 85 percent at the end of the year, they'll get on a bus to Disneyland," Caines said. "Junior high kids need that carrot, that pot of gold. We're asking them for a huge commitment."
Caines calls the school "The New La Cumbre." A dying school a few years ago, it has undergone a cultural revolution under her watch. Caines sees the sprawling campus on Modoc Road not only as a place to educate students a pivotal time in their lives but also as a resource for the whole community. "We want to become a center to improve the lifestyle of the Westside," she said. To that end, La Cumbre has instituted an evening program for adults that includes weight training and carpentry, as well as reading and writing.
The Healthy Lifestyles and Fitness Program is La Cumbre's most ambitious initiative yet. It is supported by grants from the Santa Barbara Foundation, Hutton Foundation, and Monroe Foundation. There will be a ribbon-cutting on Tuesday, January 25, at 1 p.m. at the school's spacious weight room, another recent enhancement that was created out of a vacant old classroom and stocked with donated equipment.
GAMES OF THE WEEK: It's an exercise in noise-making for the students of Santa Barbara High and San Marcos when the schools play each other in basketball. The boys teams will go at it on Friday night, January 21, at the San Marcos gym. The Royals held off the Dons by a point last month. … What do the New York Jets have to do with the UCSB women's basketball team? Maybe the Jets can provide inspiration after turning the tables last Sunday on the New England Patriots, who had beaten them by 42 points in their previous meeting. The Gaucho women will host Cal State Fullerton Saturday, January 22, at 2 p.m., as they try to rebound from last week's 81-48 beat-down at UC Riverside, their worst Big West loss since 1993. … Westmont College's Murchison Gym is at its most raucous when Biola University visits. "There's a nice rhythm to the chant, 'Beat Biola, beat, beat Biola,' " Westmont coach John Moore said. His men's team has a razor-thin 49-48 edge in their long-time rivalry. The Warriors host the Eagles Tuesday, January 25, 7:30 p.m., after the women's teams clash at 5:30 p.m.
GAUCHO IN GEAR: UCSB's Orlando Johnson played like an economy-sized version of Blake Griffin last week. Mixing it up inside, the 6′5″ junior averaged 25 points in victories over UC Irvine and UC Riverside. Johnson and the Gauchos return to the Thunderdome on Saturday, January 29, to begin a three-game homestand against Cal State Northridge.
BASEBALL HEAVEN: L.A. Angels manager Mike Scioscia will be rubbing his big shoulders with baseball fans at the annual UCSB Gauchos/Santa Barbara Foresters hot stove dinner on Friday, January 28, at the Cabrillo Pavilion Arts Center. Call Christina Baglas (893-5372), and open your checkbook if you want to participate.