Positively State Street
No More Stormy Waters for Portland's Typhoon
The 11-Piece Collective Returns to Muddy Waters This Monday
HOLD ONTO YOUR HATS: If Portland is the country's next great musical mecca, Typhoon might just be its ideal ambassador. The collective, led by singer/songwriter/musician wrangler Kyle Morton, struck more than a few chords with their 2010 release, Hunger and Thirst (Tender Loving Empire), and rounded out the year with a healthy helping of noteworthy praise. (The Willamette Week named Thirst one of their favorite albums of the year, while Amazon dubbed it the #5 best album you might have missed.) Not too shabby for a band that's spent most of its five-year existence playing to packed living rooms of underagers.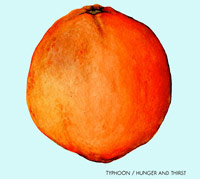 "In a house, the pressure is just totally off," said Morton. "You're playing for a bunch of—usually drunk—people. I was never really nervous to do that because it felt like college. It was normal to just hop on some instruments and just start playing for people. When we first started playing in Portland, we were all underage, and there weren't a lot of all-ages venues. Their still aren't—there's really just a handful of them. Because of that, the band was just sort of driven underground through these house shows. We don't do it as much anymore, but when we do, it's really fun. You kind of sacrifice some of the sound quality, but you get a better energy in return."
Cutting their chops in and around the Portland house-party circuit, Typhoon were able to not only solidify their lineup (now a somewhat happenstance collection of 11 players) but also strengthen their sound. Today, the band delivers a stirring and soul-shaking live show that fluctuates between symphonic theatricality and stripped-down folk meanderings, but always manages to resonate with authenticity.
"Ever since I was really little, I'd get really excited about organizing big groups of people," laughed Morton. "Like, when I was younger, I wanted to start a hockey team, so I'd come up with names for it and get all my friends and come up with positions for them. It never actually worked out, but Typhoon kind of reminds me of that. There are so many interactions that happen onstage. With 11 of us, the permutations are just endless. It can be really fun."
While the sheer size and scope of Typhoon's setup demands attention, its Morton's compositions and storytelling abilities that ultimately keep fans coming back for more. To hear the frontman tell it, Typhoon's vision is as much about songcraft as it is about the band's overall purpose and big-picture plans.
"I have a grand idea [about what Typhoon is]; the problem really comes in trying to make actual solid songs that are good in and of themselves, rather than one big sort of pastiche," he explains. "I get really interested in the structure of the album and how that's going to work, and it usually has references to the story in my head, whether or not it comes out completely. … I'm trying to sort of refigure my whole life in terms that I can understand, starting from the point that I probably don't understand any of it. In the jumbled mess of things that have happened to me, I'm trying to straighten them out and find patterns in them. I don't know if music's the right forum or the right medium to be doing that, but I don't think I'm a good enough writer to be writing a novel yet. It's kind of like trying to make novels out of music."
The Portland collective returns to Muddy Waters Café (508 E. Haley St.) this Monday, January 24, at 8 p.m. in support of their soon-to-be-released EP, A New Kind of House. The five-track recording is slated to be released by Tender Loving Empire this March. 'Til then, you can learn more about the band—and pick up last year's Hunger and Thirst—at wearetyphoon.com. For show tickets and info, visit clubmercy.com.