Sports
Water Polo Winner
Dos Pueblos Senior Kiley Neushul Dominates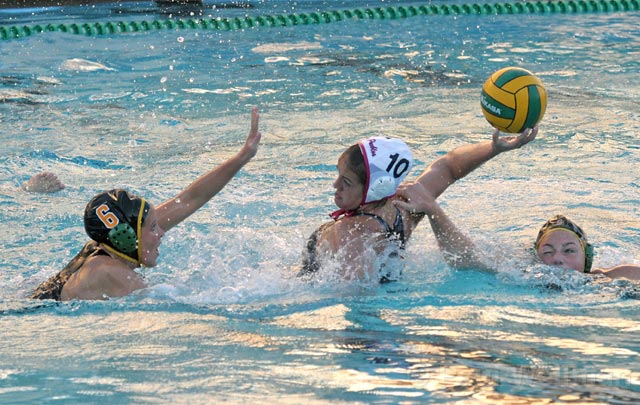 Without Kiley Neushul, Dos Pueblos High would have won plenty of girls' water polo games in the past two years. With Neushul, the Chargers have won them all.
The latest example of the senior's indomitability occurred last week, when Neushul unleashed a whirling backhand shot from eight yards to give Dos Pueblos a 10-9 victory over the Santa Barbara Dons in sudden-death overtime. That followed another clutch score by Neushul that erased a 9-8 Santa Barbara lead and sent the breathtaking match into the next-goal-wins stage.
The victory, their second one-goal triumph over the Dons in 12 days, preserved the Chargers' winning streak of 53 games. It may be as remarkable as Connecticut's basketball streak—recently ended at 90—because water polo games at a high level are more frequently decided by a point or two.
Neushul will try to close out her high school career in the next five weeks with the Chargers' fourth straight CIF championship. The scores of their last two title games were 3-2 and 8-7—the latter a game in which they had to mount a tremendous rally after trailing Newport Harbor 7-2 in the first half.
Chris Parrish took over as coach of the DP girls this season from Danelle Little, who is expecting her first child. Parrish has had success with the boys team—winning CIF titles in 2004 and '05—and he has a profound appreciation of Neushul's accomplishments.
"She's the fiercest competitor I've ever coached, boys or girls," Parrish said. "She has that 'I refuse to lose' mentality. She sometimes passes up shots she should be taking. She doesn't want people to perceive her as a selfish player. But when a game has to be taken, when we need a goal to tie, a goal to win—get her the ball. You rarely see someone of her caliber in any sport. Her pedigree and experience are greater than anybody's in high school. Physically, she's faster and stronger than they are. She's not bigger (Neushul is 5'8"), but she plays like the biggest girl in the pool."
Stanford coach John Tanner said much of the same in November when Neushul committed to pursue her college career with the Cardinal: "Kiley is a relentless, brilliant player who figures out a way to win. She has terrific skills and speed along with amazing water polo intelligence and leadership ability, which is why she is on the U.S. Senior National Team. And she has led her Dos Pueblos team to three consecutive high school section titles, winning elimination game after elimination game in hostile environments."
In Neushul's career, the Chargers have gone 102-6. They last lost to Corona del Mar, 8-7, in the final game of the 2009 Irvine Southern California Championship tournament.
"It's not a good feeling, but it's something a team needs to experience," Neushul said. "Losing is just another thing to learn from."
She is not afraid to lose. That's the key. Unhindered by fear, she keeps her composure. Her younger sister Jamie, a sophomore on the DP team, said she was "freaking out" when Santa Barbara kept coming back against the Chargers. "It was a fun game to be part of, and I'm sure it was fun to watch," Kiley said. "It's good for the girls to learn from games like this before they move on to college. Be confident, be calm, take the game play by play."
Santa Barbara coach Mark Walsh recognized that Neushul was somebody special when she was in the 8th grade. "I took her to an open tournament, and Adam Krikorian [then the UCLA coach, now coach of the U.S. women's national team] was sitting with me. He said, 'That kid could start for my team right now. If I could, I'd offer her a scholarship.'"
Neushul was on the roster of the national team last summer. She played in a tournament at the Olympic pool in Sydney, Australia, and went to New Zealand as an alternate with the U.S. women at the FINA World Cup. The Americans won as Kami Craig, who starred for Walsh at Santa Barbara, was honored on the all-tournament team.
Neushul is focused on finishing up her prep career in style along with Tiera Schroeder, another four-year starter for the Chargers. "We may see Santa Barbara again," Parrish said. The Dons are ranked No. 4 in CIF Division I and will be in the Irvine tournament along with top-ranked Dos Pueblos and San Marcos, which is holding down third place in the Channel League behind the two powerhouses.
The DP girls have two more home games in the regular season at the Elings Aquatic Center: Thursday, January 27, against Ventura; and Thursday, February 10, against San Marcos. They will also host a first-round game in the CIF playoffs on Wednesday, February 16.
BLUE-GREEN RIVALRY: Cal Poly's Mott Gym will be packed for tonight's (Jan. 27) men's basketball game between UCSB (3-3 in the Big West) and the Mustangs (4-3). The Central Coast showdown will be televised by KSBY out of San Luis Obispo. The women's teams will be playing at the same time (7pm) at the Thunderdome. UCSB (4-2) will try to slow down the Cal Poly women's express, which is 7-0 in the conference.