Film & TV
Spanish/Latin American Cinema
Spanish-Language Sidebar's Filmmakers Compete for Nueva Vision Award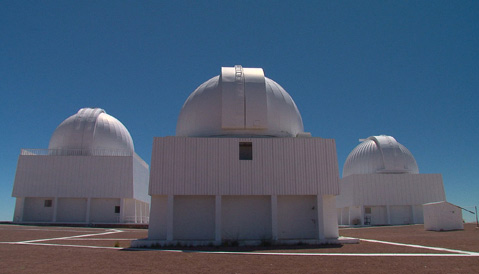 Eleven films make up the Spanish/Latin American sidebar in this year's SBIFF, and unlike the other sidebars, each of the filmmakers is vying to win the Nueva Vision Award for best Spanish-language or Latin American feature (the distinction is that there is an increasing number of strong films from Brazil). Based on the eight films I was able to watch — screeners for the three others were either not available or did not work — the competition is fierce, as usual, with excitement and emotion running headlong into humor, philosophy, fantasy, and, perhaps most stunningly, science fiction.
Fest director Roger Durling, himself a native Spanish speaker originally from Central America, agrees. "This is the most varied selection of films from Spain and Latin America we've ever had," he said, "ranging from a terrific documentary from Chile, which is one of the best films in the whole festival slate, to a terrific co-production from Colombia and my native country Panama."
Durling's first reference is to Nostalgia for the Light (Nostalgia de la luz), the only documentary in the crop, but one that's just as thought-provoking and thematically probing as the collection's fictional narratives. Director Patricio Guzmán turns his lens to the Atacama Desert in northern Chile, where we learn that outer and inner space collide in a ponderous analysis of the landscape, history, and meaning of the region. It's one of the world's driest places, which makes it perfect for astronomers looking to the stars, archaeologists searching the soil, and philosophers of all sorts expounding on what it means to be Chilean in the post-Pinochet era.
The second Durling reference is to The Colors of the Mountain (Los colores de la montaña), an examination of how Colombian villagers and their young children on the frontlines of a decades-long drug war navigate the political minefield between paramilitaries, narcotraffickers, and government forces. When a new soccer ball winds up in a minefield, it's very clear that the whimsy of youth doesn't last too long in the Colombian mountains. Using astonishingly professional acting from kids and realistically fearful settings throughout, director Carlos Cesar Arbelaez reveals it to be a damned-if-you-do, damned-if-you-don't situation, because choosing one side will only get you killed by the other, but choosing none makes you an enemy of all.
Though I've been a fan of this sidebar for years now, I don't recall so many strong entries coming from Brazil, which is the origin of three films this time around. In terms of traditional filmmaking, the best is The Tenants (Os Inquilinos), which features a middle-class father who must find out how to stand up for his family, defend the neighborhood he helped build, and maintain his middle-class sense without putting everyone in harm's way when noisy, rowdy, and dangerous neighbors move into the house next door. Directed by Sérgio Bianchi, it's a smart study of modern life in Brazil, where favela life creeps slowly into middle-class existence, and so-called regular, upwardly mobile families struggle to maintain a sense of safety and self.
Though less traditional in format, 5 x Favela, Now by Ourselves (5x Favela, Agora por Nós Mesmos) is an equally enthralling film, but this one comes from deep inside the favelas of Brazil. A series of five vignettes directed by hot up-and-coming filmmakers Cacau Amaral, Cadu Barcelos, Luciana Bezerra, Manaira Carneiro, Rodrigo Felha, Wagner Novais, and Luciano Vidigal , 5 X Favela mixes up a tasty treat of college-going drug dealers, street smart chicken stealers, gun-running drug wars, kite-flying bullies, and a lineman stuck working on the electrical system through Christmas night. It's equal parts funny and serious, and each segment offers both candid scenes of what life is like in the favela and enough emotional weight to keep you thinking about what you might do in the same situation. No matter what, though, it's clear that there's going to be a lot more great cinema coming out of Brazil very soon.
The third Brazilian entry turned out to be very bizarre, both in content and presentation. Light in the Darkness (Luz nas trevas): The Return of the Red Light Bandit, directed by Helena Ignez and Icaro Martins, is a sequel of sorts to the very locally revered 1968 film The Red Light Bandit, this time following his son as he rises through the Sao Paulo underworld in what might best be described as a Western film set in the modern Third World. With shots jumping back and forth between the past and the present, as the son violently robs his way up the ladder, this film proved a bit confusing, although those with attention deficit disorder just might love it.
Also in the realm of weird subject matter — but delightfully so this time around — was the Argentinian film Asleep in the Sun (Dormir al sol), directed by Alejandro Chomski. Set in the early part of the 20th century and taking on the notion of soul migration — whereby souls are interchangeable between people and, it appears, even other species — this story follows a husband and wife going through some minor woes when a doctor proposes a cure for the wife. When she returns different, the husband begins investigating, only to get caught in a beautifully bizarre trap of sorts. Dog lovers might find this film right up their alley.
The film that stirred me the most in this whole sidebar was By Day and By Night (De día y de noche), which just might be the first proper science fiction film of the modern era to come out of Mexico. Directed masterfully by Alejandro Molina, this cinematic tour de force blends geometric cinematography, futuristically strained family ties, and an overpopulation solution that involves making humans live in day and night "shifts" into a masterpiece. It is a visually impressive film, but the notions of how far a society goes to deal with overpopulation while still remaining productive keeps your mind spinning for days.
Also out of Mexico is Fernando Kalife's 180 Degrees, which asks the question, "How much can we really change our lives once we've already been on the planet for decades?" Tracking a number of intersecting relationships — from a hopeful soccer agents and wannabe restaurateurs to anti-Mexican scammers and gangsters in failing marriages — this feature brings both hope and despair to the table. The acting is strong, and it's always interesting for Americans to peer into the real lives of modern-day Mexicans, rather than just forget that most of the country lives in massive urban environments with all of their contemporary trappings.
All of the films I was not able to see happen to come from Spain, which makes me wonder if their DVD burning technology just doesn't translate — or whether it's my cheap DVD player or four-year-old computer to blame. From my research, it seems that I may have missed three of the best films in the whole sidebar. I was quite disappointed to have not checked out Anything You Want (Todo lo que tú quieras), which I predict will be a festival hit. Directed by Achero Mañas, this film follows a single father who must go to great lengths to comfort his daughter when her mother dies unexpectedly. That process involves, well, becoming the mother by dressing up in drag. This isn't a comedy, however, but a heartfelt drama that's likely to cause ripples beyond the film world.
Also rather intriguing and not-to-be-missed is The Great Vazquez, Oscar Aibar's fictionalized look at Barcelona comic book author Manuel Vázquez, who was renowned for living a very interesting life in the 1960s. His work seems very much like that of American comic booker Robert Crumb, and if his life is even half as bizarre, we're in for quite a quirky treat.
The last film of the sidebar is To Hell With The Ugly, another Spanish entry, this one a seemingly hilarious comedy directed by Nacho G. Velilla. This nearly slapstick entry follows the beauty-challenged lives of Eliseo and his sister-in-law Nati, who meet by chance after 20 years of not seeing each other and begin falling in love. But what is Eliseo to do when the woman he loves is married to his brother? Only a trip to the theater will find out.
With the film fest starting today, I will have plenty of time to see these last three films from Spain. And if they're anything like the rest, they should not be missed.