News
White Knight for Black Hole?
New Entrada Owner Greeted with Mix of Optimism and Skepticism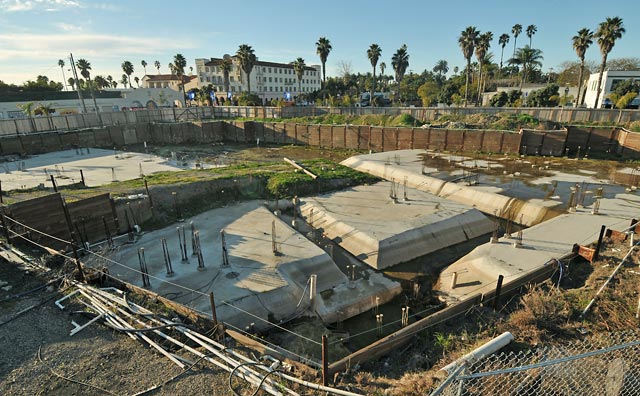 When news broke last week that a big-time Los Angeles hotel developer had just bought rights to Santa Barbara's La Entrada development—the long festering black hole occupying nearly two-and-a-half acres of otherwise prime real estate at the base of State Street—there was no explosion of champagne corks inside City Hall, no downpour of confetti. Instead, the announcement was greeted with the cautious optimism common to people who've been burned one time too many.
"I'm not saying this guy's our savior," said Santa Barbara Administrator Jim Armstrong, who had a major role in making the sale happen, "but this clearly is a positive development. That being said, we still have a very long way to go, and I'll believe it when I see it."
The "guy" in question is Entrada's new owner, Los Angeles developer Michael Rosenfeld, and the "it" is whether Rosenfeld will ever actually develop plans approved 10 years ago for Santa Barbara's most ambitious private redevelopment effort in the past 50 years.
To the extent Rosenfeld's intentions are being greeted with guarded hope—"I've heard this story before," said Mayor Helene Schneider—it's because for the past 10 years the property's prior two owners repeatedly gave City Hall false assurances that construction was just about to begin. In the process, a sizable hole was dug, some earth moved, and just enough activity undertaken to keep the permits alive. One city councilmember termed it "tai chi construction." Nearby business owners were not amused by the endless cat-and-mouse routine between prior owners and City Hall. One demanded that the city's redevelopment czar, Paul Casey, be fired for letting it continue and that City Hall pull the plug on the project once and for all. Planning Commissioner Stella Larsen denounced what she termed "demolition by neglect."
But with last week's sale of La Entrada, things might be different. City Administrator Armstrong, who met with new owner Michael Rosenfeld last November, described Rosenfeld as a slim man in his mid-forties, dressed golf-shirt casual. He impressed Armstrong as "very professional" and "a very nice guy." And after checking out Rosenfeld's finances, Armstrong concluded, "He's a man of substance. He's serious. He's not just a nice guy."
Rosenfeld has thus far declined most media requests for interviews. But according to people involved with Rosenfeld's development team and press accounts, he brings to the table about 20 years of real estate experience, an inclination to think big even by Los Angeles's standards, and an apparent access to massive quantities of capital. In 2007, he sold off the Carlyle, a 24-story, mixed-use development, for $150 million. His company, Woodridge Capital Partners, is currently building a 3.5 million square foot mixed-use mall in Calgary, Canada. And in 2008, for example, Rosenfeld put together a deal to buy the iconic Century City Plaza hotel—as famous for the Republican presidents who've celebrated there as it's been for its futuristic curved facade—for $366 million. But when Rosenfeld announced that he had secured $2 billion to knock the hotel down and build in its place two 50-story—600 feet tall—mixed-use, high-end high-rises, he had a serious fight on his hands.
Rosenfeld entered the fray with the backing of Los Angeles Mayor Antonio Villaraigosa. He had hired one of the most politically connected attorneys in Los Angeles, not to mention the world-renowned architectural firm of I.M. Pei. Rosenfeld talked glowingly of creating two acres of pedestrian accessible green space—where people wouldn't need cars—open to the public. Rising up against him was actress Diane Keaton plus a coalition of very determined preservationists angry that anyone would threaten a building that exalted in its design the space-age optimism of Southern California in the 1960s. The city councilmember who represented the district—Paul Koretz—declared that demolition "would happen over my dead body." By 2009, the National Trust for Historic Preservation declared the Century Plaza—designed by the same architect who would later draw up plans for the World Trade Center—on its list of most endangered historic places.
Rosenfeld quickly retreated. He negotiated a deal to refurbish the Century Plaza, rather than destroy it. In exchange, the preservationists would not oppose his plans to build two 46-story high-rises right behind the hotel. Subsequent press releases put a $1.5 billion price tag on this scaled-back project, much of which would come from New York hedge fund D.E. Shaw. According to some individuals close to the negotiation process, Rosenfeld's sky-high plans have elicited concern from other Century City developers that the proposed new towers could encroach on their views. Rosenfeld's modified plans are now undergoing environmental review.
Around City Hall—where the fallow Entrada has been a chronic embarrassment, not to mention a significant loss of potential tax revenues—such tales indicate Rosenfeld has the financial wherewithal to get Entrada built. Under the latest plans—approved by the city's Historic Landmarks Committee as of September 1—Rosenfeld has the green light to build 114 hotel rooms, nine time-share condos, and 22,000 square feet of new retail-commercial space on three parcels of land epicentered around the Californian Hotel. The Californian will get a major makeover, with only its current facade remaining as is.
Still built into the deal are certain public improvements that City Hall exacted from Bill Levy, the project's initial developer who managed to secure most of the necessary permits 10 years ago. Among these improvements are a new parking garage, wider sidewalks, and new street signals. The saga of Bill Levy and Entrada is serpentine in the extreme, and one that's afflicted City Hall—as well as many of Levy's disgruntled investors—with a case of extreme heartburn. For a host of reasons—self-inflicted and market driven—Levy failed to secure the financing needed to get his project built and was forced to declare bankruptcy in 2007. How much it will cost to build the project, which will definitely not keep the Entrada name, remains uncertain, but in 2007, estimates ranged between $100 million to $140 million.
Armstrong said financial documents provided by Rosenfeld's accountants indicate that he's "very well endowed personally," though not enough to build the project without outside financing. Armstrong noted approvingly that Rosenfeld did not need to take out a loan to buy the Entrada property, which sold for less than $8 million. Given the economic downtown, Armstrong noted, lenders are simply not investing in luxury hotels, but as the economy improves, he expects that to change. He also explained, however, that if Rosenfeld doesn't perform, the development entitlements will expire.
Rosenfeld bought La Entrada from Mountain Funding, a South Carolina-based lending company that foreclosed on Bill Levy in 2007 after Levy got too far behind on the $40 million he owed. Although Mountain Funding—which partnered with a Minnesota-based pension fund worth $4 billion—had the resources to build the project, the company is decidedly not in the development business. It tried unsuccessfully to sell the project while sustaining minimal losses. Among the many would-be suitors Mountain Funding rejected was one that offered the company $36 million. When the economy tanked, the offers became smaller and less numerous. Five months ago, Mountain Funding hired the Radius Group to market the project.
The first thing Radius did was lower the asking price to $7.95 million. Making the deal sweeter in a down economy were changes to the design that Mountain Funding had secured. In lieu of time-share condos—which had originally been approved—Mountain Funding got permission to build hotel rooms. With time-shares as obsolete as Nehru jackets, this change was huge. And to win all the approvals necessary from city design committees, Mountain Funding considerably lowered the profile of the development, opened up mountain views, and inserted an outdoor courtyard about two-thirds the size of De la Guerra Plaza. It added more retail and commercial space. The previous Entrada proposal was the next best thing to a gated community; the new version was far more community friendly.
But making the sale still daunting was the relatively tight construction deadline imposed by Jim Armstrong in exchange for his permission to make these changes. According to that time line, construction would have to begin in earnest on the project this year and be finished within three. Given the lack of financing available for luxury hotels, this was a deal killer. When Rosenfeld met with Armstrong last November, he was seeking more time. Armstrong gave him two more years. Armstrong is well aware of the critics who contend City Hall has given previous developers too much time. "I'm not giving him anything he wouldn't have been entitled to anyway," he said, pointing out that the Historic Landmarks permits secured last fall came with a two-year life span. "If we let the permits expire, we'll spend at least 10 years trying to figure out what we want to have happen down there. And that's before we get an actual application into the city for consideration."