Arts & Entertainment
Foo Fighters Rock Secret Show
Velvet Jones Hosts Modern Rock Gods for Entire New Album and Then Some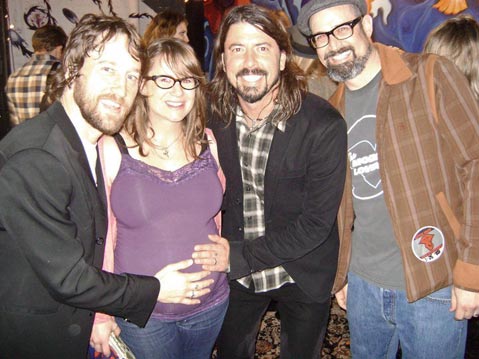 It was the most silent, secret buzz I've experienced in Santa Barbara in recent years, maybe ever. On Thursday, word trickled into my ear that the Foo Fighters were going to be playing the Velvet Jones on Friday night, and I couldn't tell anyone — not even my wife. It wasn't a total shocker, for Santa Barbara native Chris Shiflett is the lead guitarist for the multiple Grammy-winning modern rock band and has played plenty of solo shows around town, especially during the last couple incarnations of New Noise Santa Barbara, the nonprofit music conference and festival that I helped create a couple years back. But my source, who happened to be my good friend and New Noise cofounder Jeff Theimer, was more hush-hush than I'd ever heard him, so I shut up, and waited for the text that assured my entry.
That came Friday afternoon, and it did for plenty of other folks, too, as the Velvet Jones was packed to the gills by the time I arrived at 9:45 p.m. It was a who's who gallery of Santa Barbara's alt-rock crowd, all milling about the crowded bar awaiting the show. And like the true professionals they are, the Foo Fighters came on very close to the anticipated 10:15 p.m. start time, and proceeded to unleash their entirely new, never-before-heard album on the crowd, which swallowed the songs whole. Once the album was through — Dave Grohl's black locks dripping in sweat by that time, the crowd happy for the new tunes but hungry for the oldies — the Foo crew obliged with a greatest hits rundown, causing the masses to sing in unison. With cameras rolling and stage lights firing, it was truly an arena rock show in a small State Street club.
But enough of what I thought. Were you there? Tell us about your experience in the comments below. Do you have pictures and video? Send them to tips@independent.com and we'll post them ASAP.
Till the next secret show …