Arts & Entertainment
Masterpiece in the Midst?
Loving the Whistle Flick; Plus Christopher Nolan and Leonardo DiCaprio
Opinions vary widely when it comes to tastes in movies, especially in a definitely cross-cultural supermarket like the SBIFF, a full service festival. For this obsessive viewer's money, the first truly great film seen at the fest was the 15th of the weekend, the stunning Romanian film If I Want to Whistle, I Whistle. Director Florin Serban's film is a deceptively simple tale of a young prisoner festering with a volatile rage (with a staggeringly good performance by first-time actor George Pistereanu). Leave your brainwashed desire for generic movie formula behind and open your mind for new modes of cinematic expression, and a mind-opening experience awaits.
Things aren't nearly as they seem in this near-masterpiece, by turns slow and stately and bursting with righteous rage, with each extreme radiating the other. We learn gradually and cryptically about the back story of our troubled protagonist's life and plight, but all the story's pieces are well in place, right through to the dreamy super-long take two shot of a couple in a coffee shop, a haunting and strangely calming denouement.
Although seemingly casual and quasi-cinema verite at times, the film is in fact a work of minimalist genius, which says a lot with a little and leaves a lingering hypnotic effect for those who plug into its special artistic voice. Serban is a new directorial force to reckon with.
Speaking of which…there was the magician director Christopher Nolan, on the Arlington stage for his show of shows on Sunday, looking like his Inception star and award presenter Leonardo DiCaprio. Part of the appeal was a sense of reassurance that he is such a seemingly calm, collected sort, for a man who has so deftly messed with our minds, in Memento and its big budget offspring, Inception. We expect James Cameron to be that way, but there is a maverick loose cannon artiste quality to Nolan's best movies suggesting he might have a few wobbly mental screws to work out — on us, the willing and admiring audience.
But as he explained, quite clearly, and not in vague or backwards talk, he viewed Inception as his brand of James Bond movie, a more deep and personal variation on the blockbuster boffo biz he's done between the cracks of his artier fare. He wants to create films involving "a conceptual process with grand scale action," he said from the comfy chair onstage, and later expanded to comment that he was "trying to fuse my interest in some of my favorite filmmakers — Nicholas Roeg, Terrence Mallick — with… explosions, the entertainment side." Mission accomplished.
Proving, as if we didn't know it, that star actors far out-trump and out-titillate star directors, DiCaprio strode to the podium amidst a lightning blitzkrieg of flash photography, by professionals and scores of everyday folks (mostly female) and read a fairly formal speech. He lauded Nolan's "exploration of consciousness and perception, the point where fantasy and reality intersect," while preserving "emotional authenticity." He then handed over the well-deserved SBIFF's "Modern Master Award" (which hasn't always gone to deserving parties: Will Smith), and Nolan ended the evening by promising his wife that he "won't let all this attention go to my head." Let's hope not: We need artists of vision in Hollywood, and this guy qualifies.
Among other areas of programming strength, international cinema being the strongest, SBIFF has long been a reliable source for checking in on the vibrant yet not always publicly visible world of the documentary. One of the most moving this year (reportedly, as so far I've only scratched the surface of the list) is the unusually creative and poetic Chilean documentary/reportage/philosophical tone poem Nostalgia for the Light. It's made with the kind of visual care and attention to light and detail we expect from sensitive feature films.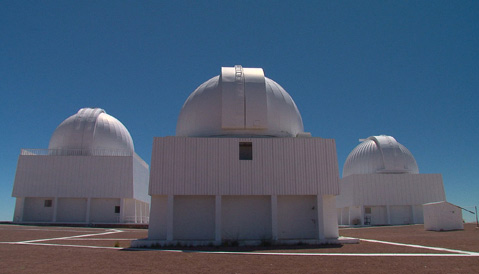 In effect, director-writer Patricio Guzman has created a new beautiful mutant of a documentary, stitching together awe for the cosmos, the related science of astronomy, and the more ground-related explorations of archeology and, most tragically, those searching for evidence of the dark years of the "disappeared" during Pinochet's reign of terror. Added to the list of list of creatively interrelated subjects is the filmmaker's own nostalgia for the "light" of his Chilean childhood, pre-Pinochet, when a marble in a child's pocket "could be a universe." Guzman brilliantly cross-stitches those disparate threads into a fairly stunning, sad, and ultimately hopeful tapestry of a doc.