Columns
Live Shows, Connectedness, and a Boom Box
5... 4... 3... 2... Fun!!
KCSB digital audio library contains more station identification spots by Josh Redman than by anybody else. If you tune in and hear an ID where a few members of an independent rock or pop band vocally endorse "KCSB 91.9 FM in Santa Barbara," chances are it came off the Josh Redman production line.
There's a good reason: He knows more bands than anybody else, and he usually records their performances. What's more, he usually organizes these concerts, and sometimes he even plays at them. As a broadcaster, a show organizer, and, alongside his sister Rebecca Redman, half of the duo Watercolor Paintings, he's come to embody the musical side of Santa Barbara's do-it-yourself scene — or, to put it more coolly, D.I.Y. scene—and his involvement all began at KCSB.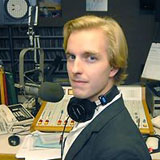 How many roles does the bearded, vintage-wardrobed, always-recognizable Redman hold in the D.I.Y. community? "I'm probably not even aware of them all," he told me after a moment's thought. I put the question to him while sitting in on his long-running KCSB program, 5… 4… 3… 2… Fun!! "The first thing was this show," he remembered. "Then my sister started playing music, and I joined her. That got us in contact with lots of other bands, so we started putting on D.I.Y. shows at various houses in Isla Vista and at the Biko Co-op Garage. These all feed into each other: We meet the bands, we put on shows, and I have the bands play on the radio." At once ingenuously open and enviably shrewd, this arrangement allows him to efficiently make countless creative connections and wring from them as much, well, fun as possible.
Redman began his KCSB career in 2005 with a show called Cuddle and Core, which explored the stylistic clash between the genres of "cute pop" and "hardcore." That lasted a quarter; then began the era of 5… 4… 3… 2… Fun!!, which remains unbroken except for one summer hiatus during a Watercolor Paintings tour. "It's mostly D.I.Y pop," Redman said of the show's musical mandate. "Some of it's folkier, some of it's more electronic, some of it's louder."
Though Redman does play tracks from his vast music library ("It's unmanageable, but it's great") he prefers to bring bands into the studio to perform live on air. "It took time to get it sounding right," he said. "Some groups are acoustic, some electronic. Sometimes I mike the room, and sometimes I mike individual instruments. Sometimes I have one person with an acoustic guitar. One time I had an 11-piece band; I kind of had them stacked on top of each other."
The broadcast features not only live performances and studio tracks but Redman's recordings of shows in Santa Barbara and around the country. Having amassed over 250 such recordings, he's eager to upload them to the web. "None of these bands are signed; they don't have labels," he said. "It's exciting to tell them their shows will be on the Internet." Slowly perfecting his recording technique over the years, Redman has jumped from technology to technology, looking for just the right means of capturing a solid D.I.Y. show's distinctive energy. He uses a flash-memory digital recorder now, but he's used everything from a MiniDisc machine to an old cassette boom box in the past.
"A big part of D.I.Y. is lo-fi," Redman explained, "which means recording on whatever you have, not waiting to go on tour, not waiting for the money to make fancy records, not waiting for a booking agent to come along. These bands don't want to deal with suits, and there are a zillion amazing D.I.Y. record labels to get involved with." This is the ethos on which he bases his radio show, although he doesn't really consider it a radio show as traditionally understood. "There's this radio part, but most of my time and work goes into finding new bands. This is all just me trying to support what people are doing. These bands don't get a whole lot of exposure or promotion."
The concept of cultivating a supportive community seems inextricable, in Redman's mind, from the concept of creating and enjoying music. Scrolling through screen after screen full of songs on his laptop, he mentioned that he personally knows almost all of the artists responsible for them. "It feels weird to play music by bands I don't know," he said. "I'd rather support the people I know and know the people I support." Given the constant turnover of D.I.Y.-inclined young creators, due to Santa Barbara's small size and high cost of living, maintaining the scene's continuity has proven a challenge, but it's a challenge Redman enjoys. "I've stuck around, trying to help build systems to keep things going. I don't feel like I can leave things in an incomplete state. Besides, Santa Barbara is a nice stopping place for bands on tour. And of course, there's KCSB; it's one of the main reasons I'm here."
4•1•1
5… 4… 3… 2… Fun!! airs Thursdays from 10 to 11 p.m. on KCSB, 91.9 FM. For more information, visit 5432fun.org.