Film & TV
10-10-10: Marz Miller and Cameron Platt
Santa Barbara High Film Stud Teams with Laguna Blanca Writer in SBIFF Competition
If there's one person in 10-10-10 who just screams film-love, it's Marz Miller. At age 16, the self-proclaimed indie filmmaker has already made a name for himself with the dry, slightly sardonic films he posts to his Vimeo page (here). The Santa Barbara High junior is by far the scariest competitor, and yet surprisingly — or unsurprisingly — his crew seemed to be having the most fun. With an attitude on-set that's 10 percent filmmaking, 90 percent stream-of-consciousness and jokes, Miller has still managed to shoot some fantastic footage — mostly at the Wine Cask, where he and his full crew spent more than half the day "working" last Saturday.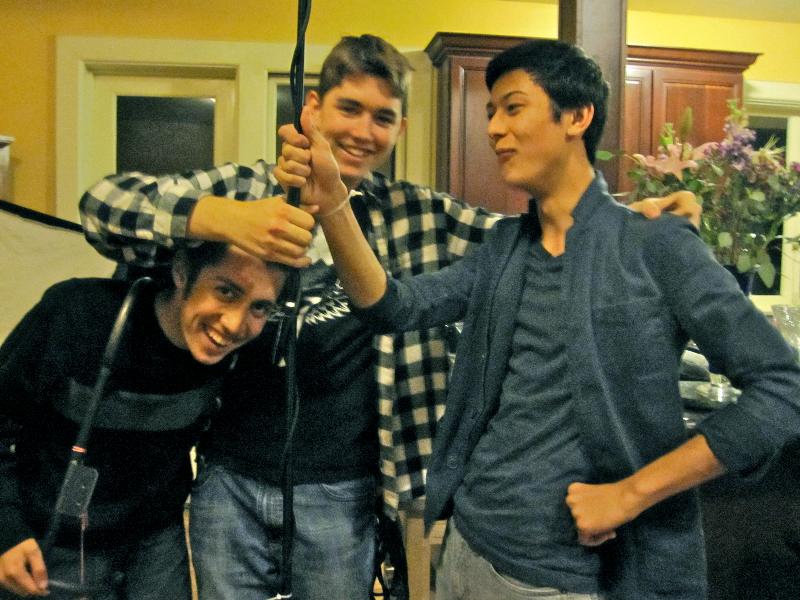 Miller was shooting the script of Cameron Platt, a junior at Laguna Blanca, which tells the story of a 20-something Santa Barbaran girl who loses her social climbing ways in favor of kindness. Miller said this experience was unique for him since Platt's script lacked his usual comedy, but that, even so, things were going really well. The only catch, Miller said, was that he himself was losing steam, since most of his movies were far shorter than the 10 minutes his 10-10-10 film will be.
After spending two years goofing off in a film class at SBHS — he says he just used the period to go get lunch for his friends, instead of doing "real work" — Miller finally got interested in film. That was around a year ago, and now he said he can't go more than a few days without shooting new material or editing things on his computer. It's clearly paid off — Miller has more hands-on film experience than pretty much every other high school competitor. His biggest competition is Tate Larrick, his friend and fellow 10-10-10er. Right now, though, all Miller's focusing on is, well, staying focused.