Visual Arts
Charles Garabedian: A Retrospective
Massive Show at SBMA Reveals Neglected Modern Master
One could travel a long way in the art world this year before finding another show as daring, imaginative, and inspired as Charles Garabedian: A Retrospective at the Santa Barbara Museum of Art. Garabedian is an 87-year-old Los Angeles-based painter with a body of work as impressive as it is generally unheralded, and SBMA has gone all out in producing a mini-blockbuster for him that takes up more than two-thirds of its entire gallery space. While the initial impression left by these colorful, and often extravagant, pictures may be one of sheer colossal magnitude—the largest paintings here are 24 and 25 feet wide respectively—repeated visits reveal an extraordinary sensitivity to scale on the part of the artist. Never painting big just for bigness's sake, Garabedian evinces a profound engagement with the language of art that includes the dimension of scale as a crucial element in the conception of every individual piece.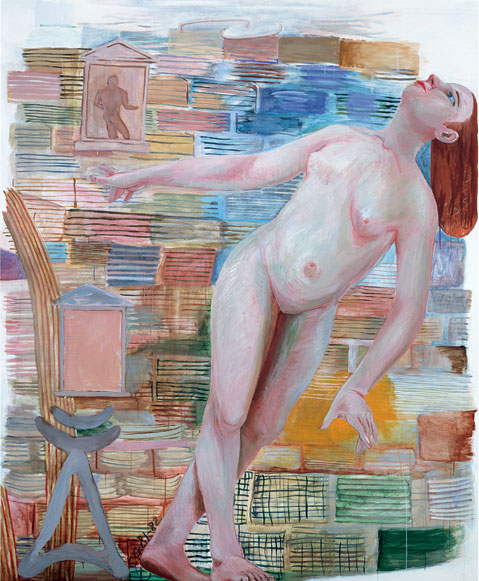 Take, for example, "Chinese Mr. Hyde," a thoroughly iconoclastic work from 1975. At approximately eight feet by seven feet, it's a substantial painting, but what the specific dimensions do for the composition is much more than simply establish a monumental presence. By expanding the overall surface, Garabedian unleashes the giant yellow circle of Mr. Hyde's face to set off the same flickers and drifts at vision's edge that one associates with larger geometric abstractions. And yet within this cockeyed color field, gestural marks float ambiguously, offering at once the barest outlines of a "badly drawn" mouth and eyes and a scintillating indication of repressed brushstrokes that threaten to return to the surface of the painting's saturated planes of color. Like his sometime contemporary Jean-Michel Basquiat, the Garabedian of "Chinese Mr. Hyde" draws with a scary, deliberately crude abandon.
In the next room (and the early 1980s), Garabedian truly comes into his own as a major artist. A great deal has already been said, and said well, about the brilliant series of nine nudes known as Prehistoric Figures (1978-80), but look across the room at the astounding "Ruin VI" of 1981-82, and the larger-scale fruition and his line of investigation become even more apparent. Here's a painting so instantly liberating it could give most of the other figurative art produced in the early 1980s a heart attack. The giant nude figure of a woman lies sideways, her face upturned and her hair falling in a neat vertical swathe of paint that meshes playfully with the wobbly grid of colors against which she stands. In the giant works of the 1990s and 2000s, beginning with the intense psychomachy of the Iliad paintings and culminating in the epic expanses of "September Song" and "The Spring for Which I Longed," Garabedian vaults into a place of his own in the history of painting, one filled with rich ambiguity and deep aesthetic delight.