Arts & Entertainment
Interpol at UCSB's Event Center
New York Rockers Shred the Hits, Score New Fans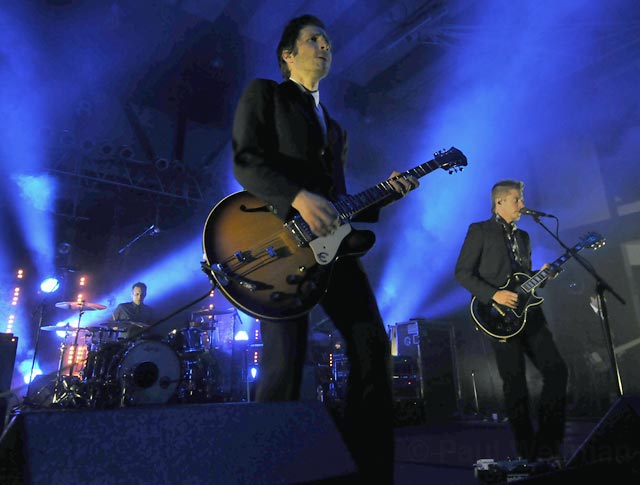 It's been nearly 10 years since Interpol's post-punk riffs (and well-coiffed players) burst onto a then-burgeoning nationwide indie-rock scene. And it's precisely that decade of history that made the band's Friday-night show at UCSB so damn impressive. I'm no booking agent, but I think it's safe to say that the university boasts some of the toughest—and oftentimes drunkest—amateur critics in the concert-going public. They're also known for showcasing up-and-coming and of-the-moment acts that your parents will likely never catch wind of, let alone start rocking out to. (Of late, UCSB's Program Board has hosted everyone from Major Lazer and Drake to Edward Sharpe & the Magnetic Zeros and Neon Trees.) My point: Getting a sea of college kids to rock out to 9-year-old non-singles is not only impressive; it's downright extraordinary.
For those keeping track, it was Friday night's early set rendition of "Stella Was a Diver and She Was Always Down" (off the band's 2002 breakthrough, Turn on the Bright Lights) that ignited the first wave of enthralled cheers inside the Thunderdome. Alongside a sweetly simple guitar line, frontman Paul Banks's big, emotive baritone worked its storytelling magic then exploded into a series of cries against Sam Fogarino's growing wall of drum rolls.
From there, the flashbacks just kept on coming: "Evil" was a jaunty, anthemic testament to Fogarino's speed and precision; "The New" dabbled in soft-spoken, melodic alt-rock; "Say Hello to the Angels" embraced the band's post-punk leanings and gave guitarist Daniel Kessler and Banks a chance to go toe-to-toe in a speedy race to the next breakdown. Still, it was the not-so-old, not-so-new "Rest My Chemistry" (off the band's 2007 offering, Our Love to Admire) that proved to be Friday's ace in the hole. Alongside Kessler's undeniably Pixies-esque guitar parts and David Pajo's pitch-perfect bass lines, Banks seemed to mesmerize the crowd with his voice, meticulously walking the line between droning and affected.
Come set's close, fans got handed another one-two punch by way of the somber hometown love letter of "N.Y.C." and the driving, dance-worthy chorus of "Slow Hands." New and old mixed and mingled again in the band's encore selections (namely, recent single "Barricade" and 2002's eerily atmospheric "Narc") and stood as yet another testament to the band's seamless repertoire. In fact, if Friday's show stood for anything greater, it was simply to say that the rock 'n' roll industry has yet to deplete itself of music with staying power, and Interpol just might be that band that continues to exceed even our highest expectations.