Arts & Entertainment
John Scofield and Bill Frisell Together at the Lobero
Two of the World's Greatest Guitarists Share a Bill
SCOFIELD AND FRISELL: History may be in the making when Bill meets John at the Lobero on Saturday night. Jazz at the Lobero, a godsend to Santa Barbara jazz fans, is bringing together the trios of Bill Frisell and John Scofield, indisputably two of the greatest and most influential guitarists alive and picking, in what must be the strongest jazz doubleheader in this august venue's history. Add the enticement of a plan to have the two trios playing a tune together, and the concert holds promise as the proverbial Jazz Event of the Season.
Both fifty-something guitarists, sporting instantly identifiable sounds in development since the late '70s/early '80s, have graced the Lobero stage before. Scofield brought his thinking person's groove band here several years ago, and Frisell has appeared both with his quartet and in a memorable duo show with drummer Joey Baron. But to hear them on the same bill, alone and together—in one of only two such double bills (the other being in Davis)—the ante of importance is upped.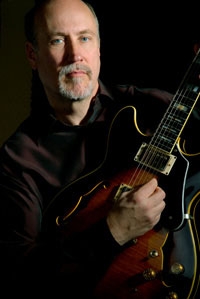 Both went to Boston's Berklee College of Music in the 1970s and have always blended jazz love and fluency with other genre-chasing, befitting their big-eared generation. Generally, Scofield has delved from jazz into soul, funk, and, lately, New Orleans music, with his Piety Street project, and Frisell has explored and incorporated atmospherics, "world music" ideas, and Americana sub-directions. They have collaborated before, most famously in the short-lived '80s group Bass Desires, and via Frisell's guest spot on Scofield's 1992 album Grace Under Pressure. Broadly speaking, Sco is rougher in tone and attack and Frisell more the ethereal dreamer type, but generalities fail to paint the full picture of their complex personae.
In a way, Frisell is more deeply entrenched in trio mode at this moment, having launched his lyrical, fascinating new trio—a bass-less group with violist Eyvind Kang and drummer Rudy Royston—only last year, releasing a super-dreamy-cool album, Beautiful Dreamers (Savoy). Frisell has been in various groups with Kang in the past and used to play with Royston many years ago in his hometown of Denver. Now, the veteran lyrical drummer has finally moved to N.Y.C. and is one of the more intriguing "new" drummers on the scene.
For Scofield's part, his recent releases have been larger in scale, from a fine quartet DVD, recorded live at Paris's New Morning club, to his latest large ensemble project from Europe, 54 (Emarcy), with the Metropole Orkest and genius arranger Vince Mendoza. But Scofield is a master of the jazz-guitar trio context, going back to his earliest solo albums, for enja Records, and in a project like Trio Beyond (with Jack DeJohnette and organist Larry Goldings) and his 2004 album EnRoute. He really knows how to play with space and promote lean, conversational flair with the right players. The players for this trio are very right, being witty, longtime Sco colleague drummer Bill Stewart and bassist Ben Street. Suffice to say, Saturday's show is not to be missed by fans of jazz, electric guitar, or just plain good, artful music.
GRAND PIANO ENCOUNTERS AT THE LOBERO, CONTINUED: Speaking of memorable Lobero performances past and in the near future, an exciting addition to that stage's long list of piano greats is Tuesday's encore recital by the enigmatic wonder Peter Serkin, in CAMA's Masterseries chamber music season. Reflecting on great classical piano evenings at the Lobero, one recalls Andras Schiff's Goldberg Variations, Richard Goode's finely tuned Beethoven, and two recent appearances by legend Alfred Brendel, just prior to his reputed "retirement" (we'll see about that).
Going back further, those of us oldsters who were in the house in 1987 when Serkin played Beethoven's profound Diabelli Variations will forever treasure that experience. For Tuesday's almost crazily ambitious program, Serkin reprises the Diabelli opus along with Beethoven's towering Piano Sonata No. 31 and Arnold Schoenberg's Three Pieces, Opus 11. Expect greatness, and another one for the Lobero history book.