At a recent Board of Directors meeting, MTD staff honored two employees for exceptional service. Honored as the September – December 2010 "Employee of the Quarter," Antonio (Tony) Ruiz is a 21-year driver and recently has served as an Operations Supervisor.
As one of the drivers for the Valley Express commuter bus, Mr. Ruiz is the recipient of enthusiastic passenger compliments as "an excellent driver, safe, smooth and very personable." Celebrating 35 years with MTD, Superintendent of Maintenance Mike Cardona is no stranger to MTD kudos.
In 2004, Mike was dubbed "MTD's Electric-Power Trailblazer" and touted as a Santa Barbara Independent Local Hero. Mr. Cardona not only accepted MTD's first electric vehicles in 1991, he embraced them. With a vigilant maintenance program, Mike has helped develop MTD's electric program into one of the finest in the nation. When asked if he had anything to say to the Board, Mike responded, in typical low-key fashion, "It's been a fast 35 years!" Both employees were thanked by General Manager Sherrie Fisher, MTD staff and the Board of Directors.
The Santa Barbara Metropolitan Transit District (MTD), with its focus on passenger service, provides a reliable, safe, comfortable means of mobility to those who lack other transportation, including students, seniors, and individuals with disabilities. MTD also provides an attractive transportation option for commuters and shoppers who might otherwise drive a car. MTD provides more than 31,000 passenger trips each weekday resulting in 22,676 cars being left at home on weekdays.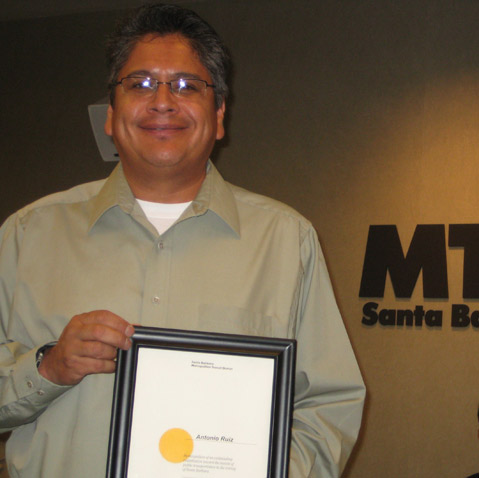 MTD provided more than 8,00,000 passenger trips last fiscal year. Santa Barbara is recognized as a transit intensive community and is ranked in the top ten in the nation for per capita bus usage. MTD operates North America's largest fleet of 100% battery electric buses. Additionally, MTD was the first in California to operate its fleet of diesel and diesel-electric buses with a bio-diesel blend of fuel